Should Meghan Markle Be Concerned That Her Unborn Baby is So Big?
Meghan Markle and Prince Harry are getting ready to welcome their first child together. The couple only tied the knot last May, but they didn't wait long to start a family. The whole royal family is excited, but fans can't help but notice the size of Meghan's baby bump. Should Meghan be concerned at all that her baby is so big?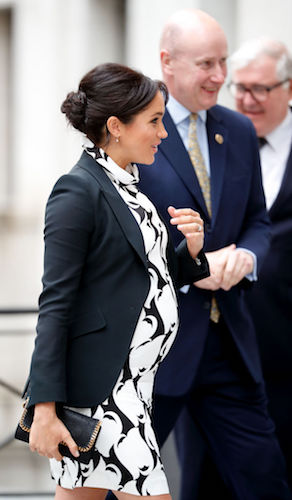 Meghan and Harry are expecting their first child in late April
The couple hasn't taken things slowly since the day they met. Meghan and Harry began dating back in 2016, and they were engaged about a year and a half later. They planned a wedding in six months and got pregnant almost as soon as they were married. But since announcing the pregnancy, the couple has let out very few details about their baby. Meghan did say she's due in late April, but the couple hasn't given away the baby's gender or any possible names. They've kept almost everything under wraps, as royals typically do.
Meghan's baby bump has been growing and growing — some fans even think she's having twins
Fans who have kept a close eye on Meghan's bump have all noticed one thing: It's huge. While Meghan is still petite, nobody can say the same about her belly. One fan remarked back in January that she must be due far sooner than April (but it's now late March, and still no Baby Sussex). Another fan said if her bump was that size in January, she must be delivering a 20-pound baby. And then, the rumors about twins began to swirl. Meghan and Harry haven't said they're having twins, but of course, it wouldn't be impossible.
If Meghan's baby is too big, doctors may have to go another route for delivery — and the baby could lead to problems
While it has been fun to watch Meghan and Harry's baby grow, it can be concerning if Meghan's baby is actually as big as he or she seems. Babies that are too large can cause complications for the mother and may require doctors to go a different route than a natural birth. There is also an increased risk for the baby to suffer an injury at birth, since size can make it difficult for a natural delivery. If Meghan's baby is too big, it could put both her health and the baby's health at risk.
It's also possible that Meghan only looks big because of how she is carrying, and her unborn baby may not be big at all
While most people would agree Meghan's baby bump is quite big, it doesn't necessarily mean that her baby is too big. Every woman carries differently, and Meghan's bump may look big because of the way she has exercised and eaten since getting pregnant. She has a high resting bump, which often goes hand in hand with toned muscles and a solid fitness regimen. If her baby is large, she's likely already gone over her options with her doctor, so hopefully everything is planned out and there won't be any surprises when Baby Sussex finally comes along.
Check out The Cheat Sheet on Facebook!