Show from 'Selma' Director Could Be Oprah's First Big TV Hit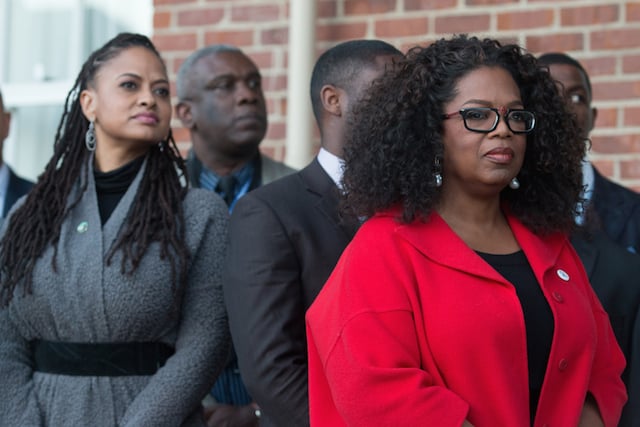 Selma director Ava DuVernay might have been snubbed by the Academy, but the breakout director of last year is moving forward by going to TV. DuVernay has announced that she's writing, directing, and producing a show based on the novel Queen Sugar by Natalie Baszile, and she's not doing it for HBO or Showtime or FX, but for Oprah Winfrey's OWN network, Variety reports. Oprah herself will have a role on the show in her first recurring television part in 25 years.
Winfrey played the civil rights protester Annie Lee Cooper in Selma and helped finance DuVernay's making of the Martin Luther King, Jr. biopic so that it would meet her creative vision. It seems that DuVernay was happy enough with that partnership to return to working with Winfrey even though she's such a big-name director right now that a more prestigious network likely would have been interested in carrying a show from her. Not only is Winfrey's network hosting the Queen Sugar adaptation, but Winfrey will also be acting in it in her first recurring television role since the 1990 series Brewster Place. Since then she's of course hosted her iconic talk show and acted in film, but DuVernay gets the credit for bringing Oprah the actress rather than Oprah the personality back to television. The show will be DuVernay's first television project and makes Oprah's acting debut on her network.
Queen Sugar is about a woman who decides to leave behind her high-class lifestyle in Los Angeles and return to her southern origins to work the sugar cane farm in Louisiana that she's inherited from her recently deceased father, bringing her teenage daughter with her.
"I loved this book and immediately saw it as a series for OWN," said Winfrey, per Variety. "The story's themes of reinventing your life, parenting alone, family connections and conflicts, and building new relationships are what I believe will connect our viewers to this show."
"From the moment I was introduced to the book, I was captivated by the idea of a modern woman wrestling with identity, family, culture and the echoes of history. To bring this kind of storytelling to life alongside Oprah for her network is wildly wonderful. I'm excited about what's in store," DuVernay added.
Selma has been nominated for Best Picture at the Oscars, but DuVernay was snubbed for a Best Director nomination. That oversight on the part of the Academy in addition to all-white nominees in the acting categories has lead to some outrage regarding the institution's old-fashioned and close-minded ways. Rolling Stone film critic Peter Travers said that DuVernay's lack of a Best Director nod was the biggest Oscar snub of the year. He pointed out that the Academy had the chance to nominate their first African American woman in the category. "And what do you say?" Travers asks. "'Oh no, it's one of the best pictures, but nobody directed it — she didn't do anything at all!'"
Most of those in the film industry outside of the Academy recognize that DuVernay is one of the best new directing talents out there. Her show would be coveted by any network trying to build its portfolio of premium content during television's golden era. OWN isn't exactly known for that type of programming — at the moment, the network mostly airs shows from any of Oprah's endorsed personalities like Dr. Phil, Rachael Ray, and Dr. Oz — but Queen Sugar could end up being the network's first piece of high-quality scripted television. The show's subject matter plus Oprah's role will interest the network's viewers while DuVernay's involvement will interest anyone who wants serious television, people who would never have tuned in to OWN otherwise.
Follow Jacqueline on Twitter @Jacqui_WSCS
More from Entertainment Cheat Sheet:
Want more great content like this? Sign up here to receive the best of Cheat Sheet delivered daily. No spam; just tailored content straight to your inbox.