Showtime's 'Billions' Season 4: 2019 Premiere Date and Preview
Heading into Season Four of Showtime's Billions, there are lots of unknowns hanging over the show. For starters, it will be fascinating to see how things go at the newly formed Taylor Mason Capital with Mafee and a new character (played by Samantha Mathis) in tow.
One thing is certain, though: Taylor (played by Asia Kate Dillon) and company will get the fight of their lives from Bobby Axelrod (Damian Lewis). "Hell hath no fury like a billionaire scorned" might as well be the motto of the show's upcoming season.
However, when we last saw Chuck Rhoades (Paul Giamatti), the departed U.S. Attorney for the Southern District appeared equally livid. In general, it's safe to say vengeance is on the brain of both Chuck and Axe. (Even Wendy Rhoades seemed ready to pummel her adversaries at the close of the last season.)
But those unknowns will have to wait a bit. For now, we can at least confirm when the show will return.
'Billions' Season 4 kicks off March 17 at 9 p.m.
In a quick press release, Showtime announced the first episode of Billions Season Four will air Sunday March 17 at 9 (Eastern and Pacific). From a quick glance at the trailer, it's clear Chuck and Axe haven't cooled off since we last saw them.
Meanwhile, they haven't soured on the idea of working together as they rain vengeance down upon their enemies. While fans certainly didn't see this angle coming back in Season One, it's an absolute delight to see it play out heading into the fourth installment.
Chuck has some old allies back in his corner, including the wily Chuck Rhoades Sr. (Jeffrey DeMunn) and Ira (Ben Shenkman). For his part, Axe is lining up his team with a predictable "either you're with us or against us" approach. If we didn't see him decline an offer to have Taylor murdered earlier, we'd think that option was on the table.
Chuck and Axe's 'uneasy but highly effective alliance'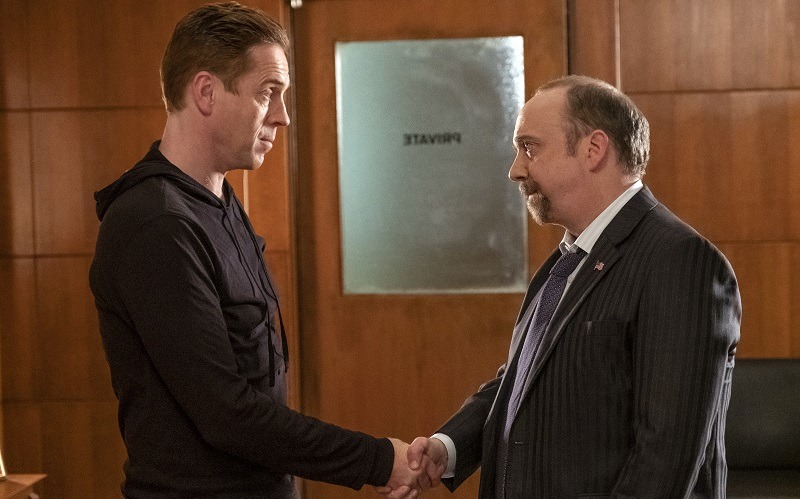 "When everyone is out for revenge, no one is safe." So reads Showtime's release for Season Four. While that slogan could apply to nearly every one of the show's previous 36 episodes, we get hints that the "uneasy but highly effective"  partnership between Chuck and Axe will enjoy success.
Of course, with Jock Jeffcoat, the FBI, and the rest of the Southern District out to finish off Chuck, he'll have to play it exceptionally careful. Not only is Giamatti's character gunning for the U.S. Attorney General; he'd also like to bury the elite of New York's Justice Department and leave space in the hole for former deputies Bryan Connerty (Toby Leonard Moore) and Oliver Dake (Christopher Denham).
As for Axe's targets, there's no reason for Mafee to feel comfortable with his decision to join Taylor. Likewise, Russian billionaire Grigor Andolov (John Malkovich) should expect some sort of retribution (however subtly disguised) headed his way. We imagine Chuck could help by exposing some of Andolov's illegal activities.
What's more uncertain is how Axe would help Chuck. But we're sure the great Billions writers have something special in mind for Season Four.