Simon Cowell Wants 'UK-pop' to Compete With Little Mix and BTS, But Fans Aren't Having It
The battle of the bands is about to begin. On Nov. 3, Simon Cowell announced The X Factor: The Band, a new British TV talent show to challenge the likes of current pop groups like Little Mix and BTS. The new reality competition will go head-to-head with The BBC's Little Mix The Search. And Cowell hopes to create a "new wave" of music, which he calls "UK-Pop," a supposed British version of K-pop.
Simon Cowell sets up 'The X Factor: The Band' to rival 'Little Mix: The Search'
According to Deadline, Cowell's The X Factor: The Band will air on ITV in 2020 and search for the next all-male and all-female music group. The publication also revealed the all-star spinoff of the reality franchise will not be moving forward.
Meanwhile, Cowell's The X Factor: The Band is expected to be slated against Little Mix: The Search, which is set to air in early 2020. The BBC One series also features a similar premise. However, The Search will involve Perrie Edwards, Jesy Nelson, Jade Thirlwall, and Leigh-Anne Pinnock as they mentor new music groups. And the winner will also join Little Mix on their 2020 summer tour.
Little Mix previously worked under Cowell's record label Syco after being formed on The X Factor. And in an interview with the British tabloid, The Sun, Cowell explained he was asked to co-produce Little Mix's BBC One series. However, after a falling out with Little Mix's management, Modest Management, the music group split.
"This is what really happened. I was approached to co-produce that show last year by Little Mix's management," Cowell said. "I told them the problem was we have a conflict of interest because we are launching X Factor: The Band in 2020. We were told their show was going to launch in 2021."
That said, it seems Cowell is still excited about both reality competitions airing around the same time. "But regardless, it was too much fun not to do this year," he said. "I would rather it was us doing it first. It 100 percent makes it more exciting there being a battle."
Simon Cowell says he wants to 'launch UK-pop' to compete with K-pop groups like BTS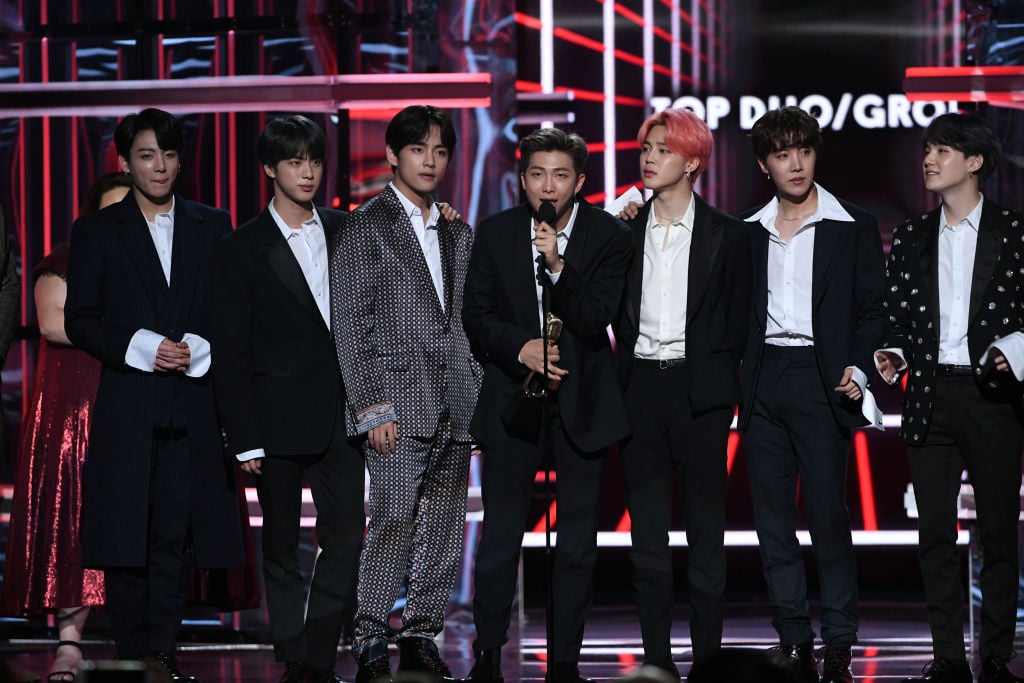 Meanwhile, in the same interview, Cowell revealed what he hopes The X Factor: The Band will accomplish. It appears the 60-year-old wants to challenge the K-pop industry, including big names like BTS. He also seems to believe the show will skyrocket "UK-pop" into the music landscape.
"K-pop is ruling the world," Cowell told the tabloid. "This is a show to find a band to launch UK-pop. It's more than winning a record contract, it's starting a new music wave."
The music mogul then shared what "UK-pop" actually means in regards to the new X Factor spinoff.
"Every group will be put together by us — just like One Direction, Little Mix and Fifth Harmony," he said. "It's people who represent Britain's version of K-Pop. That was always our plan. We've just brought it forward a bit."
BTS and Little Mix fans react to Simon Cowell's next 'X Factor' project
Following Cowell's statements in regards to Little Mix and "UK-pop," many fans expressed their thoughts on social media. And for the most part, it seems fans of Little Mix and BTS are not on board with Cowell's vision for the new X Factor spinoff.
"Simon cowell wants to make a new version of x factor to compete with little mix and on that version he wants to create a new 'UK-pop' group to compete with bts," a fan wrote on Twitter. "Cant wait to see him flop lmao."
"ARMY and Mixers lets team up to watch Little Mix The Search in early 2020 to make Simon Cowell's 'UK-Pop' show flop since he's decided to battle little mix with it and create a new band to 'compete' with BTS," another fan tweeted.
Meanwhile, other fans pointed out that Cowell forgot the existence of British pop — aka "UK-pop" — such as globally popular artists such as One Direction and Spice Girls. And quite frankly, it's easy to see why K-pop fans are frustrated with Cowell's comments. The music industry is already dominated by white acts, including those in the Britpop category. So the notion of British artists overtaking a specifically Korean genre is blatantly glaring.
"Omfg what is simon cowell doing?? bruh tf do you mean 'uk-pop' that's literally just pop," one fan explained.
Regardless, some fans believe Cowell's X Factor project proves just how much influence Little Mix and BTS have on the music industry.
"Simon Cowell wants to have a new show next year which will rival little mix. He also wants to find a new boy group to rival bts," a Twitter user shared. "In conclusion the power both of these groups hold always amazes me."
Check out Showbiz Cheat Sheet on Facebook!