Simon Pegg: His 5 Best Roles Before 'Mission: Impossible'
How does a middle-aged actor go from starring in indie hits to some of the biggest Hollywood franchises of all time? Simon Pegg could answer that question for you — and he'd probably make you laugh while he did. He's been acting professionally for 20 years, and became a breakthrough actor roughly a decade ago. He's starred in television hits and some of the funniest independent films of the last decade. And now, he's gaining new fans left and right with his return performance as Benji Dunn in Mission: Impossible – Rogue Nation.
This 45-year-old England native hasn't just found success with his acting career. He's also made inroads in Hollywood through his efforts as a writer, director and producer. This means he's been able to take an active role in shaping his career. It also means he's lived two lives in Hollywood — one that indie fans covet, and another that appeals to fans of more mainstream fare. After dabbling in at least a half dozen genres, he's created a career that offers up something for pretty much everyone.
1. Tim Bisley — Spaced (1999-2001)
This series covered many issues that twentysomethings face as they careen toward full-fledged adulthood: career woes, romantic failures, and trying to sort out what exactly you want out of life. Spaced, which Pegg wrote with co-star Jessica Stevenson, follows two young people who pretend to be coupled in order to secure the apartment they both want to live in. What follows is two seasons worth of hilariously awkward situational issues and occasionally poignant reflections on growing up. Pegg plays Tim, one half of the "couple," an aspiring graphic artist and the show's narrator. His brutally honest reactions to the events unfolding around him set Spaced apart, and make it one of the most enjoyable series about young adults to come out of the late '90s.
2. Shaun — Shaun of the Dead (2004)
This horror movie parody — the first in Edgar Wright's Three Flavours of Cornetto trilogy — was in many ways Simon Pegg's breakthrough role, even though it's more of a cult classic or sleeper hit than it is a box office blockbuster. Shaun of the Dead follows a hapless office worker who finds himself in the midst of a zombie apocalypse. It's a brilliant send-up of the genre, thanks in large part to Pegg's performance and the way Shaun plays off of his Ed (Nick Frost), his lazy best friend. By playing up Shaun's obliviousness to what's going on around him, both before and during the crisis, the film also provides a smart commentary on how we, as society, are often stuck in a bit of a zombified rut. Pegg effortlessly transforms Shaun from noncommittal to zombie warrior, giving us a new type of hero to root for.
3. Sgt. Nick Angel — Hot Fuzz (2007)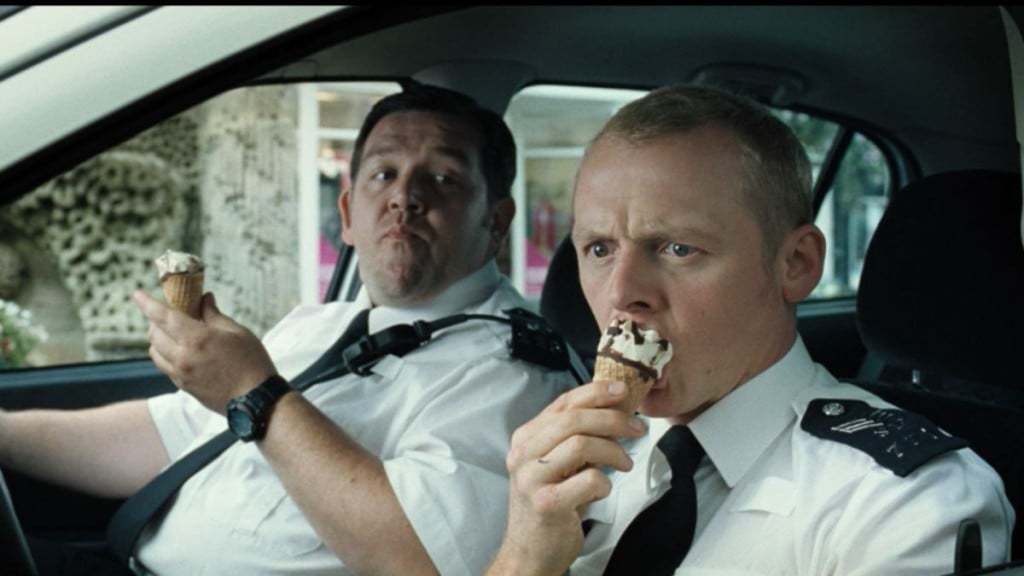 Hot Fuzz is one of the smartest cinematic satires in recent history, and a large part of its success lies with Simon Pegg's performance. It's also the second film in the Cornetto trilogy, and while it's completely different in plot and tone than Shaun of the Dead, it's just as funny. Simon Pegg plays Sgt. Nick Angel, a big-town cop who's transplanted to the English countryside. He encounters the sinister side of small-town life, and has to fight hard to keep the peace. Pegg proved himself to be an actor with a huge comedic range in Hot Fuzz, since Nick is in many ways the antithesis of the other characters he'd portrayed. He plays by the book, believes fiercely in justice, and his completely dedicated to his career — and Pegg plays all these qualities perfectly. This brings the comedy in this send-up of police procedurals to the next level, as Nick frequently encounters scenarios that force him to confront the darkest parts of society in the most unlikely places.
4. Gary King — The World's End (2013)
What happens when an alien invasion interrupts an epic night out? That's the premise behind The World's End, the final film in Edgar Wright's Cornetto trilogy. Like its two predecessors, this sci-fi satire is a brilliant study of genre, and features a spectacular performance from Simon Pegg. In The World's End, he plays Gary, a down-on-his-luck alcoholic who finds himself leading a charge against a hostile extraterrestrial takeover. Pegg plays Gary as surly and embittered, who's more concerned with completing a bar crawl than he is with getting his life back together. Even though he's an antihero, he's still very likeable — mostly because of Pegg makes Gary seem genuinely clueless as to how his life has become such a mess, and you can't help but feel a little bit bad for him. That also makes his eventual transformation into the world's savior all the more enjoyable.

5. Montgomery "Scotty" Scott — Star Trek; Star Trek Into Darkness
He's one of the most beloved characters in science fiction — so Simon Pegg had big shoes to fill when he was cast as Scotty in J.J. Abrams' Star Trek reboot. But he proved that he's more than up to the task, turning in a high-quality performance as the Enterprise engineer. He nails everything, from his distinctive accent to his old-fashioned stuffiness. Pegg has proven to be such an asset to the franchise that he was asked to help co-write the third installment, Star Trek Beyond, which is due out next year.
More from Entertainment Cheat Sheet:
Want more great content like this? Sign up here to receive the best of Cheat Sheet delivered daily. No spam; just tailored content straight to your inbox.