Singer Alanis Morissette Talks About Trying to Prevent This Issue with her Third Pregnancy
Singer Alanis Morissette rose to fame in the 90s with hit songs like "Ironic," "You Outta Know," and "Head Over Feet." Morissette is currently pregnant with her third child and recently opened up about some challenges she's had to endure in growing her family.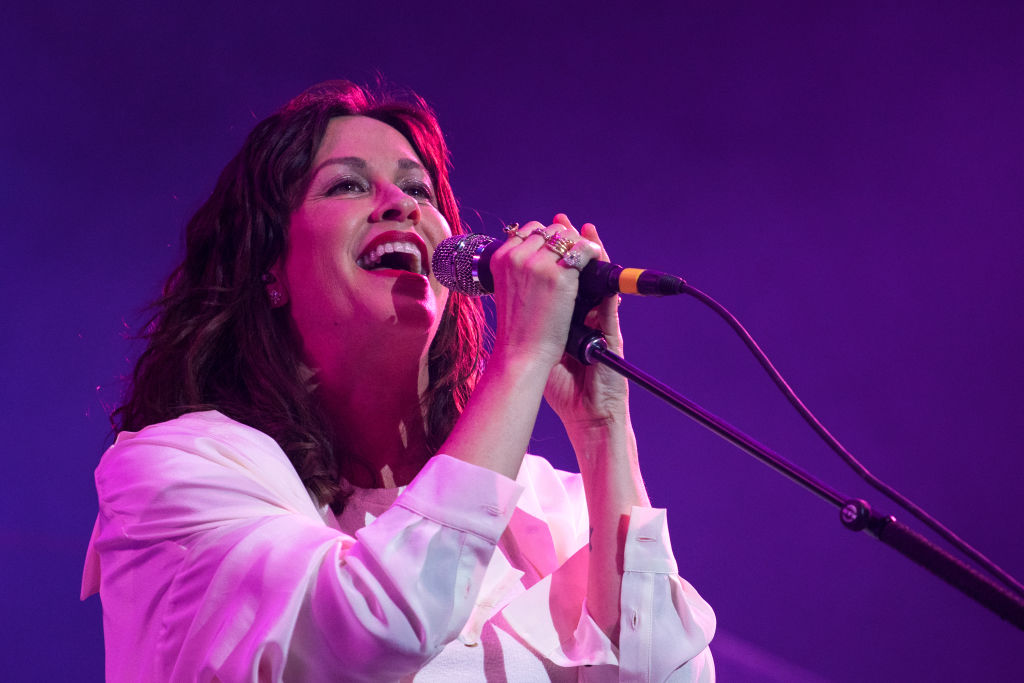 Experience with loss
The Canadian-born singer is married to Mario "Souleye" Treadway, and the couple is parents to daughter Onyx Solace, 3, and Ever Imre, 8 ½, according to SELF. When the couple decided they wanted a third child, they ran into some problems. "Between Ever and Onyx there were some false starts," Morissette told Self. "I always wanted to have three kids, and then I've had some challenges and some miscarriages so I just didn't think it was possible."
Morissette expressed in the article that she "felt so much grief and fear" in attempting to conceive another child. "I chased and prayed for pregnancy and learned so much about my body and biochemistry and immunity and gynecology through the process. It was a torturous learning and loss-filled and persevering process," she said.
Postpartum depression
The seven-time Grammy winner also talked about going through postpartum depression after both her children were born. "I had postpartum depression both times, both kids, just basically feels like tar had taken over my whole body and I was just underwater and I kept having that image of wanting to get above the wave."

According to ABC News chief medical correspondent Dr. Jennifer Ashton, approximately one in seven women experience postpartum depression after giving birth. Ashton said some "effective" and "life-saving" treatment options for postpartum include support groups, therapy and medication.
"This is a medical emergency," Ashton said on Good Morning America regarding women experiencing postpartum after giving birth. "We need to shift our paradigm now and do a check-up from the neck up as much as from the neck down."
Morissette is using her experience for prevention and a platform
Since Morissette experienced postpartum before, she plans on getting help as soon as she feels it's coming on if it happens again. "First time around I didn't seek help for a year and four months…and then second time I waited four months," she told SELF. "This time around I am not even waiting four minutes, I am going to be like, 'Okay, everybody, even if I say I am okay I want you to resist believing me.' Depression has a way of taking away self-perception in a way it clouds things. I am actually going to need support and I am not going to push it away."
Morissette also discussed her fear of not being available enough to Onyx and Ever when her third child is born. "My orientation is how do we integrate as quickly and smoothly as possible so that my two kids don't feel like they are losing their mom and I will still be available to them," she said. "I'm terrified but there is no other choice."
Morissette is hoping that by being transparent about her experience will help other women, which is one of the reasons she was chosen by Self to be their cover story. "We chose Alanis Morissette to be on the cover of SELF because she is so outspoken on her experiences with postpartum depression and there is such a stigma around this condition even though so many people experience it," Carolyn Kylstra, editor-in-chief of SELF, told Good Morning America. "And our hope is that it will make people who are experiencing it feel a lot less alone and hopefully get the help that they need."
Even while battling her fears, Morissette says she is "one of those women that really enjoy being pregnant… I feel innately purposeful and even when I am sitting still, I am still being productive. I am still building a human being, which still boggles my mind," she told SELF.