Singer Meghan Trainor Marries Longtime Boyfriend Daryl Sabara in Backyard Wedding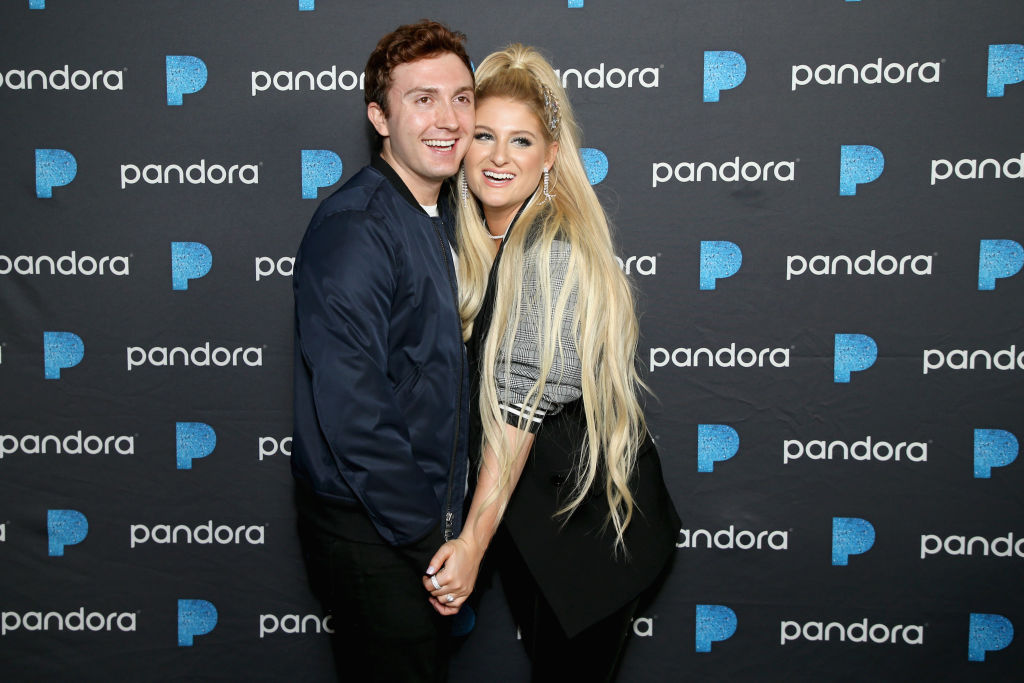 Meghan Trainor has officially tied the knot!
The "All About That Bass" singer married her longtime boyfriend, actor and OG 'Spy Kid' Daryl Sabara, in an intimate backyard wedding surrounded by close family and friends.
The couple wed on Meghan Trainor's birthday
Love was definitely in the air this holiday season!
Meghan Trainor became a married woman this past weekend and to make her big day even more special, the singer said her "I Dos" on her 25th birthday.
Trainor and Sabara wed this past weekend during an intimate wedding. The ceremony took place in the backyard of their Los Angeles home with about 100 close family and friends in attendance.
The singer wore a breathtaking Berta gown with Norman Silverman jewelry for the main ceremony, then slipped into a Rita Vinieris lace jumpsuit with a pair of Aldo sneakers to dance the night away in!
Trainor posted a picture of her well-awaited wedding to Instagram and wrote, "I'm a wifey for lifey! Best birthday ever!!!!!! Thank you for everyone who helped make it happen… I Love you forever and always @darylsabara."
Trainor and Sabara exchanged hand-written wedding vows that made the day even more special. The actor mentioned that he was excited to finally be a husband and no longer a "future husband"- making reference to Meghan Trainor's 2015 hit song "Dear Future Husband".
"I'm no longer the 'future hubby' — I get to just be the hubby, which I'm excited about" Sabara states.
Photos of the wedding ceremony have yet to be revealed.
It has been mentioned that instead of expensive gifts, the couple asked guests to donate to the World Wildlife Fund on their behalf.
How much cuter can these two get?
Trainor took a modern approach when it came to wedding preparations
Back in October while on The Tonight Show Starring Jimmy Fallon,  Meghan Trainor revealed that she was inviting people to her wedding via text.
"My problem is I'm not sending out invites 'cause ugh," Trainor mentioned. "Like, no. I'm texting people. I keep accidentally hanging out with friends and being like, 'Yo, you wanna see me get married?' And then I invite them, and I'm like, 'Oh no, why did I invite these people?' You know?"
In our day in age, why not utilize technology in every possible way?
Meghan Trainor noted that mailing out personalized invitations was way too much work and texting people invites to her wedding was just as effective as mailing out invitations.
"I'm tired. I don't want to pick out a card," she adds. "What if they don't get it in the mail? Who checks their mail? They always check their texts."
Looks like the singer's approach worked out perfectly since everyone close to her and Sabara was in attendance to see these two lovebirds tie the knot!
A fairytale ending
Meghan Trainor and Daryl Sabara first met while attending a house party back in 2014. After getting set up by fellow actress Chloë Grace Moretz in 2016, the couple began dating and a year later Sabara popped the question to Trainor in December 2017.
It has been said that Sabara and Trainor's relationship inspired her third studio album set to release in 2019.