'Sister Wives': Christine Brown's Aunt Calls the Brown Family's Religion a "Cult System"
Kody Brown and his four Sister Wives, Meri, Janelle, Christine, and Robyn, have publicly defended their practice of plural marriage, or polygamy, since their TLC show began in 2010. The family argues that the practice is spiritual for them and that they think of it as an issue of personal freedom. 
The Sister Wives family has even challenged anti-bigamy laws in federal court and repeatedly protested at the local and state levels for the right to practice polygamy openly. 
Not all of the Sister Wives' family members agree, however. Kristyn Decker, a former polygamist wife and aunt to Kody's third wife Christine Brown, recently spoke to Radar Online in two exclusive interviews about the Brown family's religion, the sister wives' happiness, Meri's allegedly rocky relationship with Kody, and more.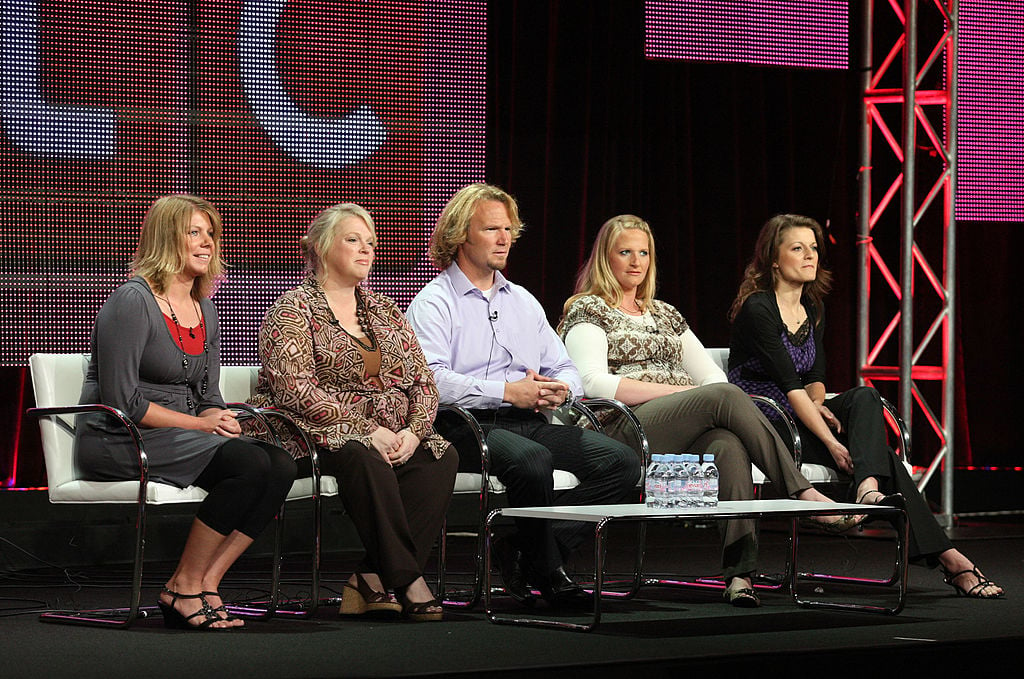 Who is Kristyn Decker?
Kristyn Decker is Christine Brown's aunt. Like Christine, Decker was born into a fundamentalist Mormon sect known as the Apostolic United Brethren (AUB). Decker was the daughter of one of the sect's "living prophets," Owen Allred.
Since leaving polygamy and the AUB and entering a monogamous marriage, Decker has advocated against fundamentalist Mormonism and the practice of plural marriage in general.
In her book Fifty Years in Polygamy: Big Secrets and Little White Lies, Decker opened up about the many alleged abuses in the group, including physical abuse as well as mental and emotional. She was in a polygamist marriage for 33 years before leaving when she turned 50. 
Decker now runs the Sound Choices Coalition, a nonprofit that helps people escape polygamist groups like the AUB. 
Decker appeared on 'Sister Wives' in a televised debate
Kristyn Decker previously appeared on TLC's Sister Wives in a university panel that asked former and current polygamists, including the Brown family and Kollene Snow from Lifetime's Escaping Polygamy, to debate the ethics of plural marriage. Decker said that the practice was inherently misogynistic, while Kody Brown said that it was a matter of personal choice. 
Kody asked the other panelists not to paint all polygamists with such a "broad brush." He pointed out that many families and marriages have problems with abuse, not just polygamist ones. Christine confronted Decker, saying that polygamy was her choice and urging her not to demonize the practice because of her own experiences. 
Christine's aunt wishes she had warned her about polygamy
In a November interview with Radar Online, Decker revealed that she was happy for her niece at first when she married Kody many years ago. "She looked happy," Decker told the outlet. "I thought, 'She's crazy about Kody, so go for it!'"
However, Decker, who was already experiencing the pain of jealousy and feelings of abandonment in her own AUB polygamous marriage, says she wishes she had warned Christine and her other relatives against becoming a sister wife. "I knew how crazy and insane it was," she told Radar Online. "You don't know what you're getting into. I wish I would've warned people."
Decker even went so far as to say, "The Browns are miserable-happy." She continued, "They're miserable on the inside. I don't think any of them know what genuine happiness and freedom is." 
The author said the Brown family religion is controlling
Because the AUB teaches that polygamy is necessary in order to obey God and access heaven after death, and that wives should be submissive to their husbands, Decker argued in her Radar Online interview that people within the religion don't have full freedom of choice. 
"The men will be the leaders," Decker explained about the way AUB members perceive gender roles. "The men are the ones who bring the women to heaven if they qualify. The final decisions are with the men. If any of those women wanted to have another man, they couldn't. It's not an equality or equal system."
She also claimed that she believes it will be more difficult for her niece, Christine Brown, to leave if she ever wants to because of the financial benefits and public attention that being on the TLC show has afforded her. 
It's important to note that Decker and the Brown family are estranged. She doesn't speak to the Sister Wives, by her own admission. So what she says about the Browns' marriage is based at this point primarily on her own experiences in the same religious sect. 
Decker also spoke out about Meri Brown's relationship with Kody
Meri Brown, who was catfished in 2015 by an Internet scammer who pretended to romance her, has made headlines in recent years for seeming to take steps towards independence. Kody Brown's first wife now owns her own bed and breakfast in Parowan, Utah, far from the Sister Wives' new hometown of Flagstaff, Arizona. 
Meri also travels frequently for work with LuLaRoe and rents a home on her own in Flagstaff, sparking some rumors of a potential Brown breakup. Decker agreed, saying that moving towards a more independent life is often the first sign of an impending divorce within the AUB. 
"That's the beginning of her leaving," she argued. "That's what I did. I had to start taking care of me."
Decker also alleged to Radar Online that the Sister Wives patriarch had shunned Meri because of her catfish scandal. "If you don't behave, you will be treated badly," Decker claimed in the interview. "Like Kody with how he's treated Meri. He's a polygamist, he has the say and power."