Sizzling Summer Movies: 10 Anticipated Blockbuster Hits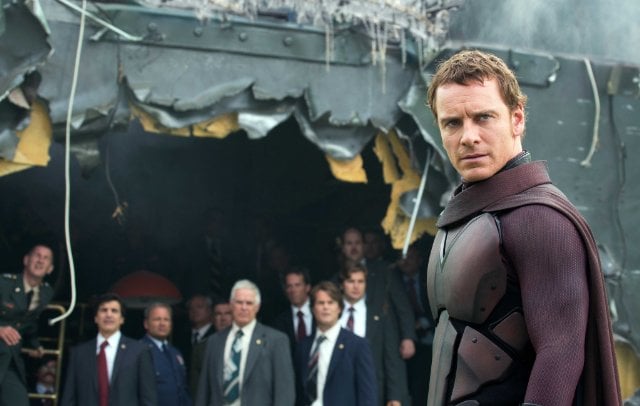 Summer just got even hotter with a string of Hollywood hits getting ready to debut on the big screen. Viewers can expect to spend their summer months soaking up a wide genre of movies, including science fiction, action adventure, comedy, and of course, an occasional tear-jerker. There's certainly a wide variety of films set to be released in theaters, meaning no matter what your taste may be, you're sure to find something worth watching. Here's a list of 10 movies that will soon be burning up theaters everywhere.
1. X-Men: Days of Future Past
Kicking off the list of anticipated movies is an action adventure/sci-fi movie, X-Men: Days of Future Past, which will hit the big screen May 23. A Rotten Tomatoes survey, which polled users and ranked the movies by a "want to see" percentage, rated X-Men as the No.1 most anticipated movie, with 126,751 votes and a 99 percent "want to see" ranking.
What can you expect to see in this movie? It's a fight for survival of the species that takes place across two different time periods. You'll see characters from the original X-Men trilogy (Patrick Stewart, Ian McKellen, and Hugh Jackman) who will team up with their younger selves from X-Men: First Class (Jennifer Lawrence, Michael Fassbender, James McAvoy.) They're all working toward changing a major historical event, and it's a fight that could save the future.

2. Dawn of the Planet of the Apes
With a cast including Andy Serkis, Jason Clarke, Gary Oldman, Keri Russell, and Judy Greer, it's no wonder people are itching to see Dawn of the Planet of the Apes, set to be released July 11. Ten years after a virus was released that basically wiped out humanity, the few survivors find themselves in a battle against the apes while their leader, Caesar, faces a power struggle of his own, per Indiewire.
Why should this be on your must-see summer list? "Rise of the Planet of the Apes was one of the most pleasant surprises of the last few years: an unpromising-on-paper blockbuster that, through the solid chops of director Rupert Wyatt and the great performance of mo-cap whiz Andy Serkis, turned out to be an engaging and involving blockbuster that successfully reinvented the franchise for the 21st century. The sequel might have lost Wyatt and original human star James Franco, but it's gained Matt Reeves as a director, and some promising new names join the returning, and crucially, Andy Serkis," per Indiewire. If you were a fan of the first movie, you can expect to see a lot of similarities, including an emotional take on what could actually be a pretty silly movie if not done correctly.

3. Boyhood
With a release date of July 11, Boyhood — starring Ellar Coltrane, Ethan Hawke, Patricia Arquette, and Lorelei Linklater — took 12 years to make. Director Richard Linklater began production in the summer of 2002, putting a new and unique twist on a coming-of-age movie. Boyhood follows the life of a young man from age 5 to 18. Here's where the cool part comes into play: for each of those years, Linklater filmed Coltrane, truly documenting his growth from a young boy into adulthood. As a viewer, you are able to witness Coltrane's emotional development from boy to teenager to adult, making this movie a truly unique experience.
"Boyhood was the toast of both Sundance and SXSW this year, and we can't wait to see this bold, passionate, and completely unique piece of filmmaking for ourselves; it might very well end up being Linklater's masterpiece, and considering the fact that he's the guy who also brought us Dazed and Confused and the Before Sunrise trilogy, that's saying a lot," writes Yahoo Movies.

4. Guardians of the Galaxy
The film follows American pilot Peter Quill (Chris Pratt) who finds himself being hunted after he steals an orb that is wanted by the oh-so-villainous Ronan The Accuser (Lee Pace.) In order to save himself, Quill teams up with a pretty interesting group of alien misfits, including Gamora (Zoe Saldana), Rocket Raccoon (Bradley Cooper), Drax the Destroyer (Dave Bautista), and Groot (Vin Diesel), per What Culture. You can also expect to see Michael Rooker play Yondu, Djimon Hounsou as Korath, Benicio del Toro as the Collector, Glenn Close as Nova Prime Rael, and John C. Reilly as Rhomann Dey, per the Los Angeles Times. The group of guardians eventually finds themselves in a battle to not only save Quill, but the entire universe. What Culture writes that the great casting is a key selling point that will ensure this movie's success. This movie will debut in movie theaters August 1.

5. The Fault in Our Stars
Out on June 6, expect The Fault in Our Stars to be an emotional ride filled with ups, downs, and lots of tears. Shailene Woodley plays 16-year-old Hazel Grace, "who is a tear-grenade about to make us all bawl our eyes out this summer," per Hypable. It also stars Ansel Elgort, who plays Augustus. The Fault in Our Stars, an adaptation of John Green's romantic novel, documents two teens who fall in love after meeting in a cancer support group and bond over a novel, according to Yahoo Movies.

6. The Rover
Starring Guy Pearce, Robert Pattinson, and Scoot McNairy, The Rover, set in the Australian desert, focuses on a world that's been drastically changed due to the financial collapse. Eric (played by Pearce) has lost everything, and when his final possession — his car — is stolen, he sets out to track down the dangerous gang of criminals. Along the way he enlists the help of Reynolds (Pattinson), a member of the gang who has been left behind, per IMDb. Director David Michod has taken a somewhat sci-fi direction with the film, while promising that the movie will still seem utterly realistic, according to Indiewire. It debuts June 13.

7. How to Train Your Dragon 2
This animated movie came in second on Rotten Tomatoes' list of most anticipated movies with 88,090 votes and a 99 percent "want to see" ranking. Out June 13, DreamWorks Animation is bringing viewers the sequel to the original 2010 hit. The first movie followed the adventures of a viking chief's son, Hiccup, who in order to mark his passage into manhood and prove his worthiness, must capture a dragon, per Rotten Tomatoes.
In the sequel, Hiccup and his dragon, Toothless, discover a secret ice cave on one of their adventures. It turns out that it's home to hundreds of wild dragons, as well as the mysterious Dragon Rider. Toothless and Hiccup find themselves at the center of a battle to protect the peace where they realize that only together do they have the power to change the future. Get ready to hear the voices of major Hollywood actors, including the likes of Jay Baruchel, Kristen Wiig, America Ferrera, and Cate Blanchett. DreamWorks CEO Jeffrey Katzenberg told USA Today that he believes the film will go above and beyond the original. "The first one is beloved, but I am confident we have a movie that is a very worthy next chapter," he said.

8. 22 Jump Street
Another movie that's set to hit theaters June 13, 22 Jump Street stars Channing Tatum, Jonah Hill, Dave Franco, and Nick Offerman. If that's not enough to automatically sell you on the movie, this sequel to 2012's 21 Jump Street is a comedy that is sure to keep you entertained. In the movie, Schmidt (Hill) and Jenko (Tatum) find themselves in college trying to find out who's selling a new drug, according to Hypable. The sequel portrays the lead characters in a similar light to the first movie — Tatum as the dreamy jock and Hill playing a nerd shockingly well.
HitFix has ranked 22 Jump Street second on its list of highly anticipated movies. What exactly is so exciting about this sequel? "As a rule, nostalgia-driven spinoff movies from TV series make for a pretty lame subgenre, but 21 Jump Street was a notable exception, and one of the 2012′s most delicious multiplex surprises — the humor was pitched perfectly between sweet goofing off and sharply self-aware satire, the chemistry between Tatum and two-time Oscar nominee Hill (who'd have thought?) was fizzy and genuine, and the final result stood entirely separate from its (tonally very different) source material," per HitFix.

9. Transformers: Age of Extinction
It wouldn't be a great summer without a Transformers movie gracing the big screen. Directed by Michael Bay and starring Mark Wahlberg, Nicola Peltz, and Jack Reynor, Transformers: Age of Extinction debuts June 27. Peltz plays Tessa Yeager and is the daughter of Wahlberg (who plays Cade Yeager in the movie.) He is a single father and cash-strapped inventor who gets himself and his daughter caught in the Transformer world when he buys a truck riddled with bullets to repair. Turns out it wasn't a truck — it's actually Optimus Prime in hiding, according to USA Today.
You will also (finally) see Dinobots in the fourth installment of the series. "We're also getting Galvatron, though whether he's an upgraded version of slain Decepticon commander Megatron (per certain TF continuities) or a brand new character (per other certain TF continuities) remains to be seen," says Yahoo Movies.

10. Sin City: A Dame To Kill For
With a release date of August 22, it's been almost 10 years since the original Sin City was released. The sequel will pull viewers right into Sin City, a world of dive bars, dark allies, and an absurd amour of violence, per the Los Angeles Times. Sin City: A Dame To Kill For has Josh Brolin begin where Clive Owen left off in the first movie. Brolin plays Dwight McCarthy, who discovers he's been marked to die by Ava Lord (Eva Green), the love of his life, says the Los Angeles Times. There's also an assortment of cast members in the sequel, some new, some old, and some of who are just plain interesting, writes What Culture. Along with Green, expect to see Jessica Alba, Joseph Gordon-Levitt, Lady Gaga, Mickey Rourke, and Ray Liotta — to name a few.
More From Wall St. Cheat Sheet: