'SNL': Why Pete Davidson Missed the Premiere of Season 45
It's not common to miss the first day of school or the first day of work. But that's exactly what Pete Davidson did. When Saturday Night Live premiered this weekend, it did so without the 25-year-old comedian.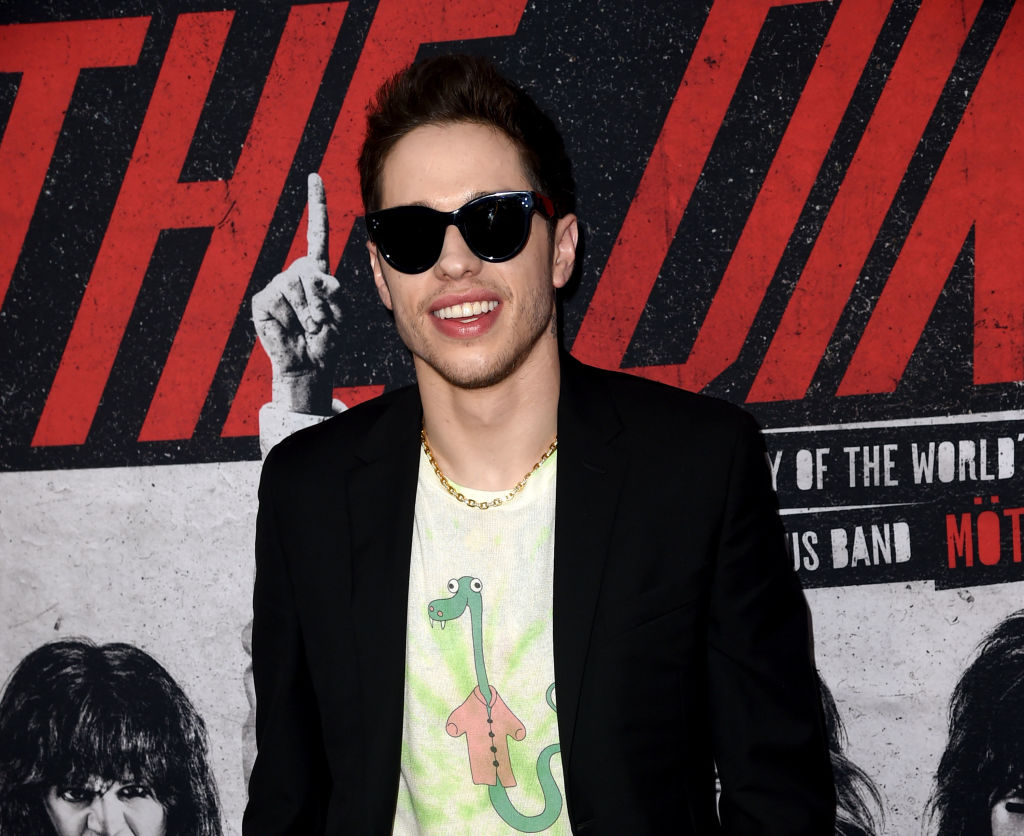 Though Davidson has been a part of the cast since 2014, you would think that he would still take his job seriously and show up to work, right?
So, what made the comedian miss out on the big night?
Where was Pete Davidson on Saturday night?
It may seem unprofessional that Davidson was not around for the premiere of the 45th season of SNL, but he had an excuse.
Davidson was actually in Atlanta over the weekend, working on the set of the upcoming movie, The Suicide Quad. While SNL aired, Davidson was at a screening for Joker with some other members of the Suicide Squad cast.
Hopefully, he told his bosses over at SNL what he was up to because the director of The Suicide Squad, James Gunn, later shared a picture of the screening that showed Davidson smiling along with others in attendance. 
"Some of #TheSuicideSquad (and Pom)," Gunn captioned the photo. "Many of us are doing weird things in this photo. After a screening of Joker (thanks @wbpictures!)."
When will 'Suicide Squad' premiere?
You may be thinking, "didn't Suicide Squad come out a few years ago?"
Well, you would be right. This new version is said to be a relaunch of the 2016 film. Not much is known about the project yet, except that it will be released in 2021.
What else has Davidson been up to?
The only thing that keeps Davidson busier than his career is his love life. The comedian has had several very public relationships that didn't end well.
He and singer Ariana Grande got engaged pretty much immediately after they started dating.
"The day I met her, I was like, 'Hey, I'll marry you tomorrow,'" he once told GQ of Grande. "She was calling my bluff. I sent her a picture [of engagement rings]. I was like, 'Do you like any of these?' She was like, 'Those are my favorite ones,' and I was like, 'Sick.'"
By October of last year, the two had called things off.
"It was way too much too soon," a source close to Grande told People. "It's not shocking to anyone."
Once that relationship ended, Davidson started dating actress Kate Beckinsale.
Their relationship lasted even less time than Davidson and Grande's.
"Pete and Kate got super serious very fast, but they've decided to slow things down a bit," a source told People shortly before they called it quits for good.
Now, Davidson is reportedly dating Margaret Qualley and even Qualley's mom, actress Andie MacDowell, is down for the relationship.
"She has a beautiful relationship with him but I don't want to step on her relationship too much," McDowell told the outlet of her daughter and Davidson. "They have a nice relationship."
Clearly, Davidson has a habit of rushing relationships, so let's just hope that he and Qualley can take it slow, at least for a few months.