'Snow White and the Huntsman' Ditches Snow White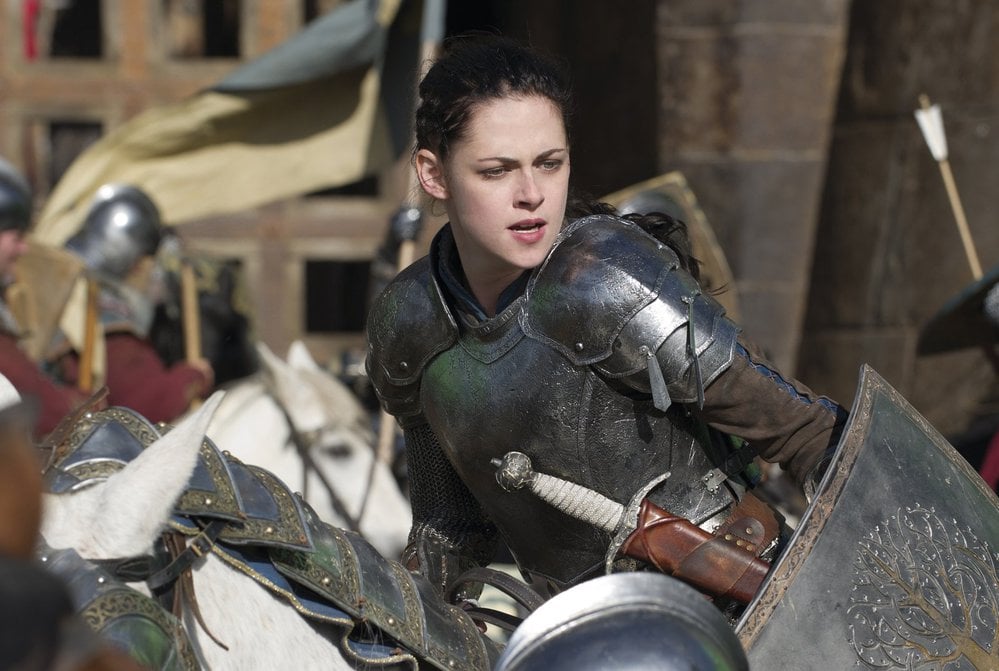 The upcoming spin-off of Snow White and the Huntsman will not feature Snow White, or the former film's star Kristen Stewart at all, according to a report from The Hollywood Reporter.
According to the report, Walking Dead producer Frank Darabont is in talks to direct the film, which will just be called The Huntsman. Chris Hemsworth and Charlize Theron will reprise their roles as the Huntsman and the villainous Ravenna, but Stewart won't be returning to play Snow White. Darabont is best known for directing The Green Mile and The Shawshank Redemption, in addition to producing the hit zombie show Walking Dead on A&E until 2011.
Snow White and the Huntsman was a box office success in part due to Stewart's involvement, as she was just coming off the wildly popular Twilight saga. During filming, the young actress became involved in a huge tabloid scandal when photos were snapped of her kissing director Rupert Sanders. At the time she was dating her Twilight co-star Robert Pattinson and Sanders was married to model Liberty Ross.
The Hollywood Reporter said in 2012 after the first film came out that Stewart was not being invited back to participate in the sequel, though the reasons for that decision were unclear. Aside from the potentially awkward situation that would be created from forcing Stewart and Sanders to work together, the publication also noted that the actress's salary is fairly high and cutting her from the film would shave millions from the budget. Even so, making a sequel without the star of the first film is an unusual decision.
Another factor in Stewart's involvement with the picture could be her already busy schedule. She recently completed the drama Anethesia, about how multiple lives cross paths after a philosophy professor at Columbia University is violently mugged, with Tim Blake Nelson. The drama Still Alice, currently in post-production, sees Stewart starring alongside Julianne Moore and Kate Bosworth. The movie American Ultra just finished shooting in New Orleans and sees the actress reuniting with Adventureland co-star Jessie Eisenberg. Currently in pre-production for Stewart is The Big Shoe, about an overbearing mother trying to connect with her shoe-designing son, and the sci-fi flick Equals.
Equals is set to begin filming in Japan and Singapore in August, according to a report from Deadline. The movie is about a future society in which all emotions have been eradicated so that overall social function can run more smoothly. Things start going wrong when an infectious disease that causes the entire scope of human emotion to return to its victims begins to spread and victims of the disease are quarantined Stewart plays Nia and stars alongside Nicholas Hoult (Silas). Silas becomes infected and realizes that Nia understands what he's going through because she too has feelings, but has figured out how to hide them.
Stewart has also been choosing projects outside the female-lead fantasy-action genre to avoid being typecast. "If you just change your character name from Bobby to Sue… anything where like a girl is punching another person in the face or like being really assertive suddenly they're like… we'll look at Kristen Stewart to do this one. Faux girl power is really revolting," she said in an interview with Conan O'Brien shortly after the Twilight series ended.
All those films on her plate plus the actress's desire to push away from action-fantasy franchise type roles like the one that made her famous are also likely large factors in her abandoning Snow White.
More from Wall St. Cheat Sheet:
Follow Jacqueline on Twitter @Jacqui_WSCS