Sofia Richie Called Kylie Jenner Her Best Friend & Fans Are so Confused
Though Sofia Richie comes from fame, the 21-year-old has been receiving a lot more attention lately due to the amount of time she spends with Kylie Jenner and the rest of the KarJenner clan. Richie had been friends with both Jenner and her older sister (Kendall Jenner) prior to dating Scott Disick. Disick, who is Jenner's older sister Kourtney Kardashian's ex and baby daddy, has been around the family for years and still maintains a close relationship to date.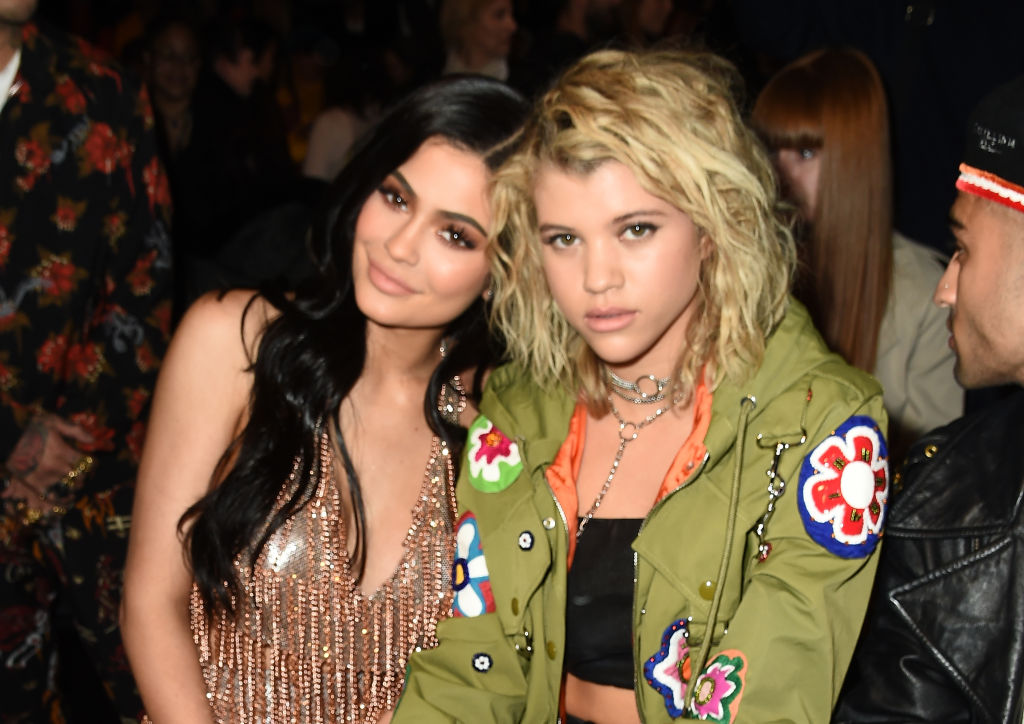 The age gap between Disick and Richie
After Richie and Disick began dating, fans believed that there seemed to be a fallout between her and the Jenner sisters. This was especially true after Kendall Jenner posted a seemingly shady Instagram comment about Richie. When Disick posted a picture of himself, his son Reign Disick, and Richie with the caption "It's good to see them together," Kendall Jenner immediately commented "Aww Scott and his kids." This seemed to be an apparent slight at the age difference between the couple as Richie is newly 21 and Disick is 36.
Keeping up with the Kardashians
But despite the so-called shade, the KarJenner clan seemed to mend their ways with Richie. Back in December she and Disick famously went on a vacation with Kourtney Kardashian and the former couple's three children. In June, Richie was seen living it up at Khloe Kardashian's 35th birthday party. However, Richie spends the most time with the youngest of the KarJenner clan, Kylie Jenner. Ever since Jenner had a public falling out with her former BFF, Jordyn Woods, Richie seems to be a permanent fixture in her life.
Birthday behavior
Though their friendship has been building for a while, when Jenner invited the 21-year-old model on a girls trip to Turks and Caicos for the launch of Kylie Skin, fans felt it was more than just a casual thing. This turned out to be true when Richie was invited to Jenner's birthday trip, sailing on a private yacht around the Amalfi Coast of Italy. Jenner also helped Richie celebrate her birthday with a trip to Vegas.
Best friends
Recently, Jenner posted a video highlighting the time she spent on her birthday trip. The video served as a montage for many of the people attended the trip with her and it was filled with birthday wishes. One such message was from Richie herself. "Kylie, you're 22, and you've always been one year cooler than me. But I love you, you're my best friend. I don't know what life would be like without you," the model declared to the camera.
Fans are confused by the friendship on IG
A seemingly sweet message soon left fans and Instagram users completely baffled. "So confused by this friendship and the Kourtney/Kylie sisters vs you dating her sister's baby daddy dynamic. What a mess," one fan wrote. "She disowned Jordyn for kissing her sister's man but is friends with Sophia now, I'm so confused," another chimed in. "How come Kylie can be a friend to this girl who is dating someone who was practically a husband to her sister? Now they're mad at Jordyn, fake life," one Instagram user wrote. Another critic even felt as in Jenner was simply using Richie for publicity purposes. "You realize you're the side bestie cause her and Jordyn aren't public right now," one fan questioned.
Skeptics believe think the Kardashians are scheming
But fans didn't think that Jenner was the only KarJenner who was using Richie. Other feel the entire family is in on the scheme. "Sofia Richie, these Kardashian sisters are taking you for a ride. They're playing a big game, you just don't realize," one Instagram fan began, dissecting Richie's relationship with the entire family.
"They brought you into their inner circle deliberately. In you hanging out with Kylie, they hope you realize how much you miss your young life, being single, and ultimately break up with Scott so Kourtney can make her move on Scott and steal him from you. They know that there is no way you and Scott are going to break up and this is their only way. These women are known for stealing other women's men, so be aware," the fan cautioned in conclusion. Whatever the relationship between these two women, it seems to be working for them. It's a little weird, but most things the KarJenner's do are.