Some of the 'Game of Thrones' Cast Heard Ed Sheeran's New Music Before Anyone Else
Ed Sheeran has conquered the world of popular music, but the red-headed hitmaker isn't content to rest on his laurels.
In the past several years, he has been trying out his hand at acting, appearing in films like Yesterday and Bridget Jones's Baby.
However, his turn at acting really began with his cameo appearance in the blockbuster HBO show Game of Thrones.
While Sheeran's role wasn't a large one by any means, it caused a lot of buzz in the Game of Thrones fandom.
Keep reading to learn what character Sheeran played in the show, what people said about his appearance, and whether or not he is close to anyone in the cast of Game of Thrones.
What character did Ed Sheeran play in 'Game of Thrones'?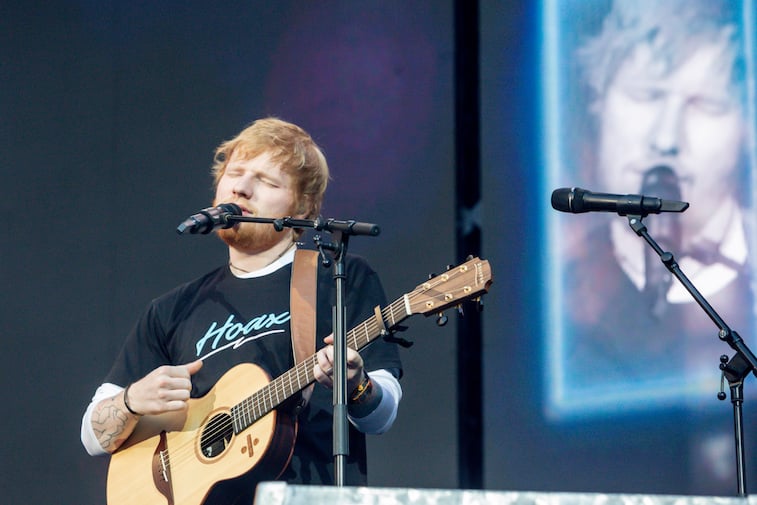 It was in 2017 when Ed Sheeran made his highly-anticipated cameo in the hit series. While there had been a number of other celebrity cameos in the show throughout the years, Sheeran's undoubtedly made the biggest splash.
For one, he was given some lines, albeit not very many of them, and he wasn't wearing a helmet, which allowed viewers to see exactly who he was.
Sheeran's character was a soldier in the Lannister army, named, appropriately enough, Eddie. He popped up in a scene where Arya Stark ventured into a camp of Lannister soldiers. Viewers were even treated to a few lines of verse, sung by Sheeran himself.
While there was a lot of speculation about Sheeran coming back for another cameo in later seasons, he never returned – and his character's fate was described as having his "face burned right off" in a battle.
What did people think of Ed Sheeran's cameo?
While Sheeran's fans loved seeing him in the fantasy series, not everyone appreciated the singer's cameo. Many fans spoke out and stated that Sheeran's cameo was disruptive, and took them out of the mythic world that the series had worked so hard to create.
Even Kristian Nairn, who played Hodor, the large, friendly man responsible for taking care of the younger Stark children, spoke out after the cameo, saying he disapproved of it.
Nairn stated that while he thinks "Ed Sheeran's great," he doesn't think that celebrity cameos have any place in Game of Thrones. He expressed that he agrees with many fans in that cameos break the spell of the show and that, while he understands why people want to be in the show, they should "go away."
Is Ed Sheeran friends with the 'GoT' cast?
Even if Ed Sheeran didn't appeal to a lot of fans after his cameo appearance, he did make fast friends with the Game of Thrones cast. In an interview after his cameo aired, he revealed that he even parties with the cast.
Sheeran admitted that he had gone to a party where a lot of the cast was and ended up playing lots of songs from his new album. Fortunately, the cast had his back and didn't leak any of the new tunes prior to their actual release date.
Maisie Williams, who played Arya Stark, has a particular fondness for Sheeran. Showrunners even orchestrated Sheeran's appearance on the show as a special surprise for Williams, as she's always been a huge fan of Sheeran's music.
Ed Sheeran's cameo on the show was one of the more interesting things to have happened on Game of Thrones during the final two years of it's run on television — not counting, of course, the dramatic and divisive final season.
Stay tuned to Showbiz Cheat Sheet for all the latest Ed Sheeran news!