Why Some People Are Convinced the Kardashians Lied About the Tristan and Jordyn Affair
The Kardashian-Jenner family has been in the spotlight since 2007, when the family first got their reality show Keeping Up With the Kardashians. But since then, they've all seen their fair share of drama. Last year, Khloe Kardashian found out that her boyfriend had cheated while she was pregnant. And now, she's in the middle of another cheating scandal. But not everyone is convinced it's real. Here's why.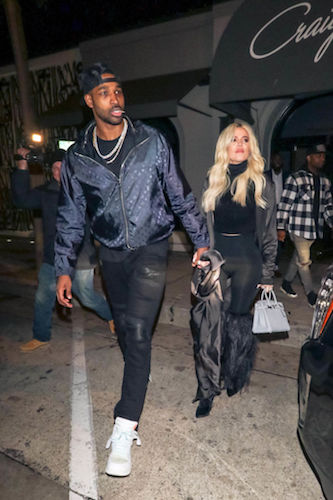 Tristan Thompson supposedly cheated on Khloe Kardashian with Jordyn Woods
Thompson has had a history of cheating on the mother of his child, Khloe Kardashian. And while the phrase "once a cheater, always a cheater" seems fitting for him, Khloe probably didn't see this coming: A cheating scandal involving Kylie Jenner's best friend, Jordyn Woods. Woods and Thompson reportedly got too close at a party at Thompson's house. Witnesses said the two were seen kissing, and the Kardashians reportedly called friends at the party and asked if what had happened was true; everyone confirmed that Thompson cheated. Since then, Khloe has tried her best to pick up the pieces while Woods has reportedly moved out of Jenner's house.
The Kardashians seem to have drama at the most appropriate times
News hits the Kardashian family at the most appropriate times — and people have started to notice. Just days before Khloe gave birth to her first child, a video surfaced showing Thompson with another woman. However, the cheating video was from the previous October, yet it just happened to surface a few days before Khloe would be in the news for her daughter's birth. And when Kylie Jenner had her baby, she didn't make the announcement until Super Bowl Sunday — something that many people thought the family did intentionally. It's lead people to wonder why the Kardashian's personal problems always seems to surface right before a new season or right around another important event.
People have suggested momager Kris Jenner is behind all the Kardashian drama
When it comes to Kardashian-drama setups, people have found one person to blame: Kris Jenner. The endless memes, tweets, and more about the momager being behind the drama has become almost accepted by the public. People truly believe that Jenner sits in the production room with the writers of the show and discusses what the next problematic scene should be. People also suspected Jenner had access to the video of Thompson cheating but purposely waited to release it until right before Khloe gave birth.
Most of the Kardashians are still following Woods or Thompson on Instagram, leading some to believe the drama isn't as real as it seems
People are unsure about Khloe's drama with Woods because Khloe is still following Thompson on Instagram (although she did unfollow Woods). And Kylie is still following Woods on Instagram. Plus, Khloe left a comment on Woods' Instagram photo just two days before the scandal broke — yet Khloe hadn't commented on any of Woods' recent photos before that. To some, the whole comment thing seemed a little bit staged — and could mean the scandal was fabricated. But time will tell us what really happened in the drama-filled love triangle.
Check out The Cheat Sheet on Facebook!