8 Songs Taylor Swift Wrote About Her Celebrity Exes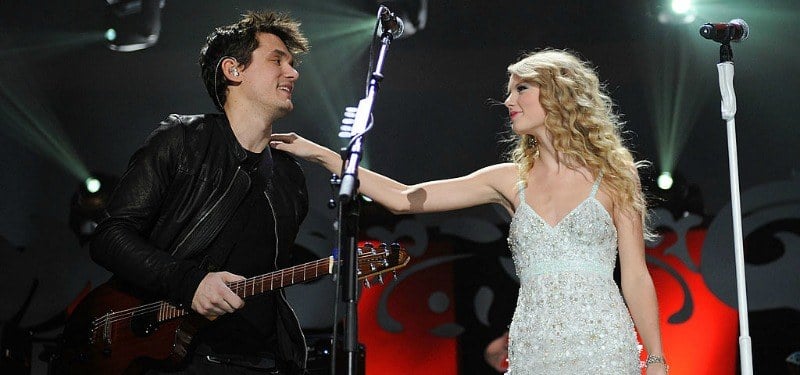 Taylor Swift spent her entire career making catchy hits, like "Shake It Off." But she has also been vulnerable by writing about her own experiences on every album. Of course that involves her romantic life, and there have been many people who have done great detective work to find out which ex is behind each song.
The blonde has had many love interests that she has been photographed with over the years. But she has actually tried to keep quiet about those relationships in interviews. Instead, she would rather let her songs speak for themselves. So which celebrity exes inspired her songs? Here are eights songs that have a very famous inspiration behind them.
1. Harry Styles – 'Out of the Woods'
The two dated in December 2012 and broke up three months later. "Out of the Woods" captured a very hopeless relationship. Many have said that it is about the One Directioner. She played the song at The Grammy Museum and went deeper into the inspiration for the song. "I'm going to play you a song that I wrote about a relationship that I was in that the number one feeling I felt in the whole relationship was anxiety," she said, according to Daily Mail before playing the song.
"Because it felt very fragile," she continued, "it felt very tentative. And it always felt like, 'Okay, what's the next road block? What's the next thing that's gonna deter this? How long do we have before this turns into just an awful mess and we break up? Is it a month? Is it three days?'" She was probably right to feel that way since the spark between them burned out quickly.
2. Harry Styles – 'Style'
The One Direction singer inspired yet another Swift song that tells a very similar story about their brief relationship. "Style" is a fun song that paints a picture of a stylish couple who probably are doomed to break up. Not only does the song have the One Direction member's name in the title, but there are multiple hints to him the lyrics. Of course only the most dedicated fans would have picked up on them.
For one, he has often been pictured with a paper airplane necklace. While she dated him she got a paper plane necklace of her own. In the song there is the lyric: "Baby, like we stood a chance / Two paper airplanes flying, flying."

3. Jake Gyllenhaal – 'We Are Never Getting Back Together'
The songwriter dated the actor back in 2010 for only about three months. But that doesn't mean the relationship didn't give her enough material or inspiration to write a new hit. The breakup hit has been linked to the actor because she wears a scarf and bracelet that were gifts from him in the music video, according to Perez Hilton.
In the lyrics she wrote also say: "We haven't seen each other in a month," which is eerily similar to the time they did break up for a month before reconciling. The song is all about breaking the cycle of an off and on again relationship, and eventually the couple did break up for good.
4. Taylor Lautner – 'Back to December'
This slow song is about running into an ex who you once dumped. It's also apologizing for it and remembering the good times in that relationship. Many believe it is about the Twilight actor who she met on the set of Valentine's Day. The two went out on a few dates before the breaking up in 2009. Some of the evidence that pointed to Lautner as the song's inspiration was the lyric: "I miss your tan skin, your sweet smile."
Recently the actor basically admitted that he knew the song was about him. In an interview with Lea Michele, she joked with him, "I think it's something about a sweater and a hat, right?" She then continued. "It's like, your hat in December!" Of course, then he had to correct her with, "It's called 'Back to December.'"
5. John Mayer – 'Dear John'
Sometimes after a relationship you realize that you were taken advantage of, and that's what this song is all about. Once again the blonde proved that she's not afraid of calling out her ex by name in a song. She named this diddy after John Mayer who she dated for a few short months in 2010. The lyrics say everything Swift has to say about their relationship, but if you ask Mayer he would say he didn't do anything wrong.
He told Rolling Stone that he was "really humiliated" by the song. "It made me feel terrible because I didn't deserve it. I'm pretty good at taking accountability now, and I never did anything to deserve that. It was a really lousy thing for her to do."
He then continued to diss her songwriting. "I will say as a songwriter that I think it's kind of cheap songwriting. I know she's the biggest thing in the world, and I'm not trying to sink anybody's ship, but I think it's abusing your talent to rub your hands together and go, 'Wait till he gets a load of this!' That's bullsh*t."
6. Joe Jonas – 'Forever and Always'
In the lyrics of "Forever and Always," Swift questions why the person she once loved is pulling away from her. She waits for a call that doesn't come and then the lyrics go: "I hold on to the night you looked me in the eye and told me you loved me." Well this song happens to be about the middle Jonas brother. She was very open about the fact that there was at least one song on her Fearless album about him.
Others have also pointed out that the Jonas Brothers had a song named "When You Look Me In The Eyes," the title of which suspiciously pops up in Swift's "Forever and Always." The Jonas Brothers' lyrics go: "When you look me in the eyes / and tell me that you love me / Everything's alright / When you're right here by my side." It could be just a coincidence, but chances are the songwriter dropped hints on purpose.
When asked why she wrote about her Joe Jonas she mentioned what it would mean to her fans. "With this situation," she told MTV News, "I feel like I owed it to my fans to be like, 'Look, it happened, you weren't crazy,' and address it. And I addressed it, and, you know, that's a chapter in my life that's closed now."
7. Cory Monteith – 'Mine'
The early hit was all about a couple falling in love and flashing forward to marriage. Believe it or not, it was about the Glee star who passed away. The two dated in 2010 for a few short weeks. But again the blonde was able to find some inspiration for another hit.
"This is a situation where a guy that I just barely knew put his arm around me by the water, and I saw the entire relationship flash before my eyes, almost like a weird science-fiction movie," the singer told Yahoo! Music. "After I wrote the song, things sort of fell apart, as things so often do. And I hadn't talked to him in a couple months. And the song came out, and that day, I got an e-mail from him. And I was like, 'Yes!' Because that one was sort of half-confession and half-prediction or projection of what I saw."
8. Conor Kennedy – 'Begin Again'
When you get out of a relationship you tend to compare everyone else to your ex. That's what this song is about and how it can be a good thing since you realize you can start over. A lot have said the song is about Conor Kennedy, who she was dating in 2012. This is because it's one of the more optimistic songs on the album and he was the one she was currently linked to at the time of the album's release. Chances are the ex she was comparing him to was Harry Styles because that is who she was dating previously.
His family also had a strong impression on her. She wrote the song, "Starlight" after being inspired by Ethel and Robert Kennedy. She even performed it in front of them at the Ripple of Hope Awards. So maybe she didn't get a happily-ever-after with Conor, but she did get a lot of inspiration from her time with him.
Check out Entertainment Cheat Sheet on Facebook!