Songs We Need SuperM to Perform on Their Upcoming Tour
SuperM's U.S. tour begins on Nov. 11 in Fort Worth, Texas. The anticipation for the K-pop group's first tour is high. For many U.S. fans, it will be the first time they will be able to see live performances of artists from EXO, ShINee, NCT 127, and WayV.
SuperM's tour promotes their first EP, SuperM – The 1st Mini Album. The EP consists of five songs. Two of those songs use all seven members of SuperM while the members are split into units for the other three songs. Because all of the members of SuperM are part of already established K-pop groups, fans are speculating what solo and unit stages the members will perform on tour.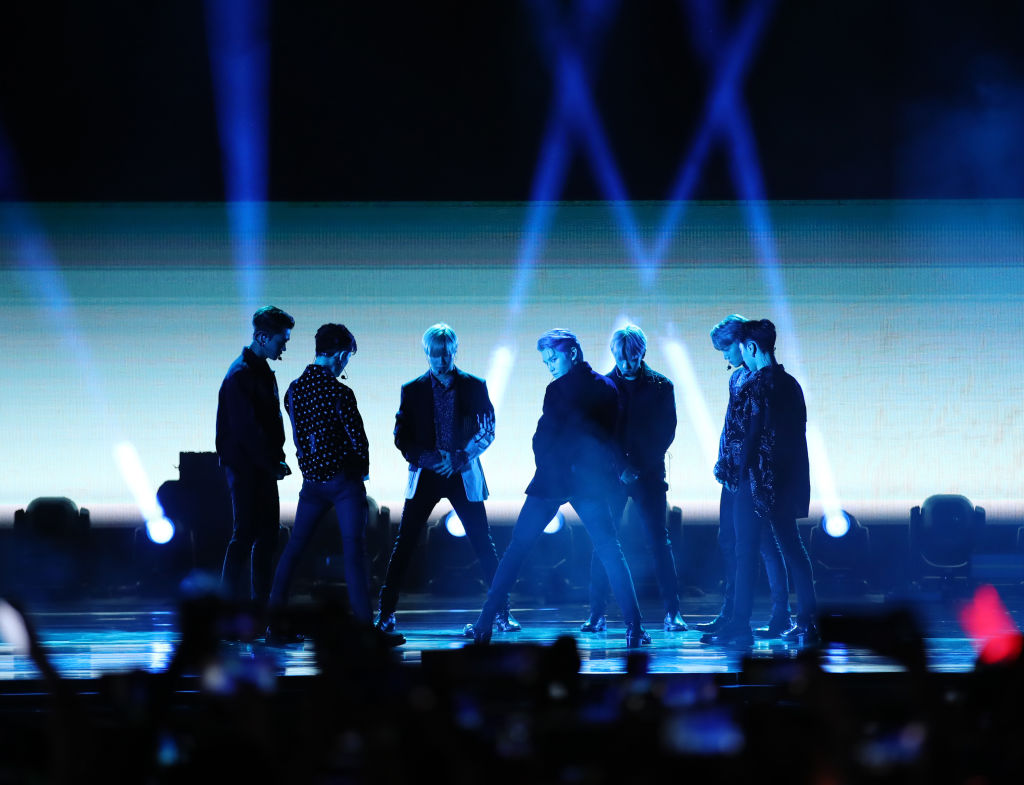 1. 'Baby Don't Stop'
This is a public service announcement. What is the point of having Ten and Taeyong in the same group if the two do not perform "Baby Don't Stop" while on tour? With Ten's smooth vocals and Taeyong's iconic whisper rap, the song is a glorious bop and deserves to be heard.
Both Ten and Taeyong are members of SM Entertainment's K-pop group NCT. The group is unique in that it has a rotating roster of different units. Taeyong is the leader of the group NCT 127 while Ten is part of NCT's Chinese sub-unit, WayV.
Ten and Taeyong debuted "Baby Don't Stop" in 2018 as part of NCT's first full-length album, NCT 2018 Empathy. The album showcased NCT as well as all of NCT's sub-units at the time, NCT U, NCT Dream, and NCT 127. The music video for "Baby Don't Stop" currently has over 55 million views on YouTube.
2. 'UN Village feat. Mark'
Baekhyun is the leader of SuperM and a member of the K-pop group EXO. "UN Village" is the lead single from his solo EP, City Lights. Baekhyun released his debut EP in July 2019.
In October, Baekhyun performed the song as part of SMTOWN Live in Tokyo. To fans' delight, Mark joined Baekhyun onstage during the performance and rapped. Perhaps this was a preview for SuperM's tour?
Mark is a member of NCT 127 along with Taeyong and has debuted four times in different K-pop groups. There are several songs he could perform as part of a unit stage. However, performing "UN Village" with Baekhyun would be a great way to unite both EXO and NCT.
3. 'Move'
Taemin is the senior artist of SuperM and debuted with SHINee in 2008. The singer began his solo career in 2014. He released his second full-length Korean album, Move, in 2017.
Taemin insisted that the title track for the album be the lead single for Move in an effort to defy gender stereotypes. To break these stereotypes associated with K-pop, Taemin worked with Japanese choreographer Koharu Sugawara and the music video for "Move" featured a team of female dancers.
"My aim was to find a middle ground, mixing both masculine and feminine movements into the choreography together. My body shape is like that of a dancer's, it's not too masculine or overly muscular and I wanted to take advantage of that," Taemin told Billboard. "I wanted to break the idea of what male performers are supposed to show, what performances girl groups are supposed to show. I really wanted to break those labels, showing that dance is a form of art."
4. 'Pretty Boy'
Taemin released the song "Pretty Boy" with his debut EP, Ace. The solo EP came out in 2014. "Pretty Boy" features Kai from EXO who is also a member of SuperM.
Performing the song on the SuperM tour would be a great throwback for fans. Taemin and Kai have been close friends since before they were in SuperM together. A performance of "Pretty Boy" on the SuperM tour would also give fans a chance to see a collaboration with two friends.
5. Literally any WayV song
This seems unlikely, but we can always dream. While SuperM members Ten and Lucas are in WayV, the group did not debut until January 2019. WayV just released a new EP, Take Over the Moon, in October. Ever since then, we've been unable to get the song "Love Talk" out of our heads.
Performing a song by WayV would also give Lucas a chance to shine. In SuperM, Lucas is the second-youngest member, but the rapper has several notable verses in WayV songs. Whether it's "Take Off" or "Moonwalk," Lucas stands out.
Even though a WayV song seems like a long shot, WayV does have a Chinese version of NCT 127's song "Regular." NCT 127 released Korean and English versions of "Regular." Perhaps the seven members of SuperM will come together and perform "Regular" as four of the members are already acquainted with it.