'Sons of Anarchy' Star Charlie Hunnam Indulges in This Every Single Day
Sons of Anarchy alum Charlie Hunnam sticks to a healthy diet most of the time, but he still enjoys some cheat days just like everyone else. Hunnam opened up about his diet and revealed what kind of food he craves the most. Although Hunnam keeps his body in top shape, you might be surprised to learn that he has a massive sweet tooth.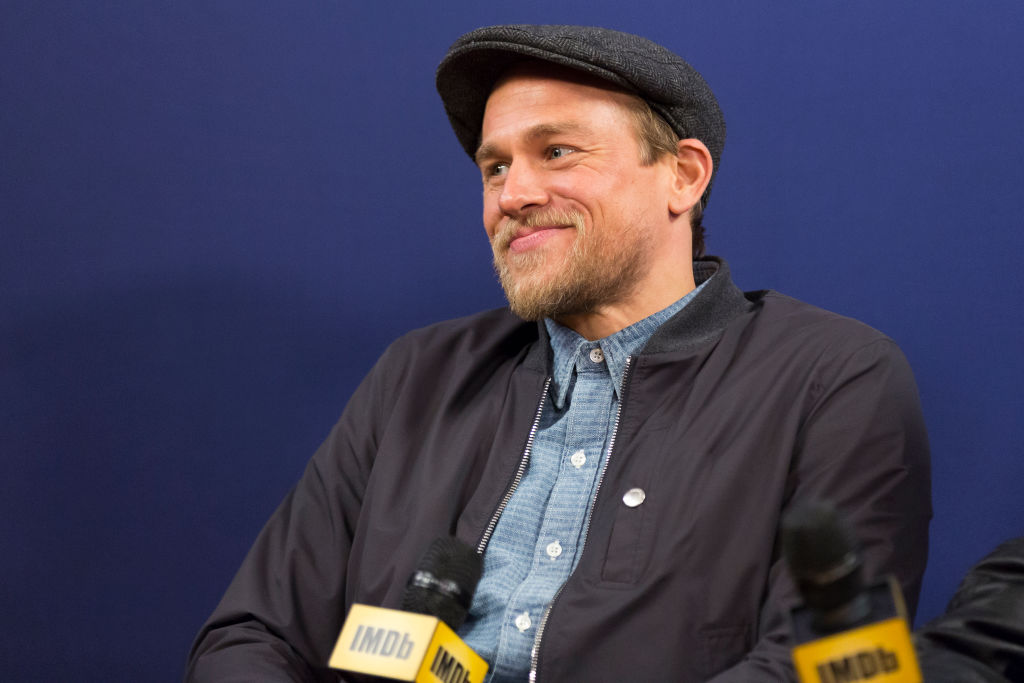 Charlie Hunnam dishes on his diet
Hunnam began by assuring his fans that he usually eats very healthy. Not only does he enjoy eating healthy foods, but he does not find it difficult to stay away from the junk – which is super lucky.
"I eat super healthy just by taste, it's not a labor for me to eat healthy," he explained.
But when it comes to sweets it is a completely different story. According to Pop Culture, Hunnam admitted that he has a very big sweet tooth and eats sugary treats like ice cream and chocolate on the regular.
"I eat very healthy in my savory choices, but I have a wicked sweet tooth, so I eat a lot of chocolate and a lot of ice cream, like every day," Charlie Hunnam shared.
While Hunnam is always willing to indulge his sweeter side, he cautioned fans about doing the same. The actor revealed that he stays very active on a daily basis, which helps balance out the poorer choices in his diet.
Given Hunnam's camera-ready six-pack, he must stay very active to keep up with his chocolate obsession, especially if he indulges every single day.
Hunnam never leaves home without this
Apart from sweets, there is one thing Charlie Hunnam never leaves home without. As a rising star in Hollywood, Hunnam is always on the move traveling to filming locations around the world.
Whenever he leaves for an extended amount of time, Hunnam always packs his own food and makes sure he stay plenty hydrated for the plane ride. And when it comes down to his favorite in-flight meal, Hunnam always packs an egg salad sandwich.
"I'm an enormous fan of an egg salad sandwich on the road. If I'm taking a road trip, I'll get up at 3 o'clock in the morning if I have to, to make myself an egg salad sandwich before I go," Charlie Hunnam stated.
According to Travel and Leisure, Hunnam added that he also packs a bunch of fruit and a salad. For him, eating healthy on the road is the only way to mitigate jet lag, which is a good thing considering how much he travels every year.
Aside from the food, the Triple Frontier star also brings along a foam roller. Hunnam rolls out his back every night, so going a few days without it is a complete no-go for him.
Does Charlie Hunnam cook?
With Hunnam eating such a healthy diet, fans have always wondered if he is the chef in the house or if he lets his long-time girlfriend, Morgana McNelis, do all the cooking.
Turns out, Hunnam loves cooking for McNelis and does not mind preparing meals for large groups of people. Hunnam revealed that he once cooked an enormous meal for McNelis and her friends – and it took him all day to get it done.
"I literally spent all day cooking," Hunnam shared. "She had about 15 of her friends over, and I cooked an enormous meal for everyone, and we drank some really good wine and hung out. It was a lovely day."
Charlie Hunnam added that he feels like food has the power to bring people closer. In fact, he has been quoted as saying that good food and good travel are two things he never feels bad about enjoying.
While he is never afraid to eat a good meal, Hunnam also spends an enormous amount of time in the gym keeping the weight off.
Inside Hunnam's workout routine
Charlie Hunnam treats his workouts like a job and never goes a day without getting some kind of work in at the gym. Although keeping his body in top shape is required as an actor, Hunnam also appreciates the way a good workout makes him feel.
The Sons of Anarchy star explained how he is keenly aware of the mental and emotional benefits whenever he works out and has become dependent on them.
When he misses out on hitting the gym, Hunnam gets a little down on himself. Fortunately, that rarely happens and Hunnam is able to keep a positive outlook on life through his workouts.
Hunnam made a name for himself starring in Kurt Sutter's popular biker drama, Sons of Anarchy. Since the show's conclusion after seven seasons, Charlie Hunnam has appeared in a number of different movies. He is also getting ready for the release of his new television series, Shantaram.