Sony's New Comic Movie Won't Have a Typical Superhero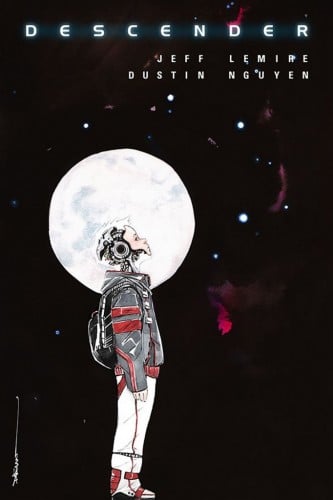 Sony has just landed its newest comic book project. This week, the studio announced that it has picked up the film rights to Descender, a soon-to-be released comic written by Jeff Lemire and drawn by Dustin Nguyen.
Though the first issue of Descender, published by Image Comics, isn't even due to hit shelves until March 4, the story has already drawn major interest from some of Hollywood's biggest film studios. According to Deadline, Sony earned the adaptation rights to the comic after topping other offers in a competitive bidding war.
For Sony, Descender will be a departure from traditional superhero movies (like its Amazing Spider-Man franchise) and a step into more Guardians of the Galaxy-like, sci-fi-focused comic book fare. The comic is described as a "sprawling space opera." Set in a time when anything robotic or with artificial intelligence is hunted down and destroyed, the story centers on TIM-21, an extremely lifelike artificial boy who lives in a distant mining colony. When TIM-21 is discovered to possibly hold the key to the destruction of the galaxy deep in his machine DNA, he quickly becomes a target. As the entire galaxy sets out on a hunt to find him, TIM-21 and his band of unlikely companions must go on the run, traveling from one exotic planet to the next in order to avoid their new foes.
Taking on the project a full month before the public is even able to lay eyes on it makes it a big bet for Sony, who seems to be looking to step up its comic-themed movie game after its latest Spider-Man installment was poorly received by both critics and moviegoers. The studio obviously holds high hopes for Descender, likely envisioning the project as a multiple-film series.
"It was a competitive situation for Descender, and we are thrilled that it ended with Sony Pictures acquiring the series," writer Lemire and artist Nguyen said in a statement, per Deadline. "We know that their film translation will do justice to the original comics, and we are thrilled with their belief in the franchise potential."
Descender was first introduced at a pre-Comic-Con International event last July. It's the latest work from Lemire, who has earned acclaim for his past work for DC Comics (including a lengthy run with Animal Man and Green Arrow) and his original comics for Vertigo (such as the post-apocalyptic Sweet Tooth, centering on human-animal hybrids, and an inter-dimensional, time traveling love story, Trilium). He is also set to write a new Hawkeye series this March for Marvel, as announced at New York Comic Con last year.
Nguyen is known for his long history with DC Comics as well, having created the artwork for many of their various Batman series. He also drew Vertigo's Eisner Award-winning comic book series American Vampire, written by Scott Snyder.
As Deadline reports, both Lemire and Nguyen will have a hand in Sony's forthcoming adaptation, serving as executive producers alongside Josh Bratman. Michael De Luca (who has served as a producer on titles like The Social Network, Captain Phillips, and Blade) will oversee the project for the studio. No release date or production start date for the film has been scheduled just yet.
In terms of its other comic-related movies, Sony has two The Amazing Spider-Man spin-offs, The Sinister Six and Venom in the works, as well as the third Spider-Man flick (which is now scheduled for release in 2018).
More from Entertainment Cheat Sheet:
Want more great content like this? Sign up here to receive the best of Cheat Sheet delivered daily. No spam; just tailored content straight to your inbox.