Sophie Turner and Joe Jonas Get Matching Tattoos for Their Late Dog Waldo — See the Ink
Sophie Turner and Joe Jonas suffered a tragic loss last week. Their beloved dog, Waldo Picasso, was hit by a car while walking with the couple's dog walker. It was a tragic and devastating loss that the couple is still reeling from. Turner and Jonas decided to get matching tattoos of the Alaskan Klee Kai and debuted them on their respective Instagram accounts.
The couple got matching tattoos of Waldo
The devastating situation has clearly rattled the couple, who recently returned from their honeymoon in the Maldives. They each got a tattoo of Waldo Picasso's face, which they shared on their social media profiles.
"R.I.P. my little angel," wrote Jonas in his caption of the photo. Turner shared an Instagram story, including a sweet message for the pooch, "I miss you, Waldo. Rest in peace my little baby."
The tattoos are on each of their arms and the work was done by New York tattoo artist Dragon, who also posted a selfie with the couple. He captioned it, "Thank you so much guys. See you later!"
The tragedy has devastated the couple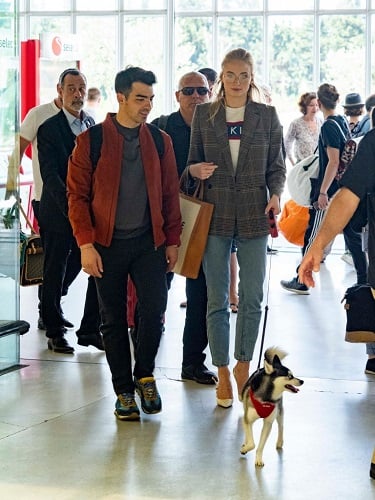 Little Waldo was killed in Manhattan's Lower East Side. Waldo was scared by a pedestrian, and promptly broke free from his leash. He ran into the street and was hit by an oncoming vehicle. Jonas' representative told TMZ that the incident was a "freak accident."
Jonas and Turner didn't go to the police until Friday, as they were distraught and grieving from their loss. They both reportedly went to see a therapist for the ordeal. They are clearly still very shaken by the loss.
Turner has been seen cradling her other dog Porky
Turner and Jonas were recently seen keeping their other dog, Porky Basquiat, very close after the loss of Waldo. Porky is an Alaskan Klee Kai as well. They took him on a short walk in New York City, and Turner was seen cradling Porky in her arms. He had a leash on as well, but Turner clearly isn't taking any risks with her precious pooch. The couple is still grieving for their loss that came as a complete and utter shock.
The couple was recently married for a second time
On a lighter note, Turner and Jonas were recently married for a second time in France. The second wedding came in June as the couple first married in Las Vegas on May 1. They decided to tie the knot officially in a traditional ceremony in France. Many family and close friends attended the beautiful ceremony, including sister-in-law Priyanka Chopra, Ashley Graham, and maid of honor and fellow Game of Thrones star, Maisie Williams.
Hopefully Turner and Jonas can move on from the loss and come out on the other side stronger. Fans are clearly hoping for the best for the couple and mourn the loss of dear Waldo.