We Can't Stop Laughing at Sophie Turner and Joe Jonas Turned Into Action Figures as a Sweet Wedding Gift
What do you get the couple for a wedding gift that already seemingly have it all? Most celebrities can just buy what they want themselves, especially Sophie Turner and Joe Jonas. Well, Jonas' brother Frankie had the perfect idea: turn the couple into their very own G.I. Jophie style action figures. The sweet gift is surely not something the couple already had. It's unique and something they will certainly cherish forever.
Sophie Turner and Joe Jonas were married again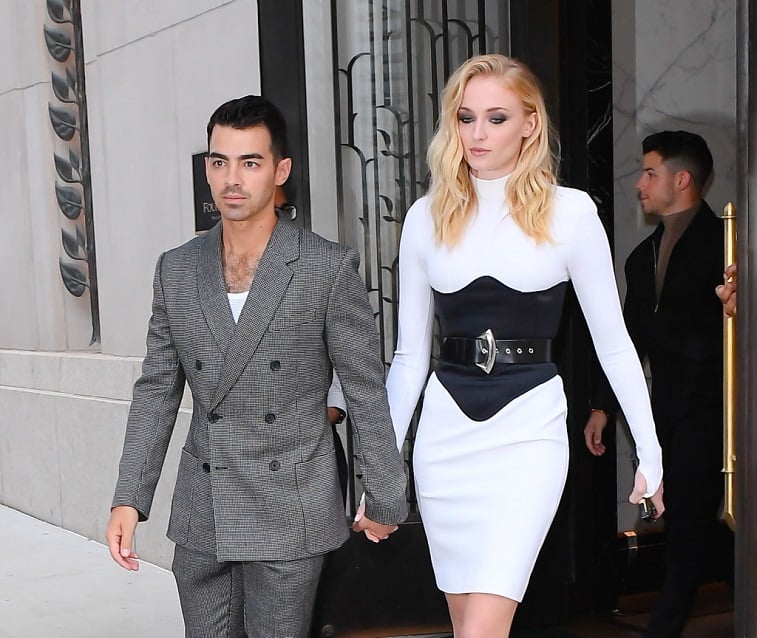 Turner and Jonas have recently tied the knot for the second time. The second ceremony took place at a luxurious chateau in France back in June. The couple had first wed in a private Las Vegas ceremony on May 1 after the 2019 Billboard Music Awards.
The second wedding in Europe was lavish and included a long list of celebrities in attendance, including sister-in-law Priyanka Chopra, Ashley Graham, and Maisie Williams, Turner's best friend and maid of honor. The couple explored Paris for a week before the wedding, and enjoyed themselves thoroughly.
Turner and Jonas have their very own action figures
Jonas' brother Frankie, who is sometimes known as the "Bonus Jonas," spoke with toymaker Dano Brown with the request to turn the couple into action figures. Brown shared the image of the finished G.I. Jophie action figures on his Instagram account.
"Alright. It's been a month since the wedding so I think/hope I'm ok to share this," said Brown on Instagram. "I was hired by Frankie Jonas to make this wedding gift for Joe Jonas and Sophie Turner. Obviously a huge deal for me. I was hoping they'd share a pic but I imagine they have at least 1000 other gifts to go through and probably at least half of those are way cooler so I'm giving in and sharing it anyway."
Brown also added that it was Jonas' brother, Frankie, who came up with the amazing title for the action figures. "Frankie was super good to me and gave me total creative freedom aside from the title, which he thought up, which is probably the best part of the whole thing," Brown added.
Everyone loved the G.I. Jophie action figures
The creative figures of the pair were inspired by a photo of the couple wearing puffer jackets. The entire set was labeled "G.I. Jophie: Matrimony Edition." Turner sports a red jacket and Jonas a black one. Everyone was pleased with the overall finished product. Frankie commented on Brown's Instagram post, saying, "Still so in love with this piece, perfect gift for the perfect duo. Your work on this couldn't be more perfect!"
Brown actually told US Weekly that these action figures are far from cheap. "They're not cheap," said Brown. Most of his designs sell on eBay anywhere from $200 and $500. Sadly, this means the G.I. Jophie figures won't be hitting the shelves anytime soon. They are truly one of a kind. But at least we can admire the sweet gift created especially for Turner and Jonas. If only we could all afford a set of G.I. Jophie action figures.