Sophie Turner Congratulates Joe Jonas on His VMA Win
It looks like Sophie Turner had an amazing time at the MTV Video Music Awards yesterday. She shared a series of behind-the-scenes photos that fans can't get enough of. She also took the time to congratulate her husband, Joe Jonas, for his VMA win with the rest of The Jonas Brothers, taking the Best Pop category.
Sophie Turner shared a sweet message for her husband
Turner is clearly a very proud wife. She took to her Instagram and shared a few photos, as well as a sweet message for her husband and his brothers. One of the photos shows Jonas backstage. Jonas and his brothers won for their hit song "Sucker." The music video features Turner along with her sisters-in-law, Priyanka Chopra and Danielle Jonas.
"OMG CONGRATULATIONS @joejonas @nickjonas @kevinjonas 🎉 here are a few of my favorite moments from tonight! #THATSTHETEA#Lizzoisqueen," Turner captioned the images.
Turner shared a number of photos of the big night. One image shows her hanging out alongside the U.S. Women's World Cup champion, Alex Morgan. Another shows her embracing Lizzo, whom she clearly adores based on the caption's hashtag.
Jonas and Turner had a great time at the VMAs
Apparently, Jonas and Turner were just as hyped as the rest of us in hopes that Shawn Mendes and Camila Cabello would kiss during their performance of Señorita. Fans were losing control when the pair inched in, close enough to kiss. They ended up rubbing noses instead, and people were disappointed, even Jonas and Turner.
Jonas took to his Instagram to share his family's reaction to the performance. The clip shows Jonas and Turner, as well as Nick Jonas clearly hoping for a better reaction than what fans got. Turner and the brothers throw up their hands in clear frustration and good fun.
"#VMAs are over, but we're still waiting for that kiss tho @camila_cabello @shawnmendes," Jonas captioned the video.
Turner skipped the red carpet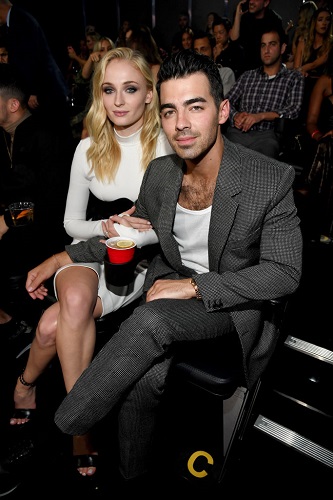 Turner, along with her sisters-in-law, opted to skip the red carpet at the VMAs. It could be because their husbands were busy performing in Asbury Park, New Jersey. However, Turner and Jonas were seen heading out for the VMAs. Turner wore a white long-sleeve dress complete with a black corset midsection. She completed the look with sexy black sandals.
Turner's hairstylist shared a gorgeous image of her look for the evening on Instagram, which was topped off with a smoky eye. Her husband sported a dapper grey suit and black shoes. The pair were ready to party and have an amazing night out.
Joe Jonas and Sophie Turner recently married for the second time
The couple tied the knot for the second time in France back in June. A source shared with ET details about the wedding and how great of a match the pair is. They are so clearly in love and it's a wonderful thing for their friends and family to see.
"They both have so much support from family that it couldn't be a better match. Joe's family adores Sophie, and her parents just love Joe," explained the source. "It was a true celebration of love and everyone got along so well. It was incredibly lighthearted once the ceremony was complete."
Joe Jonas and Sophie Turner are arguably the perfect celebrity couple. Fans can't wait to see what they do next.