Sophie Turner Reveals She Tightened Her 'Game of Thrones' Corset After Criticism from Fans
Game of Thrones fans aren't afraid to speak their minds. However, Sophie Turner, who plays Sansa Stark, opened up about how criticism of her affected her while filming the show. Find out what she had to say about struggling with mental illness and why she tightened her corset after reading fans' comments.
Sophie Turner said she struggled with mental illness while working on Game of Thrones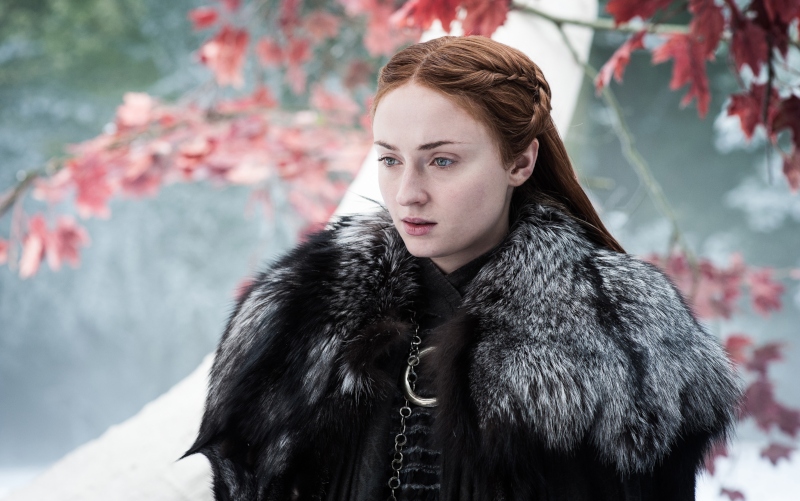 The actress revealed that there was a lot going on with her behind the scenes of the show. "I have experienced mental illness firsthand and I've seen what it can do to the people around [the sufferers] as well," Turner told Marie Claire Australia.
She also talked about going through changes with her body while on the show. "My metabolism suddenly decided to fall to the depths of the ocean and I started to get spotty and gain weight, and all of this was happening to me on camera," revealed Turner.
Turner previously tweeted about mental illness
This isn't the first time the Game of Thrones star talked openly about mental illness. She once wrote about it in a Twitter thread and talked about stigma.
"Part 1 : People who think it's okay to make jokes about mental illness, I feel you must be lucky, because surely you don't understand or can't comprehend what it is like to have or know someone with an illness like this," Turner tweeted.
She had her corset tightened after she got negative comments from fans
The change in Turner's body didn't go unnoticed. Some of the comments reached her and affected her even though what she was going through was natural.
"You see 10 great comments and you ignore them, but one negative comment and it just like, throws you off," she told Dr. Phil McGraw. "People used to write, 'Damn, Sansa gained 10 lbs.,' or 'Sansa needs to lose 10 lbs.' It was just a lot of weight comments. Or I would have spotty skin because I was a teenager and that's normal, but I used to get a lot of comments about my skin and my weight and how I wasn't a good actress."
She went on to reveal how that affected how she wore her costumes. "I would just believe it," she said. "I would just say, 'Yeah, I am spotty, I am fat, I am a bad actress.' I just believed it. I'd get them to tighten my corset a lot. I just got very, very self-conscious. I would be concerned about angles, I'd be concerned about my face. It would just affect me creatively and I couldn't be true to the character because I was just so worried about Sophie."
The good thing is the actress is now using her platform to talk about mental illness and how people's comments can affect others.
If you or someone you know needs help, please text Crisis Text Line at 741741 or call the National Suicide Prevention Lifeline at 800-273-TALK (8255).
Read more: Is This the Crazy Reason Joe Jonas and Sophie Turner Are Reportedly Planning a Second Wedding?
Check out The Cheat Sheet on Facebook!