Sorry, J.K. Rowling Tweets Aren't About a New 'Harry Potter' Book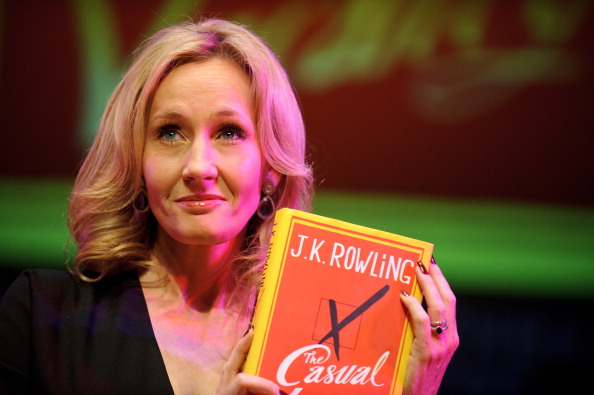 J.K. Rowling has whipped Harry Potter fans into a fervor with some cryptic tweets sent on Sunday, saying that she's working on a lot of projects, among them a new novel, and giving a clue as to what the projects are about. That led some to conclude — perhaps too hopefully — that new Harry Potter stories could be in the works.
"Very busy at the moment working on a novel, tweaking a screenplay and being involved in @lumos campaigns. Back when I've finished something!" the writer tweeted on Sunday. When a follower said that she overanalyzes everything Rowling tweets, the author responded: "See, now I'm tempted to post a riddle or an anagram. Must resist temptation… must work…"
Rowling later gave in to the temptation and wrote: "Cry, foe! Run amok! Fa awry! My wand won't tolerate this nonsense," adding, "Something to ponder while I'm away."
The screenplay Rowling is tinkering with is almost certainly the one for Fantastic Beasts and Where to Find Them, the Harry Potter spinoff trilogy based on one of the textbooks that Potter and company are assigned for class at Hogwarts to teach them about the magical creatures in Rowling's fantasy world. Fantastic Beasts is Rowling's first attempt at screenwriting; she was closely involved with the Harry Potter films but didn't adapt the screenplays herself.
Fantastic Beasts will take place in the same fictional world as Harry Potter, but 70 years before Harry's story begins, and in New York City rather than England. The story will be about the fictional author of the textbook, the "magizoologist" Newt Scamander and his journeys cataloging magical species.
That subject matter might be the clue to Rowling's mysterious tweet. According to users on Reddit, the words "Newt Scamander" and "New York" are both hidden within the tweet. After fielding a ton of speculation, Rowling responded on Tuesday morning, saying: "The solution is the first sentence of a synopsis of Newt's story. It isn't part of the script, but it sets the scene."
We might not know exactly what "Cry, foe! Run amok! Fa awry! My wand won't tolerate this nonsense" means just yet, but it definitely relates to Fantastic Beasts and not whatever new novel Rowling has up her sleeve. It's also not related to a possible new Harry Potter short story of the kind that Rowling has written for her Pottermore fansite in recent months. One of those stories was a satire of the tabloid media written by the character Rita Skeeter about Potter and friends as middle-aged wizards attending the Quidditch World Cup.
Even though it's not directly related to new Harry Potter books, the Fantastic Beasts films are still plenty for Harry Potter fans to be excited about. And while they might not be in book form, the movies will be a growth of the Harry Potter universe coming from that world's creator. With those films set to be directed by David Yates, the director who helmed the final four Harry Potter films, fans who liked Yates's interpretation of the last Harry Potter books will probably enjoy the upcoming three films, which will all be full of new, never-before-read information, as well.
Follow Jacqueline on Twitter @Jacqui_WSCS
More from Entertainment Cheat Sheet:
Want more great content like this? Sign up here to receive the best of Cheat Sheet delivered daily. No spam; just tailored content straight to your inbox.