Sources Claim Liam Hemsworth Is 'Rolling His Eyes' and 'Washing His Hands' of Miley Cyrus
The world of celebrity romance is tough to keep track of, especially when it comes to what Miley Cyrus is up to. We know she and Liam Hemsworth were together for a decade and tied the knot at the end of 2018 before calling it quits on their romance in August 2019. And since then, it's been tough to keep track of who Cyrus is with and which romances should be taken seriously.
While Cyrus' relationship with Kaitlynn Carter seemed more like a fling, it looks like her love for Australian singer/songwriter Cody Simpson is real. As for how Hemsworth feels, reports claim he's "rolling his eyes" at Cyrus' antics with his girlfriend, Maddison Brown.
Miley Cyrus is seemingly madly in love with Cody Simpson
While many expected Cyrus and Hemsworth to work things out yet again, as this isn't their first breakup, it seems they've totally gone their separate ways. Hemsworth has moved on with Brown while Cyrus seems in love with Simpson already. And according to Simpson, the intense feelings between them are totally mutual.
"I'm very happy. We are very, very happy," Simpson told reporters at the Tiffany & Co. Men's Launch, People reports. "She's creative. She's very passionate about what she does, and I'm very similar in that sense. That's why we get along so well." Simpson then went on to explain that the two of them "have a ball" when they're together, and he and Cyrus are "both not partying, working really hard, and it just keeps things healthy and it's good."
Since taking their romance public, Simpson and Cyrus have made appearances on each other's Instagrams and definitely aren't afraid of any PDA. This seems to be much different than Cyrus' more low-key romance with Hemsworth, too.
Chris Hemsworth's wife has spoken out about Liam Hemsworth and Miley Cyrus breaking up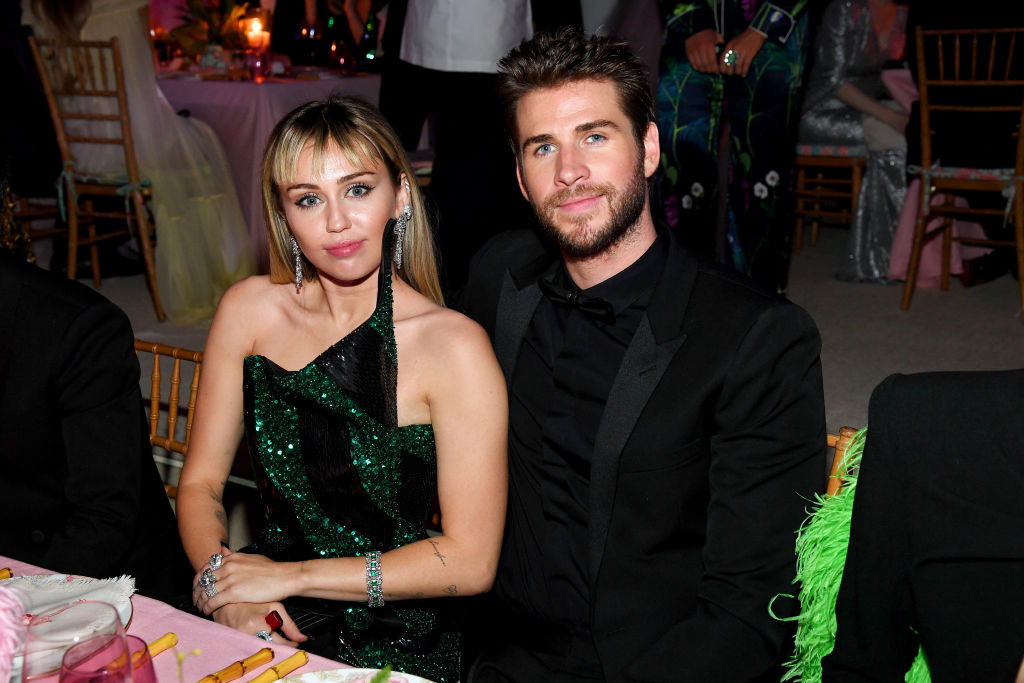 Everyone has an opinion about Hemsworth and Cyrus breaking things off. And Elsa Pataky, Chris Hemsworth's wife, told Hola! what she thinks.
"My brother-in-law, well… After a relationship that you've dedicated ten years to, he's a little bit down, but he's coping well, he's a strong boy and he deserves the best, I think he deserves much better," she told the publication while in Madrid. "You always find support in your family, and he's joined at the hip with his brother, who has been there to give all the strength he needed."
If Hemsworth is in distress, he's not showing it. According to TMZ, he spent some time surfing in Malibu on Nov. 21 with his older brother, Luke. It seems Brown, Hemsworth's new girl, wasn't in attendance, however.
Sources claim Liam Hemsworth and his new girlfriend are laughing at Miley Cyrus
It's hard to say how Hemsworth is really doing in the wake of all the drama, but insiders told Radar Online that Hemsworth's current relationship with Brown is easy, normal, and everything he didn't have with Cyrus.
"Liam can't believe he's missed on the calm, easy feeling of a normal relationship after all this time, and it's exactly what he's been pining for," Perez Hilton reports the insider told Radar. "He was pretty annoyed when pics surfaced of them making out in New York. So now they're keeping it all behind closed doors — and laughing at Miley's immature attention-seeking in the process."
The insider continued on by saying that Hemsworth is "just rolling his eyes and washing his hands of her, even as a friend, which of course is driving Miley nuts." And they then alleged that Cyrus expected a reconciliation with Hemsworth, but he's "not turning back."
Could it possibly be true that Hemsworth is "laughing" at Cyrus with Brown and is completely over her attention-seeking antics? We're not sure, but given how different Cyrus and Hemsworth are, we wouldn't be surprised. Sorry, Hemsworth and Cyrus fans — it looks like they're not getting back together any time soon.
Check out Showbiz Cheat Sheet on Facebook!