'Southern Charm': Did Thomas Ravenel And Ashley Jacobs Fake Their Relationship?
Thomas Ravenel's former girlfriend Ashley Jacobs will be making a few appearances on Southern Charm this season to stir up some drama, but she has already moved back to her home state of California and is leaving Charleston life behind her. Is it possible that Ravenel and Jacobs faked their relationship for a storyline?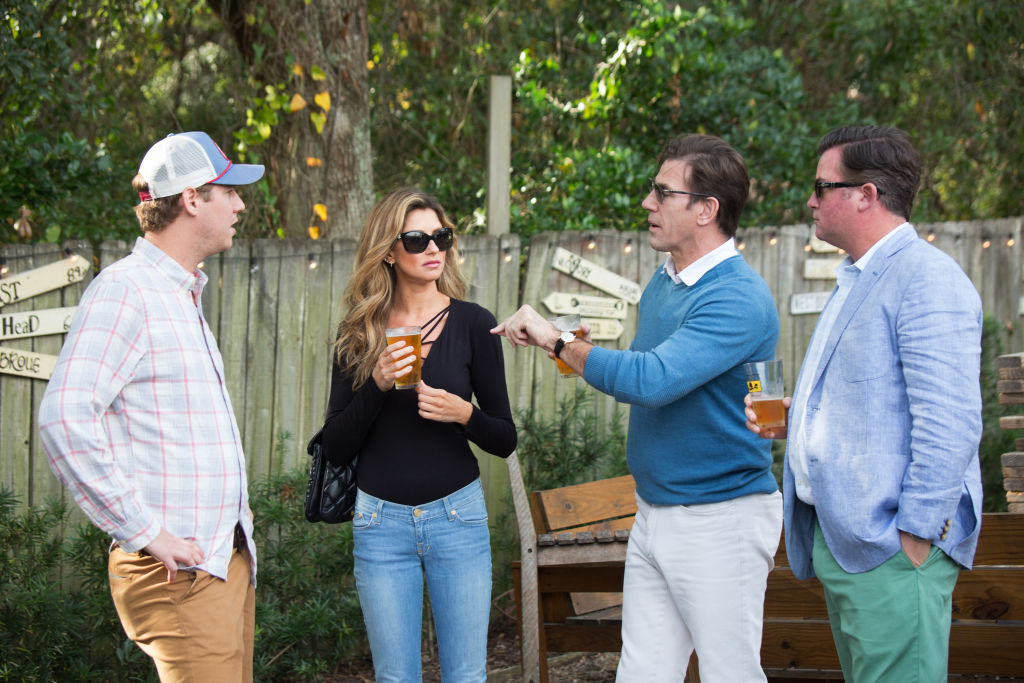 Ravenel and Jacobs met at a polo match
Former Southern Charm star Landon Clements says that she didn't introduce Ravenel to Jacobs, as had been previously reported. Instead, the couple actually met at a Cinco de Mayo party the night before his polo match in Santa Barbara back in May 2017.
Clements was at the polo match, and according to Reality Blurb, she explained to Heather McDonald on her Juicy Scoop podcast that she thought Jacobs was someone else.
"I'd actually thought that Ashley was this girl [Luzanne Otte] that Patricia had been trying to set Thomas up with, so this girl I'm being like overly nice to, I'm thinking in my mind that this is Patricia's friend's daughter. It wasn't until much later that I realized this is the girl that he met in a bar," explained Landon.
Is Ashley Jacobs an escort?
Rumors swirled at the end of Season 5 that Jacobs was a high-end escort, and Ravenel hired her to be his girlfriend on the show after splitting from his baby momma, Kathryn Dennis.
The mom-of-two actually brought up the rumor during the Southern Charm Season 5 finale after receiving a message on Instagram that claimed: "Jacobs targets rich older men who play polo."
An insider claimed that Clements herself was a former call girl who introduced Jacobs and Ravenel. But, Clements shut down those rumors, and there isn't any proof that Jacobs is a paid escort. Jacobs has said all along that she is a registered nurse, and public records show she had her license for nearly a decade in California before getting her license in South Carolina.
Jacobs became the villain on 'Southern Charm'
While there is no evidence that Jacobs charged for her services, Ravenel did financially support the 33-year-old while she lived in South Carolina, and he even paid for a $10,000 shopping spree Jacobs enjoyed with Patricia Altschul.
Just days after the couple met, they started dating, and she moved cross country immediately to be with him. At the time, being a part of Ravenel's life meant being a part of Southern Charm, and Jacobs made her way onto the show in Season 5, and immediately became the villain thanks to her fights with Dennis.
Ravenel and Jacobs' relationship was painful to watch, with the 56-year-old often looking like he wanted no part of it. Not long after Season 5 ended last summer, the couple called it quits, and the timing was suspicious. Jacobs showed up just in time for the season to start, and then the couple broke up when the season ended.
Ravenel and Jacobs' split turns nasty
Both Ravenel and Jacobs took to social media after they split, which unfortunately happened without Southern Charm cameras rolling. The former South Carolina state treasurer tweeted in August 2018, "Today, my personal life just took a huge upward turn. I finally have more than enough information to move forward without any doubt or hesitation, and I'll never look back."
He went on to imply that Jacobs had cheated on him, and that led to the break-up. However, he later backtracked and said he never meant to imply that she was unfaithful after she threatened legal action.
Ravenel also said that he wanted to be with a woman whose "trust, faith, respect, and love is immovable," and he never "got that vibe" with Jacobs.
Meanwhile, Jacobs made it clear that she and Ravenel would never get back together, and she was still trying to figure out her next move.
Jacobs and Clements are still friends
It's most likely that fans will never really know if Jacobs and Ravenel faked their relationship, but the duo – along with Dennis – dominated Southern Charm during Season 5. However, after Ravenel's arrest for assault charges, Bravo fired him from the popular reality show that he had been the star of since the beginning.
Since he wasn't returning for Season 6, it didn't appear that Jacobs would be back either. But, after she claimed Bravo didn't ask her to return, Jacobs showed up in the Season 6 trailer, and it was clear she would be back to cause more trouble.
Insiders say that Jacobs filmed on three different occasions with various cast members, and one time Dennis was even involved. It doesn't appear that Jacobs has any friends left in the cast, but she is still friends with Clements who left the show after Season 4.
The two recently got the chance to catch up at an event in Santa Barbara, and Jacobs posted on Instagram that even though the two never were on the show together, she was the only person from Southern Charm who was there for her. Jacobs added that she was fortunate to meet someone who is a true friend and a great support system.