'Southern Charm' Ratings Crash Without Thomas Ravenel, Fans Need 'Someone To Hate'
After Season 5 of Southern Charm wrapped last summer, star Thomas Ravenel found himself in some legal trouble after two women came forward and accused him of sexual assault. In September, police arrested Ravenel on assault charges and Bravo subsequently fired him from Southern Charm. Even though many fans were thrilled to see the former South Carolina state treasurer get the ax, it looks like Ravenel's absence has caused the show to lose some viewers.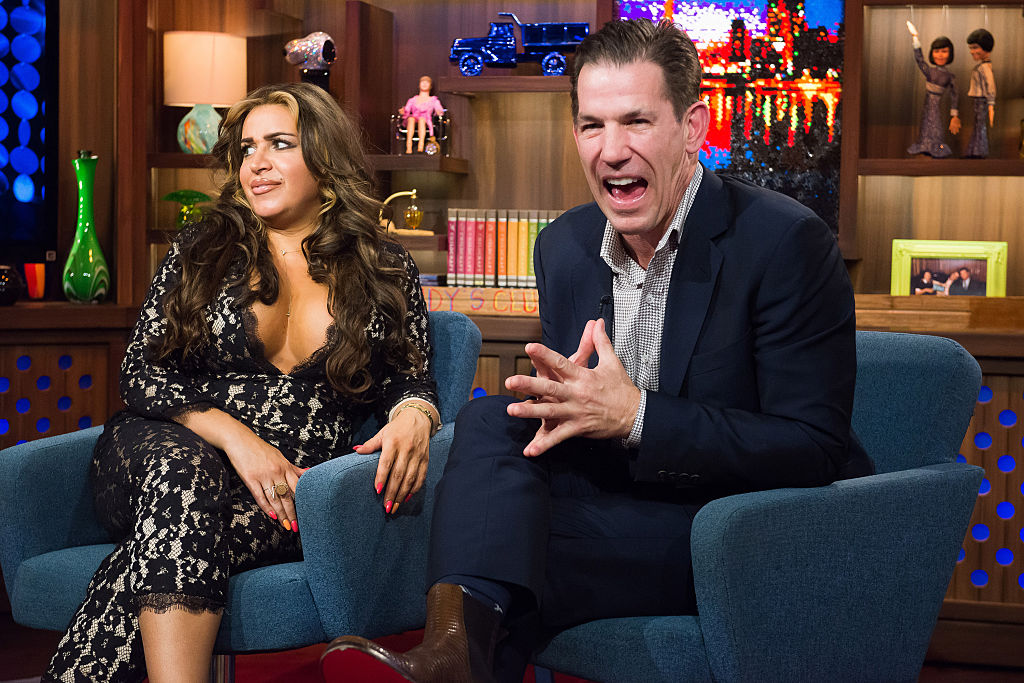 Fans want to see the drama between Thomas Ravenel and Kathryn Dennis
For the first five seasons of Southern Charm, fans couldn't get enough of the drama surrounding the tumultuous relationship of Ravenel and his baby momma, Kathryn Dennis, who is thirty years his junior. While she wasn't part of the original cast, Dennis quickly became a favorite of fans and producers alike, and by the end of Season 1, it was clear she wasn't going anywhere.
Ravenel and Dennis welcomed their first child – a daughter they named Kensie – at the end of the first season. Despite their on again, off again relationship, less than two years later they welcomed baby number two, a son they named Saint.
But, not long after Saint arrived, Dennis and Ravenel called it quits for good in 2016, and their post-relationship drama is what really made this Charleston, South Carolina-based reality show a sensation.
Not only have they been fighting for custody over their children, but Ravenel brought in his new girlfriend, Ashley Jacobs, during Season 5 of Southern Charm, and viewers couldn't wait to see how that drama played out, and the show hit a peak of 1.57 million viewers.
Thomas Ravenel and Kathryn Dennis have been battling over custody for years
As soon as they split, Ravenel and Dennis started fighting over the custody of their children. Originally, they shared 50/50 custody, but when Dennis' issues with substance abuse emerged, she lost custody and ended up in rehab.
Southern Charm fans watched over the next year as Dennis shared her sobriety journey, and when she got clean, a court-appointed doctor recommended that she and Ravenel co-parent. By the time Season 5 came to an end in the summer of 2018, the court reinstated a 50/50 custody arrangement between the exes. But, that lasted just a few short months.
After Ravenel's arrest for assault charges, Dennis filed for full custody in October 2018.
"The Mother is informed and believes it is the best interests of the minor children that she be granted sole custody and/or primary custody of the minor children … with reasonable visitation granted to the Father," read court documents filed by Dennis.
Is Bravo behind the current custody battle?
Thomas Ravenel believes Bravo persuaded Kathryn Dennis to file for full custody because it would be a dramatic storyline for Southern Charm during Season 6. And, now that he has lost his job on the show, Ravenel is suing the network to try and prevent them from airing anything about the custody case.
When the Season 6 teaser dropped, Ravenel immediately requested a hearing because the video featured pictures of his children and a clip of Dennis talking about Ravenel's legal trouble.
It's clear Ravenel will never be part of Southern Charm again, and that could end up being bad news because without him, the show has struggled to redefine itself. It turns out, the show needs a villain.
'Southern Charm' Season 6 ratings continue to fall
According to Fits News, Southern Charm has tried to make Austen Kroll the new bad boy of the show, but it isn't working. Viewers need "someone to hate," and Kroll just isn't crazy or diabolical enough. Ravenel's a hard act to follow in the villain role, and while Jacobs is just as hated as Ravenel, her upcoming appearance won't last long. She is already back in California and done with the show for good.
The show is slowly sliding in the ratings during Season 6 and is down to 1.28 million viewers. That may not seem like a huge decline, but Southern Charm has stopped gaining new viewers and is losing fans. In the long run, that could be a problem for the Bravo show, and it's all because they did the right thing and got rid of Thomas Ravenel.
New episodes of Southern Charm air Wednesday nights on Bravo.