'Southern Charm' Star Kathryn Dennis Admits To Violating Court Order With BF Hunter Price
Southern Charm star Kathryn Dennis' bitter custody battle with Thomas Ravenel is far from over. In the latest development, Dennis admitted to violating her previous custody agreement by letting her boyfriend, Hunter Price, stay the night when her children were at home. Although the decision may seem minor to fans, it could threaten Dennis' bid for joint custody. How did Ravenel catch Dennis violating the court order?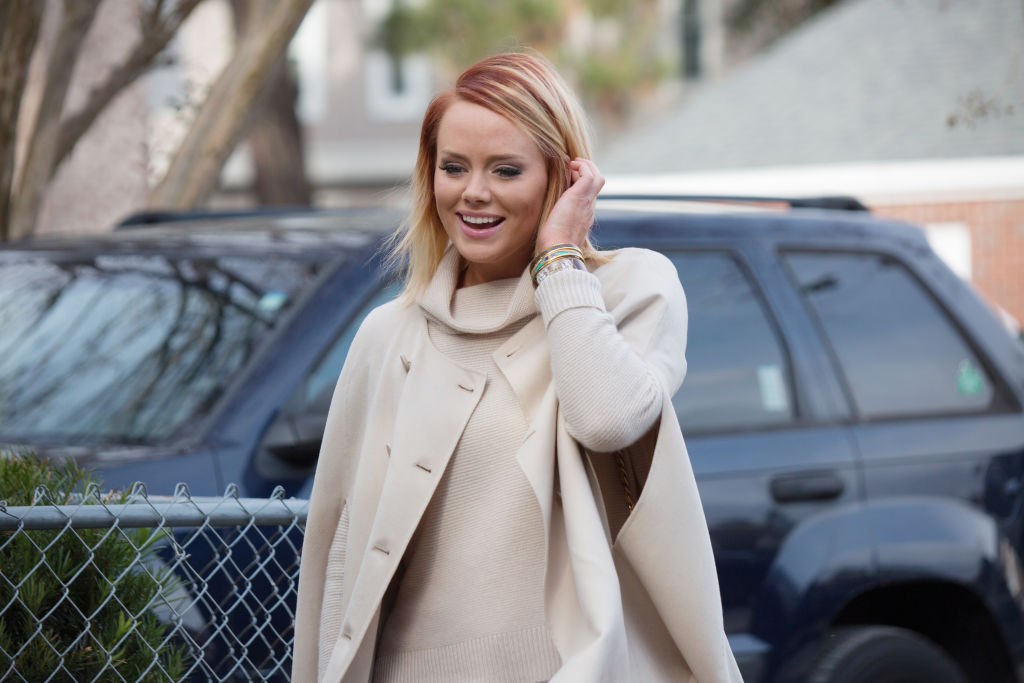 Kathryn Dennis apologizes for breaking her custody agreement
Court records show that Dennis admitted to breaking a court order that prohibited Price from staying overnight while she was watching her children. According to Decider, Dennis expressed a lot of regret over breaking the agreement and revealed that she tried to hide it from the court. The alleged incident happened between the months of February and March of this year.
The Southern Charm star, who shares two children with Ravenel, Kensie and Saint, also apologized for her actions and for misleading the court, calling it "the worst decision that she has made in a long time."
Ravenel caught Kathryn Dennis breaking the custody agreement by hiring private investigators, who saw Price staying the night on multiple occasions. The investigators were apparently keeping close tabs on Dennis, including watching her home.
Price is originally from Nashville and started dating Dennis earlier this year. Although she admitted to making a terrible decision, Dennis also confessed that she fell in love with Price during the first two months of the year.
"I have no excuse for this," Kathryn Dennis explained. "I fell in love with Hunter after I met him at the end of last year, and allowing him to spend the night in February and March when I have had the children has turned out to be the worst decision that I have made in a long time."
Inside Dennis and Ravenel's custody battle
Dennis and Ravenel have been fighting in court over the custody of their two children for months. To say that things have gotten messy is an understatement. In July, court documents revealed that Dennis may have undergone an abortion during a stint in rehab.
The reality star was forced to seek professional help for alcohol and drug abuse. Ravenel is the one who accused Kathryn Dennis of getting the abortion, though her lawyers say the allegations are simply not true.
Ravenel is not the only one who has accused the other side of wrongdoing. Dennis, for example, recently slammed Ravenel for dropping one of their children into a pool. Ravenel, who is fighting for sole custody, has yet to respond to the allegations. The custody battle will likely continue until both sides agree to a plan that will allow them equal time with their children. Until that happens, we can only hope that the mudslinging stops, at least for the sake of their kids.
Ravenel, of course, is facing legal troubles of his own. Ravenel was booted from Southern Charm last season after a former nanny accused him of sexual assault. He is scheduled to appear in court to defend himself against the allegations, which he has vehemently denied.
Dennis denies drug issues
This is not the first time Dennis and Ravenel have fought over custody. A few years ago, Dennis actually lost custody of her children after she failed a drug test. The Southern Charm star subsequently checked herself into rehab and proved that she could keep her sobriety.
A judge eventually granted Kathryn Dennis joint custody but only if she was will to take random drug tests. Per their agreement, Dennis's custody would be revoked if she ever failed a drug test, which is why Ravenel is trying to take sole custody at the moment.
Ravenel claims that the Southern Charm star recently failed a drug test after testing positive for marijuana. In response to the accusations, Dennis says that she has not used drugs since leaving rehab in 2017. She explained that she failed a recent drug test because she is using CBD oil.
To back up her claims, Dennis revealed that her hair follicle test, which was administered on the same day of the failed test, came back negative. A judge has yet to rule in favor of either side, so it will be interesting to see how this one pans out.
In the meantime, fans can watch Kathryn Dennis in action when new episodes of Southern Charm air Wednesday nights on Bravo.