'Southern Charm' Star Kathryn Dennis Crashes Car With Children Inside
Sometimes, it just seems like Kathryn Dennis can't catch a break. The Southern Charm star's name has been appearing in the media more and more lately as Thomas Ravenel continues to battle her in court for custody of their children. Ravenel has been dredging up a variety of accusations about Dennis since they court battle began, ranging from accusations of a hit-and-run, to claims that Dennis failed a recent drug test. 
Now, as Dennis copes not only with the continued court battle, but also the recent loss of her mother, it seems likely that Ravenel will try to use the car crash as additional ammunition against the embattled mother. 
Her mother's recent death
The Southern Charm star's mother, Allison Calhoun Dennis, passed away on August 7th. Kathryn Dennis told People that she and her mother shared a close bond. "My mom's my best friend," she explained. "She stuck by me through so much. I don't know what I would do without her."
Dennis went on to explain that her mother had been battling illness for some time. She told People, "She was sick for a year and a half and I was taking care of her. She's since been living with me, essentially. It's great to have her around, especially because she's so good with the kids [Kathryn's son St. Julien, 3, and daughter Kensie, 5]. She's amazing. She's the best mom I could ever hope for with everything."
Dennis' mother was always in her corner during her battles with Thomas Ravenel. In the past, she mentioned being disturbed by Ravenel's behavior. "I unfortunately still remember numerous other incidents during the 2014-2015 that were extremely disturbing regarding Thomas' conduct," Dennis' mother told The Blast. "There was an incident where I was downstairs with Kensie in the living room and heard noise coming from the bedroom (head-board banging against the wall) and obviously knew what was going on."
The car crash
Now, troubles seem to be mounting for Kathryn Dennis. After dealing with her mother's passing, the Southern Charm star crashed her car in a recent incident. 
ABC 4 News reports, "Kathryn Dennis was traveling north on Highway 17 when she said she became distracted by her children in the back seat. Her vehicle then struck a guardrail before hitting three trees and two light poles and coming to a rest on the southbound side of the roadway."
According to ABC, Dennis and her children were using seatbelts and proper car seats when the wreck occurred, and there haven't been any citations issued to Dennis following the crash.
Regardless of the news that Dennis took proper safety measures in her vehicle, it is likely that Thomas Ravenel will try and drag the incident to court as evidence against Dennis' parenting abilities.
Thomas Ravenel's drug abuse claims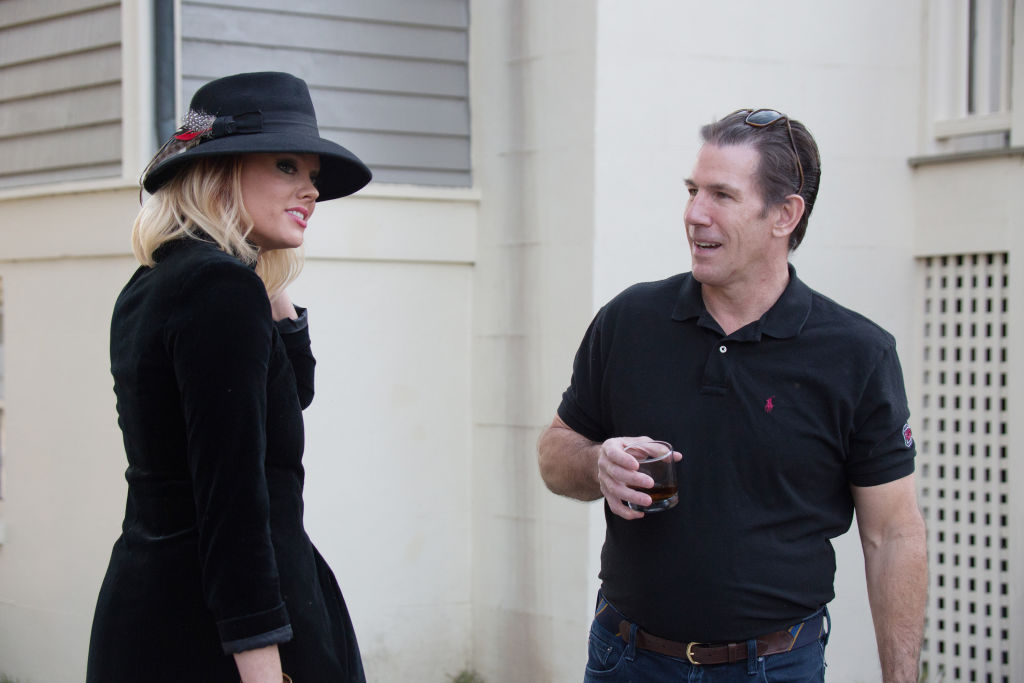 The Southern Charm star's car crash is coming shortly after Ravenel's recent claims that Dennis failed a court-ordered drug test this summer. Dennis failed a urine test, but passed a second urine test as well as a hair test. 
According to documents obtained by The Blast, Dennis said, "Most recently, there was a discrepancy in the results of my urine test indicating a trace amount of 16 parts per million for marijuana metabolite on June 14. However, I have not used marijuana. My hair follicle test taken on the same day was negative."
Dennis went on to add, "I have not seen, handled, used, smoked or eaten products containing marijuana since prior the 2017 order. I am willing to be tested anytime as I adamantly deny any illegal drug use."