'Southern Charm': Thomas Ravenel Hired Private Eye to Follow Kathryn Dennis Amid Custody Battle
Former Southern Charm star Thomas Ravenel has been in the spotlight lately for his bitter and ongoing custody battle with Kathryn Dennis. Things have gotten nasty lately, with Ravenel making a wide variety of claims against Dennis. These have ranged to accusations of a hit-and-run, to going over her nude photos in the courtroom, to accusing her of appearing intoxicated on Watch What Happens Live.
Meanwhile, Dennis is lobbying for sole custody of her children after Thomas Ravenel was arrested on second-degree assault and battery charges. Now, it's come to light that Thomas Ravenel has actually been having Kathryn Dennis followed for quite some time.
Thomas Ravenel's sexual assault scandal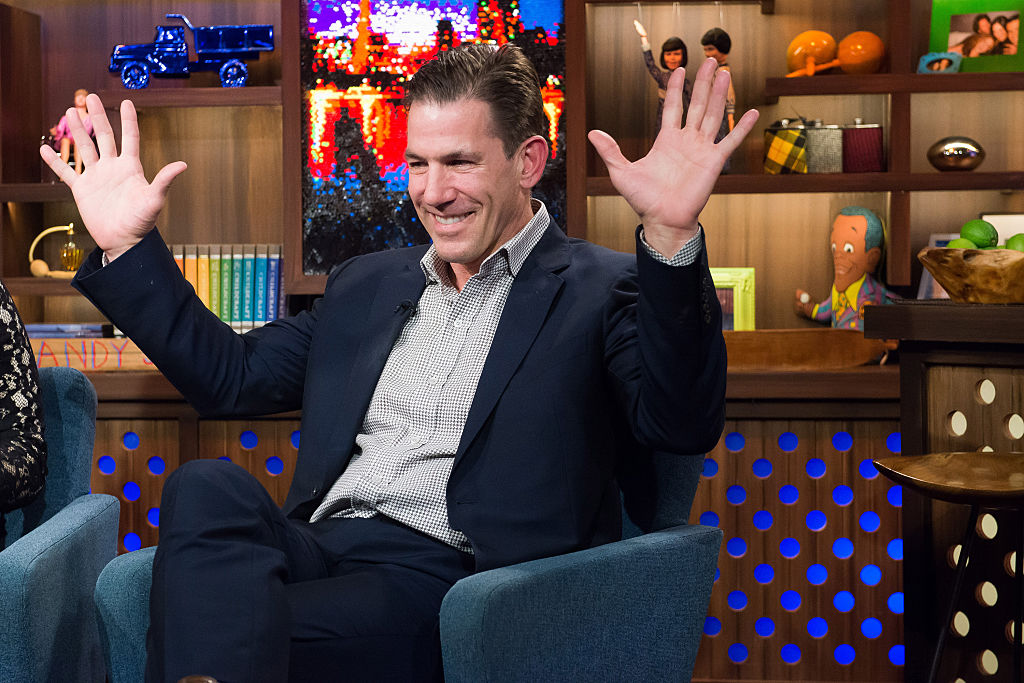 Thomas Ravenel has been accused of sexual assault twice now. The former Southern Charm star was first accused of assault by Debbie Holloway Perkins in 2016.
Ravenel met the woman on Tinder, and got together with her for a date. According to Perkins, Ravenel sexually assaulted her in the nanny room of his home. Ashely Perkins, her daughter, told People, "Her wrists were starting to look bad the next morning. I said, 'We need to see who we're dealing with.' She didn't want to do anything. She was scared to go to court. I said right now you don't want to do anything, let me take a picture of your wrist. Let's get some evidence in case you want to do something."
The two parties eventually settled out of court for $200,000, but Ravenel was soon accused once more. This time, Ravenel's children's former nanny, Dawn Ledwell, came forward. According to Ledwell, Ravenel "approached [her] without any hesitation and attempted to kiss [her]." Ledwell adds, "It escalated from there where he wouldn't take no for an answer. Although it wasn't penile penetration, what he did do was identified by the law as first-degree forcible rape."
His recent claims against Kathryn Dennis in court
Since Thomas Ravenel was arrested on second-degree assault and battery charges following Dawn Ledwell's accusations, Kathryn Dennis has been seeking sole custody of her children. Thomas Ravenel, likely as a result, has stepped up his accusations against the Southern Charm star in the courtroom.
Most recently, Ravenel claimed that Kathryn Dennis failed a drug test because she's still abusing substances. According to documents obtained by The Blast, Ravenel and Dennis were both required to take a drug test by the court.
While Ravenel claimed Dennis failed her first test, Dennis fired back that she passed a second test, as well as a hair test. Ravenel posited that "the marijuana detected in the June 14, 2019 test could have been flushed out of her urine by that time."
Having Kathryn Dennis followed
Now, as more court documents from the Southern Charm stars' court battle become available, it's become clear that Thomas Ravenel has been having Kathryn Dennis followed. A private detective, David C. Leaird, has been following Kathryn Dennis since September of 2018.
The Blast reported that, "The private eye [Leaird] says they were hired to specifically watch her interactions with the kids. During their investigation they set up cameras to record Dennis twenty-four hours a day. The cameras were at two residences where she stayed."
In a rather tangled web, it turns out that Leaird is actually Dennis' cousin, and is in fact married to Thomas Ravenel's ex-fiancée. It's also been revealed that Leaird collected, "40,000 photos and 10,000 videos."