Spider-Man Divided: How Sony's Venom-Verse Will Collide With the MCU
The Disney/Sony negotiation returned Spider-Man to his rightful home for another standalone installment and an additional MCU appearance. However, Tom Holland's Spider-Man will come to operate in two distinct cinematic universes — the MCU (where he will continue to live up to Stark's legacy, coming to own his Avengers status) and Sony's aptly named Venom-Verse starring Tom Hardy. The question is: how will these two worlds collide? Will they coexist seamlessly or will narrative logistics lead to friction?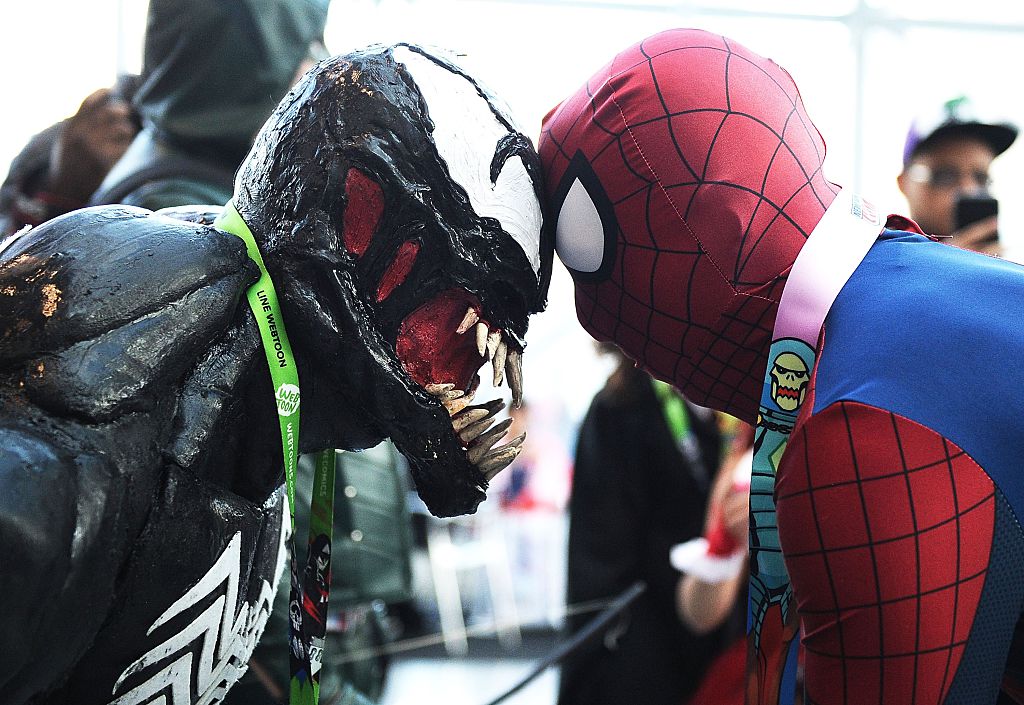 How will Tom Holland continue to play Peter Parker in the MCU and join Sony's superhero soiree? Let's dive into what we know before discussing the possible narrative problems destined to arise — or the inconsistencies that will presumably erupt from a single character taking on disparate functions. 
How will the MCU's Spider-Man interact with Sony's universe? 
Following the Sony/Disney negotiation, Deadline explained the following regarding Tom Holland's presence in both universes: 
We hear that as Sony progresses their own Marvel universe with titles likes Venom 2 and Sinister Six, and Disney/Marvel their own, there could be a "call and answer" between the two franchises as they acknowledge details between the two in what is would loosely be described as a shared detailed universe. Details on that are still early.

Deadline
If you're reading the words "shared detailed universe" and are already excited, you may want to pump your breaks. A "call and answer" approach would likely mean that the separate universes will reference, but not indulge one another. 
Fans keep pushing for an intricate multiverse, in which Peter Parker jumps between Sony and the MCU (existing as the same, but a different person in both). However, it's more likely that Spidey will simply "show up" in Sony's world and that the characters he interacts with will be able to comment on his MCU ventures. As MCU Cosmic explains, the devil is in the "details;" Deadline's message focuses on shared details, shared tidbits of information, shared allusions. The landscapes cannot, and presumably will not, overlap to any meaningful extent.
This message does not insinuate shared worlds with vast overlapping characters and plotlines. Sony and Disney are still two separate companies with separate goals. 
No negotiations will make a complex multiverse plotline —  one in which Sony and Disney are impermanently tethered until narrative conclusions allow them to separate  — plausible. 
How will this influence Spider-Man's narrative in both universes? 
Unfortunately, it's likely that, if and when Tom Holland's Peter Parker appears in a Venom-verse film, he will come without the aid of his Avengers. While all fans already assumed such, it will be hard for Sony writers to convincingly create plotlines in which Parker doesn't think, "Why don't I call up Falcon or Captain Marvel and ask for a hand?"  
Because Marvel holds more of the heroes Spidey has intimate relationships with, it will likely feel weird when Spidey appears alone and threatened in a Sony film, for we would expect to see him ask for help. Not all villains require assistance; however, when he is pinned to the ground on the news, will all the Avengers just say, "He's fine. He can handle it?" 
Shared details make for funny moments and amusing allusions but they are not enough to account for narrative holes or non-sequitirs.