'Spider-Man Far From Home': Are Tom Holland and Jake Gyllenhaal Friends in Real Life?
As much sadness as there is in Spider-Man: Far From Home about Tony Stark no longer being around to mentor Peter Parker, some new friendships are being mended.
Well, if you can try to find a line between foe and friend with Quentin Beck/Mysterio, maybe so. Beyond the cameras is another close friendship on par with the one Tom Holland and Robert Downey, Jr. enjoyed.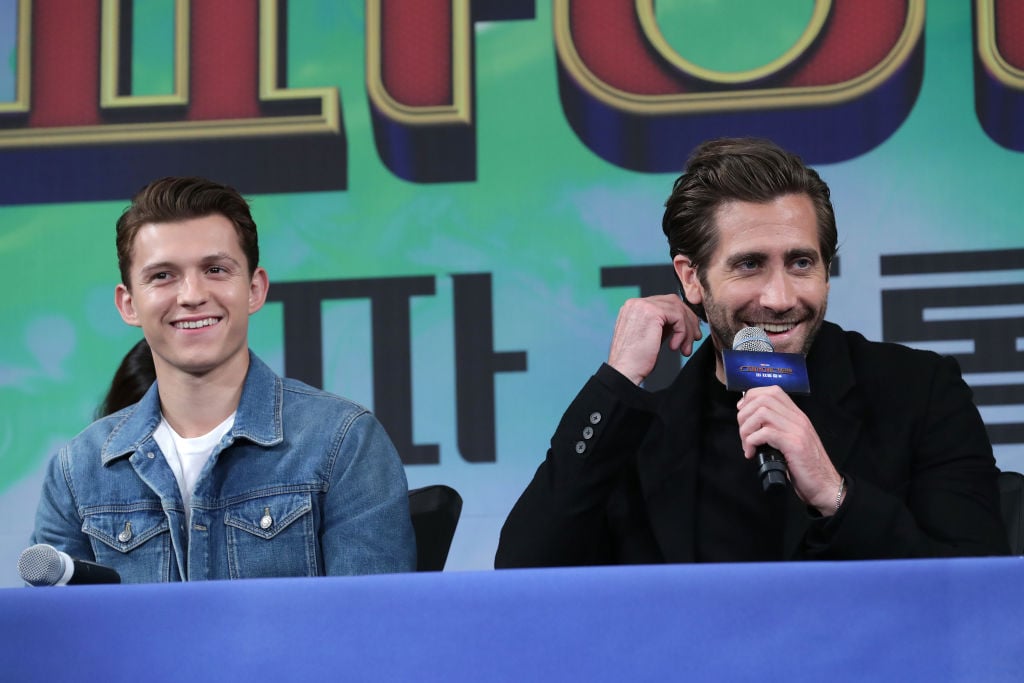 If Downey is considerably older than Holland, Jake Gyllenhaal is more within the age zone of millennial understanding. It turns out even though Parker and Mysterio/Beck have an uneasy alliance in Far From Home, Holland and Gyllenhaal have a good relationship.
Not that Holland has found it easy to keep up with his co-star in one particular way.
Holland and Gyllenhaal formed an almost dangerous acting friendship
We use the word "dangerous" here in more than one way when it comes to how well Holland and Gyllenhaal bonded on the set of Far From Home. According to a recent in-depth interview for EW about their friendship, they'd never worked together on the big screen until now. However, once acting together, they couldn't stop breaking out into laughter during their scenes together.
Yes, there are some close acting friends who start acting like grade school kids when around one another. While this does make for good friendships, it also becomes dangerous in that a simple scene might take 50 takes due to the crackups.
In the EW interview, director Jon Watts said a simple handshake scene took dozens of takes because the two actors couldn't stop guffawing for no particular reason.
Chemistry like this is more common than you think in the MCU if you go by Chris Hemsworth and Chris Evans' similar bromance. It's resulted in them being banned from promotional interviews due to how much goofing off they do when in the same room.
Gyllenhaal and Holland had met before 'Spider-Man Far From Home'
The EW piece does clarify the two met one another previously in a restaurant a few years ago and became fans of each other's work. Their mutual wish in wanting to work together shows insiders in Hollywood are always listening and match actors with the best possible chemistry.
Even though Gyllenhaal is 15 years older than Holland, they've both had stage experience. Also, their bond proves just because you're older doesn't mean you can't bond with someone younger. When it comes to acting in the MCU, creating close friendships is important to keep the chemistry strong.
Gyllenhaal also needed some advice from Holland about adjusting to the MCU world since he'd never done a superhero movie. Perhaps the only area where they've differed is in how they tackle their workout programs.
If you've been paying attention to celebrity news lately, you might have heard about how Holland almost severely injured himself after working out with Gyllenhaal.
Are Holland and Gyllenhaal proof opposites can still be friends?
There's a lot that's different about these two actors when you look at the details. Even so, they've proven differences are sometimes a benefit if also learning harsh lessons. When Tom Holland worked out with Gyllenhaal in China recently, the former couldn't even walk after an intense treadmill run.
Had this happened in another acting friendship, it could have ended in disaster. Holland just took it as a form of initiation (or was it hazing?) in becoming closer friends with Gyllenhaal and aiming to become a similar actor.
One thing Gyllenhaal liked the most about Holland is that the latter has no ego. A relationship like this in Hollywood with someone who maybe does have an ego is a great new system of checks and balances in staying humble.