'Spider-Man' Producers Are Making Us Think Spider-Man and Zendaya's Character Won't Actually Fall in Love
The hype for Avengers: Endgame may be over, but Marvel Cinematic Universe fans still have plenty to look forward to. The trailer for Spider-Man: Far From Home recently dropped, and it's bound to be the movie of the summer. Tom Holland reprises his role as the beloved Spider-Man, and it looks like he'll be attempting to take a European vacation with his high school friends when trouble strikes.
We can't wait to see Samuel L. Jackson and Jake Gyllenhaal in this film, of course, but fans are also curious about Peter Parker's relationship with Zendaya's character, Michelle Jones. Will the two fall in love as was predicted from the very start? It seems the producers may be faking us out.
Zendaya's Michelle and Tom Holland's Peter Parker look like they're getting close in Spider-Man: Far From Home
It's no secret that Zendaya's Michelle Jones is reminiscent of Mary Jane Watson, the redheaded bombshell in the Spider-Man comics who becomes Peter Parker's main love interest. The character of Mary Jane was featured back when Tobey Maguire was Peter Parker, and that's when non-comic fans got their first glimpse of the icon. There may be no Mary Jane in Tom Holland's Spider-Man universe, but fans assume that Michelle will serve as the love interest.
In the Far From Home trailer, we get a few clues that Peter Parker and Michelle Jones are headed into romantic territory. "I think M.J. really likes me," Peter is heard saying. And later in the trailer, Peter is also seen talking to Mysterio about Michelle as he utters, "I want to go back on my trip with the girl who I really like and tell her how I feel."
Spider-Man producers stated Michelle is not meant to be the same as Mary Jane Watson
With so many similarities between the characters of Michelle and Mary Jane, it's easy to assume upon first meeting Michelle in Homecoming that she and Peter Parker will eventually end up together. But that's not necessarily the case. As producer Kevin Feige confirms with IGN, "Well, we never even looked at it as a big reveal necessarily but more of just a fun homage to his past adventures and his past love. She's not Mary Jane Watson. She never was Mary Jane Watson."
As far as Michelle and Peter's love lives are concerned, Feige also hinted that because Michelle isn't a replica of Mary Jane, there may actually be no romance in the future. "Is she going to date Peter? Are they going to fall in love? She seems to be intrigued with him. There's a nice chemistry there. Who knows what will happen in the future films?" he told IGN.
Fans think there could be other love interests for Spider-Man in the future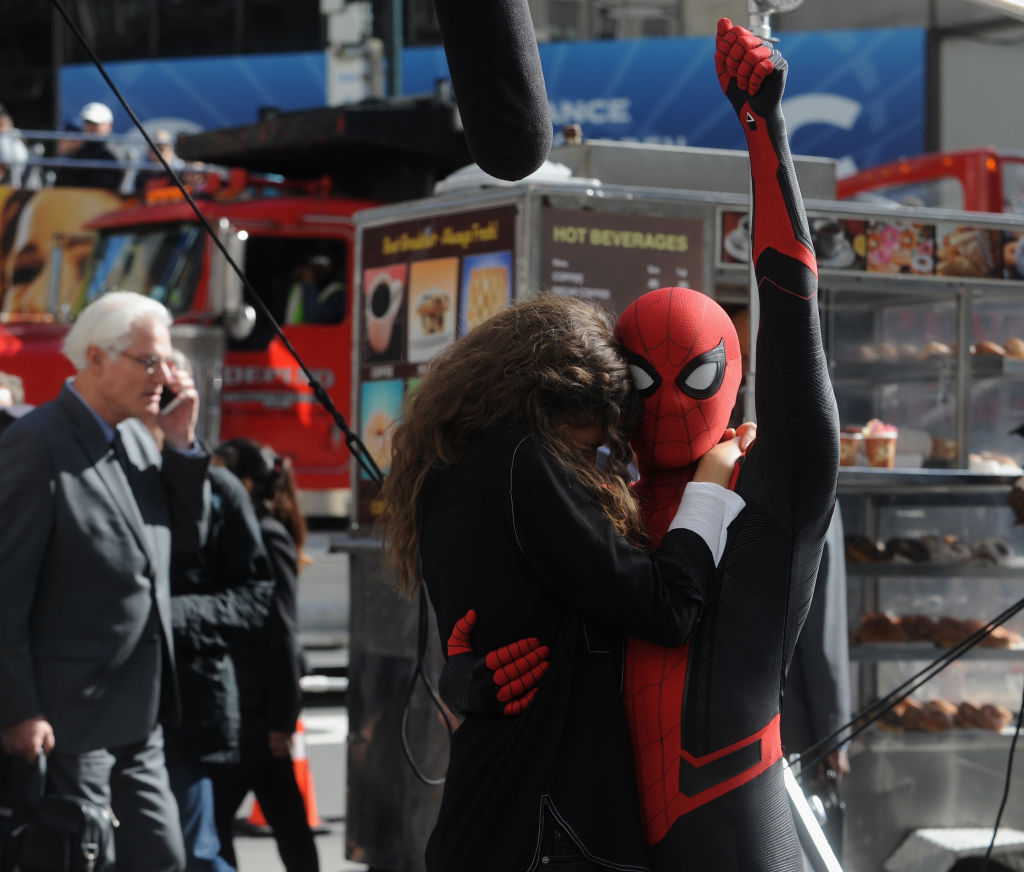 If Michelle isn't actually going to be Peter's main love interest in the current Spider-Man series, then who could it be? Fans recall that Peter actually has many romantic interactions over the comic series, and one fan on Quora suggested that "Betty Brant and possibly Gwen Stacey" (we remember Gwen as Emma Stone back when Andrew Garfield played Spider-Man) may also enter the picture. This fan also theorized that Michelle may get a chance to stay behind in Europe and study there, leaving Peter behind until future interactions in other films.
Other fans are totally against the idea that Michelle isn't Mary Jane. As one fan commented on Reddit, "So what they might introduce a real MJ later going by the same initials? That's awful. Just make Zendaya MJ and be done with it."
So, will Michelle and Peter end up together in the end, will something happen to her character, or will they remain strictly friends throughout their high school years? We'll certainly be tuning into Far From Home to find out.
Check out The Cheat Sheet on Facebook!