'Spider-Man': Where is Tobey Maguire Today?
In the early 2000s, Tobey Maguire was a prolific actor with a successful career ahead of him. What happened to Maguire and where is he today?
Maguire's acting career began in 1990 with small roles on various TV shows. Maguire's first credited acting role was Chad on an episode of the 1990 comedy 1st and 10.
In 1991, he portrayed Jeff in one episode of the hit sitcom, Roseanne. Maguire landed his first starring role on the short-lived sitcom, Great Scott! In 1992.
His career quickly took off, and he began acting in many movies, including The Ice Storm, Deconstructing Harry, Pleasantville, and The Cider House Rules.
By the early 2000s, Maguire's acting career was in full swing. He had starring roles in Spider-Man, Seabiscuit, Spider-Man 2, Spider-Man 3. In 2003, Maguire produced and starred in Seabiscuit.
Seabiscuit was a critically acclaimed movie, nominated for seven Oscars. In 2009, Maguire displayed an incredible performance in the drama Brothers.
Tobey Maguire's role as Spider-Man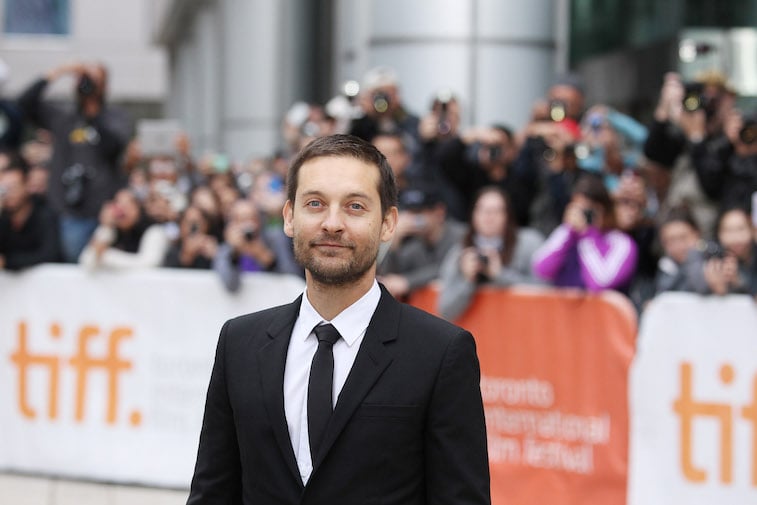 Maguire is best known for his portrayal of the heroic Spider-Man. In the early 2000s, Maguire charmed moviegoers with his shy and nerdy portrayal of Peter Parker. 
Spider-Man (2002) and Spider-Man 2 (2004) were both majorly successful films. Both films performed well at the box office and were a huge hit with new and old Spider-Man fans.
In 2007, Maguire reprised his role as Peter Parker/ Spider-Man in Spider-Man 3. However, despite performing well at the box office, the movie was poorly received by critics and fans alike.
Maguire's performance in the film lacked the authenticity in the portrayal of Spider-Man's darker side that the role required.
Sam Raimi, the director of the Spider-Man movies starring Maguire, admitted that Spider-Man 3 was a letdown. Raimi stated that he wanted a chance to redeem the Spider-Man movies by directing a fourth installment of the story.
However, Sony moved in a different direction with the Spider-Man franchise and decided to reboot the series with Andrew Garfield as Spider-Man.
What happened to Tobey Maguire?
Despite having an early and successful career as an actor, Maguire slowly faded away from acting in movies. It seems that Maguire's shift away from acting is due to several factors, including personal limitations, negative press, and lack of interest.
Personal physical limitations put a strain on Maguire's relationship with Sony. Maguire trained intensely to maintain his physical peak before and during the filming of the Spider-Man movies.
Even though he was a healthy vegetarian and in good physical shape, a slow-healing back injury nearly cost Maguire his role as Spider-Man. Sony believed that Maguire might have been using the minor back injury as an excuse to negotiate higher pay.
Sony began talking about potentially recasting the role; Maguire's back quickly healed, and he resumed his role as Spider-Man.
The book and subsequent film Molly's Game revealed a darker side of Maguire and prompted negative attention from the press. Molly's Game is based on a real-life poker tournament in which Maguire's role is rumored to have influenced the development of the manipulative character Player X.
Ultimately, a lack of interest in acting may be the reason Maguire slowly drifted away from the spotlight. Maguire seemingly shifted his attention from acting to being a husband and father.
Maguire married Jennifer Meyer in 2007; they have two children together. The couple divorced in 2017 though they continue to amicably co-parent their children. Maguire's acting career has been sporadic since 2009; he had a minor role in The Great Gatsby, performed voice work for The Boss Baby, and had the starring role in Pawn Sacrifice.
Where is Tobey Maguire today?
While it's unclear if Spider-Man 4 starring Tobey Maguire will ever come to fruition, his career in the film industry is here to stay.
Maguire is a producer. In 2002, he teamed up with Spike Lee and began his first venture in film production. He produced and starred in Pawn Sacrifice (2014). Pawn Sacrifice is based on the true story of chess champion Bobby Fisher.  
Maguire has produced many movies, including Rock of Ages, Good People, Z for Zachariah,  and Boyz in the Wood. He is the producer of several films that are currently in various stages of production.