Spies, Skulls, or Ghosts: Movies Coming Out This Weekend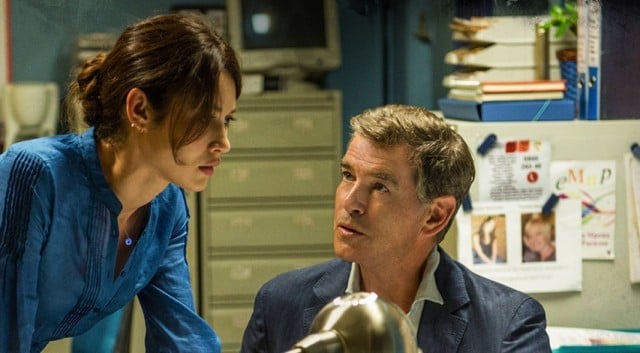 This weekend at the movies, theatergoers have a thriller set in the Paris catacombs, a spy movie starring a former Bond, and a rerelease of an old comedy favorite to choose from, though if seeing Ghostbusters for the upteenth time doesn't sound appealing, then the pickings are a bit slim in terms of anything that's performing well with the critics. It also looks like it might be yet another slow weekend at the box office during an already dry summer, and the blockbusters Guardians of the Galaxy or Teenage Mutant Ninja Turtles could again take the top spots despite having been released weeks ago.
As for new movies debuting this weekend, As Above, So Below is a horror thriller about souls trapped in the Paris catacombs and The November Man is an action thriller starring Pierce Brosnan. As Above, So Below utilizes the very creepy setting of the bone-lined tunnels below Paris for a found-footage style horror movie about a group of 20-somethings that decides to go exploring there. The PhD-and-black-belt-in-Capoeira-holding Scarlett leads the expedition, which is a continuation of her father's work to find the legendary philosopher's stone, apparently hidden below the City of Lights.
Critics haven't been impressed, with the movie currently holding a 40 percent rating on Rotten Tomatoes. It's been criticized for its heavy use of cliches, bad storytelling, and generally not being scary. "'Abandon all hope, ye who enter here,' is the inscription uncovered by a gang of 20-something treasure hunters in the catacomb-hopping horror flick, As Above, So Below. But the warning could easily apply to viewers checking out this rather hopeless mash-up of The Descent and [Rec], not to mention a dozen other found-footage movies that have clogged the screens over the last five years," reads a review by The Hollywood Reporter, which also pointed out that the PhD-holding main character doesn't even recognize Dante as the quote's author.
The November Man hasn't fared much better with critics. The film is based on a series of bestselling spy novels of the same name by Bill Granger and, predictably, sees Brosnan playing an older spy who gets pulled out of retirement to complete one last mission. The ex-CIA agent is called out of a cozy retired life in Switzerland to protect a valuable, and beautiful, witness played by former Bond girl Olga Kurylenko while being hunted down by his old rival.
A review by The A.V. Club referred to it as an "off-brand" Bond movie, and The November Man only has a 34 percent rating among reviews aggregated by Rotten Tomatoes thus far. Of the movies coming out this weekend, this one stands the best chance of making a decent amount of money at the box office, but if moviegoers decide that paying for a Bond movie is only worth it when you're getting the real thing, it could flop.
Meanwhile, the comedy classic Ghostbusters, starring Bill Murray, Dan Aykroyd, Harold Ramis, Ernie Hudson, Rick Moranis, and Sigourney Weaver, is being re-released in theaters for its 30th anniversary. Given that there's a rumored female-led third installment of the Ghostbusters franchise in the works, it's a good time to re-watch the comedy classic and think about which charismatic female comedians would be great to see busting ghosts. A nostalgia-filled trip to go see Ghostbusters on the big screen looks like the best bet in terms of new movies coming out this Labor Day weekend.
Follow Jacqueline on Twitter @Jacqui_WSCS
More from Entertainment Cheat Sheet:
Want more great content like this? Sign up here to receive the best of Cheat Sheet delivered daily. No spam; just tailored content straight to your inbox.