SpongeBob's Broadway Show is Heading to TV
Longtime fans of SpongeBob who missed seeing their favorite character's Broadway run will now have the opportunity to witness the show in a different way. Following his birthday special this past July, Bikini Bottom's favorite sponge is having his theater show adapted as a television event.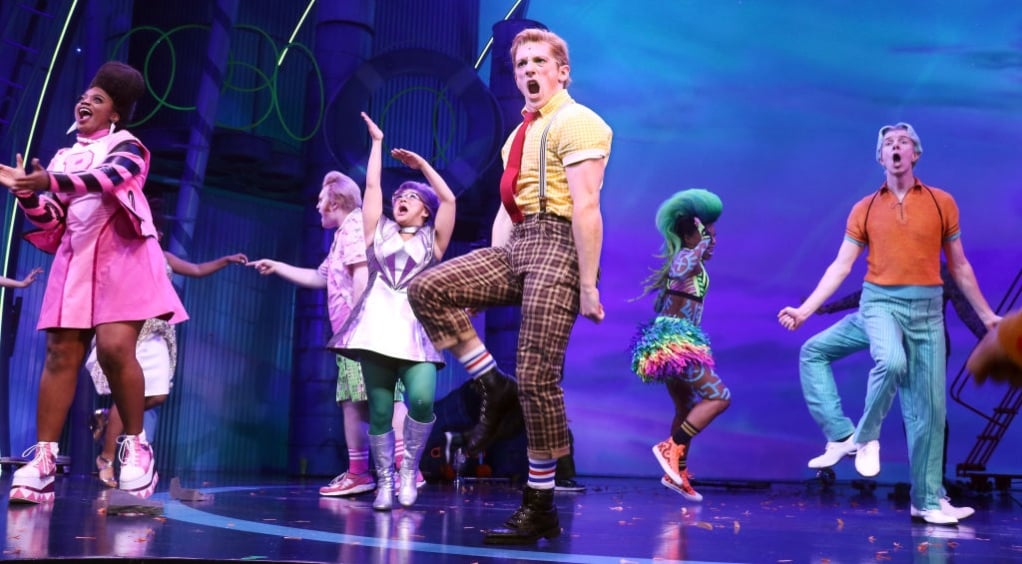 SpongeBob's Broadway play is coming to TV
Nickelodeon is still celebrating 20 years of the beloved character and this new announcement is another gift to fans and SpongeBob himself. After nearly one year and more than 300 performances, SpongeBob Squarepants: The Broadway Musical ended its Broadway run in September of last year. But it's not over, because Nickelodeon is bringing it to the small screen.
Titled The SpongeBob Musical: Live On Stage!, it will air on the network in December and feature a live studio audience. Nickelodeon shared the news with a press release:
"Stakes are higher than ever before as SpongeBob and all of Bikini Bottom face the total annihilation of their undersea world. Chaos erupts. Lives hang in the balance. And just when all hope seems lost, a most unexpected hero rises up and takes center stage.

Acclaimed Steppenwolf director Tina Landau and the groundbreaking designers behind Fun Home, Hedwig, and Spring Awakening have brilliantly reimagined Bikini Bottom for the Broadway stage, on tour and now for television, bringing the spirit of SpongeBob to life with humanity, heart, and pure theatricality."
The original play won rave reviews and earned awards
The stage show was acclaimed by critics and grossed over $37 million in ticket sales. It's won a number of awards including a Tony, six Drama Desk awards (including Best Musical), and several from Outer Critics Circle.
New York Magazine's Sara Holdren said in her review that the entire cast shined and she smiled through the entire 2.5 hour experience.
The Chicago Tribune's Chris Jones warned audiences not to be deterred by the silliness and wacky plots that SpongeBob is known for, because this show is 100% fun. And Variety's Marilyn Stasio wrote, "Landau's hallucinogenic stagecraft transcends the show's television origins by speaking a visual language that's three-dimensional and boldly theatrical."
Broadway's SpongeBob story has all the energy, charm, and hilarity of the animated series with the added bonus of talented actors and a star-studded musical score. More than one dozen critics agree that SpongeBob Squarepants: The Broadway Musical is worth your time. With that in mind, the TV adaptation should be a real treat.
Who's involved with the televised production?
According to the Nick press release, all six leads from the Broadway musical will be on deck for the TV special:
"The SpongeBob Musical: Live On Stage! cast will include Ethan Slater as SpongeBob SquarePants, Gavin Lee as Squidward Q. Tentacles, Danny Skinner as Patrick Star, Brian Ray Norris as Eugene Krabs, Wesley Taylor as Sheldon Plankton, and Christina Sajous as Sandy Cheeks."
Besides the large, energetic cast—which is over 200 people—who will be sharing the live-action joy of SpongeBob with viewers, the musical contributors are some heavy hitters in the game. The show features original works by David Bowie, Panic! At The Disco, T.I., Aerosmith's Steven Tyler and Joe Perry, Sara Bareilles, John Legend, Cyndi Lauper, Lady Antebellum, and more.  
If you're a diehard SpongeBob fan and want to see the play and the TV version, then there's still time for you to soak up the fun of The SpongeBob Musical theatrical production while it's on tour. Check to see if the show is coming to your town by clicking here.