Star Struck: 5 Up-and-Comers You'll Love Watching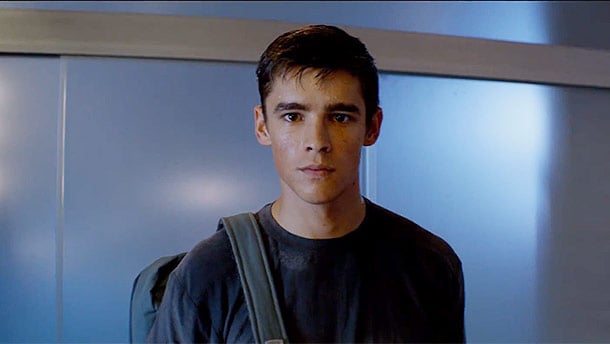 Each year, we anxiously wait for highly anticipated movies to be released. With each of those anticipated movies, there is usually an actor or two who scores a leading role, quickly boosting them up to Hollywood star status. This year is no exception — there are plenty of great films hitting theaters, with a supply of fresh, young faces ready to take over the Hollywood scene. Here are five up-and-coming actors you can except to see a lot more of this year.
1. Brenton Thwaites
The 24-year-old Australian is set to break out in not one, but three movies this summer, per Vulture. You may recognize the rising star from the Lifetime movie Blue Lagoon: The Awakening, where he played Dean McMullen, a slacker who gets stranded on an island with high school student Emma Robinson (Indiana Evans.) The couple is forced to rely on each other for survival, and eventually end up falling for each other. As time goes on, the couple is forced to realize they may never be rescued.
The first movie on Thwaites'summer docket is Maleficent. In the revamped version of Walt Disney's Sleeping Beauty, Thwaites stars alongside Angelina Jolie as Prince Philip. The movie, set to come out May 30, explores the untold story of the Sleeping Beauty villain and the betrayal that drove her to seek revenge, eventually causing her to cast a spell on the king's newborn infant, Aurora.
Thwaites then takes a stab at sci-fi in The Signal, which will hit theaters June 13, according to Rotten Tomatoes. In the movie, he plays Nic, a college student/hacker who goes on a road trip through the American southwest with a few other student hackers. When they're lured into the desert by a rival hacker, they're forced to follow clues set up by the computer genius. Eventually, the students are drawn to an isolated area, where everything suddenly goes dark. "When student Nic regains consciousness, he faces a nightmarish situation, discovering that he and his classmates are being held in some sort of government facility. What does the genius hacker, who goes by the name Nomad, want with the students he's been tracking, and do they have any hope of getting out alive?" writes Stack.
Thwaites rounds out his trio of summer movies with The Giver, based on Lois Lowry's classic tale. It opens August 15, and he plays Jonas, a boy who is chosen to become the community's new Receiver of Memory, meaning he is the only person who can recall what life was like before sameness descended. Jonas begins his training under the outgoing Receiver (read: The Giver, who is played by Jeff Bridges), but he begins to realize how much people actually lost when they elected to instill sameness everywhere. Finally, Jonas decides to take drastic action to permanently change things, according to Entertainment Weekly.

2. Nicola Peltz
Deemed as an up-and-comer by The New York Post, 19-year-old Nicola Peltz will play Tessa Yeager in the upcoming fourth Transformers film, Transformers: Age of Extinction. Peltz's character is the daughter of Mark Wahlberg (who plays Cade Yeager in the movie.) He is a single father and cash-strapped inventor who gets himself and his daughter caught in the Transformer world when he buys a bullet-riddled truck to repair, which actually turns out to be Optimus Prime in hiding, according to USA Today. You can also see her in the upcoming indie flick, Affluenza, a coming-of-age story that's set during the summer of 2008 — during the financial crisis — set to be released July 11 in some theaters and on demand, according to The Hollywood Reporter. Where have you seen Peltz before? She played Katara in the 2010 film Avatar: The Last Airbender, and was Bradley Martin in the A&E television series Bates Motel.

3. Ansel Elgort
If he looks familiar, you've probably seen 20-year-old Ansel Elgort in the Carrie remake or in Divergent, where he plays Caleb. Divergent takes place in a world divided by factions based on virtues. Elgort plays the brother of Tris (a divergent played by Shailene Woodley), who upon reaching the age of choosing, decides to leave Abnegation and move to Erudite.
His true breakout role, however, lies with his lead in The Fault in Our Stars (in theaters June 6), an adaptation of John Green's romantic novel. In it, he plays Augustus and once again stars alongside Shailene Woodley, who plays Hazel. Hazel and Augustus are two teenagers who meet and fall in love at a cancer support group. "We can pretty much guarantee that newcomer Ansel Elgort is going to make you cry this year. Not so much via his performance in Divergent, but in the weepy teen cancer romance The Fault in Our Stars," writes Kara Warner in a Yahoo Movies article.

4. Nat Wolff
The New York Post has also credited Nat Wolff for his breakout role in The Fault in Our Stars, where he plays Isaac, a teen who is blinded by eye cancer. The former Nickeloden star (you may recognize him from The Naked Brothers Band, where he starred next to his younger brother Alex) will also appear in the next adaptation of one of John Green's books, Paper Towns, a movie about a young man, Quentin, who, along with his neighbor, Margo, find a man who committed suicide. The neighbors grow apart, but one night she appears at his window, asking him to help her get revenge on the people who have hurt her, according to Deadline. She vanishes, but Quentin then begins to receive clues from her and is forced to follow them. If that's not enough, he'll also star opposite Selena Gomez this August in the teen comedy Behaving Badly, a movie about teenager Rick Stevens (Wolff), who has a crush on Nina Pennington (Gomez.) The two form a friendship and embark on a rock n' roll journey together.

5. Ellar Coltrane
"For his first film role, Ellar Coltrane snagged a doozy: He's the lead in Richard Linklater's coming-of-age tale Boyhood, which Linklater shot in small installments for almost twelve years as Coltrane aged from 7 to 18," per Vulture. The film is a story about growing up through the eyes of a child, which charts the ups and downs of childhood like no other film has before — it was filmed over short periods from 2002 to 2013. The cool thing about this movie is that you can see Coltrane come into his age just like his character. As a viewer, you get the opportunity to see his personality transform: he starts out somewhat quiet but his personality grows and changes throughout the movie. Witnessing his evolution almost gives viewers a parent-like feeling," writes Vulture. This movie will be in theaters July 11.
More From Wall St. Cheat Sheet: