'Star Wars Battlefront' and More Video Games Out Next Week
Video games are coming out left and right these days. No one has enough time to stay on top of all of the big games, with titles like Fallout 4, Rise of the Tomb Raider, Halo 5: Guardians, Call of Duty: Black Ops III, and Assassin's Creed Syndicate launching within weeks of each other. Next week is no different, with a host of major games launching that will keep you busy well into next year.
So whether you're into online shooters, strategy RPGs, or even tennis games, you'll find something to play during the week of November 16. Read on for our picks.
1. Star Wars Battlefront
Platforms: PlayStation 4, Xbox One, and PC
Release date: November 17
Star Wars fever is contagious these days, as the world waits with bated breath for The Force Awakens, coming in December. To help tide over fans of online shooters, Star Wars Battlefront will put players into famous battles from the movies and cartoons. The game comes with an array of modes that bring all manner of fun, as well as tense player-versus-player combat. For more details, check out our four reasons you'll probably buy it, four reasons not to buy it, and six features you can expect from the game.
2. Game of Thrones: Episode 6 — The Ice Dragon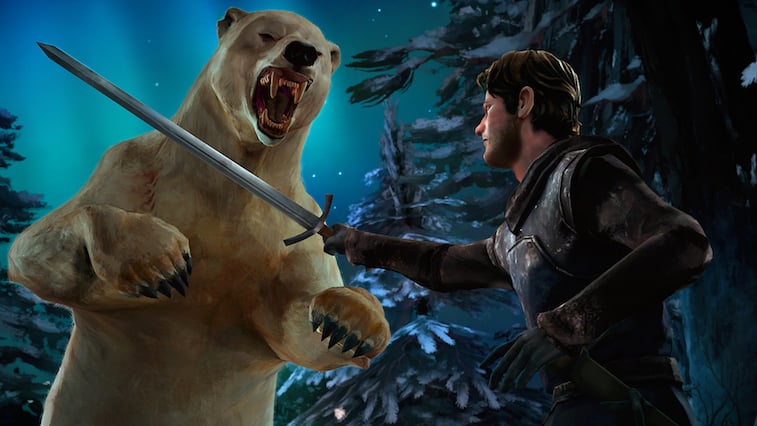 Platforms: PlayStation 4, Xbox One, PlayStation 3, Xbox 360, and PC
Release date: November 17
Nearly a year in the making, Telltale's Game of Thrones episodic adventure game is almost complete. The sixth and final episode is about to launch, presumably giving a satisfying and gory conclusion to a game that has managed to deliver heaps of satisfaction and gore all year long. If you haven't played the series yet, now is the perfect time to start because you won't have to wait for any more episodes. Now if only readers of the books could get a similar sense of closure.
3. Stella Glow
Platform: Nintendo 3DS
Release date: November 17
Publisher Atlus is a godsend for anyone who loves Japanese games because it localizes new titles nearly every month and releases them Stateside. The latest is an anime-flavored strategy role-playing game that promises many of the same pleasures you'll get from games like Final Fantasy Tactics or Fire Emblem Awakening. Each skirmish takes place on a gridded battlefield, where your team and the enemies take turns moving and attacking. True to the genre, the story follows a country boy and his friend who embark on a journey to save the world. That may not be the most original setup, but strategy games are all about the combat, so if they nail that, Stella Glow will be a winner.
4. Sword Art Online: Lost Song
Platforms: PlayStation 4 and PS Vita
Release date: November 17
Speaking of Japanese role-playing games, another title coming the same day fits perfectly into that category. But instead of being a strategy RPG, this game mimics a massively multiplayer online RPG. It actually takes place offline, but the anime it's based on, Sword Art Online, is set in an MMO, where characters can fly, fight and interact with each other, and do all kinds of fun things. You won't want to go into this game blind, so check out the anime series on Netflix. If you like it, pick up the game.
5. Deadpool
Platforms: PlayStation 4 and Xbox One
Release date: November 18
Released in 2013 for last-gen systems, Deadpool is an action game in which the main character knows he's in a video game and isn't entirely happy about it. As such, he'll crack jokes about the level design and mission objectives — just like you'd expect if you read Deadpool comics. As a game, it's full of shooting, kicking, punching, and combos that combine all of those together. It didn't get very high reviews in its initial release, so I wouldn't expect too much from this one. But if you love the character, it may be worth a look anyway.
6. Pokémon Super Mystery Dungeon
Platform: Nintendo 3DS
Release date: November 20
Don't expect just another Pokémon game with this release. Instead of running around, catching the adorable monsters, and having them fight each other as you do in core Pokémon titles, here you guide them into randomly-generated dungeons, where you'll have them fight enemies and try to avoid traps. The game contains all 720 Pokémon ever released, so there should be no shortage of content. If the gameplay loop is as addictive as some of the previous Pokémon Mystery Dungeon games, expect to spend plenty of time crawling through dungeons and collecting glorious loot.
7. Mario Tennis: Ultra Smash
Platforms: Wii U
Release date: November 20
Mario Tennis games have always been loads of fun, even if they haven't become smash hits like many of the other Mario games. This one looks like it offers the racket-swinging action you'd expect, plus a healthy dose of off-the-wall zaniness. For instance, one power-up makes your character grow to an incredible size, taking up half the court and making balls easy to hit. It's not a realistic tennis sim by any stretch, but that's the whole point. If it has Nintendo's typical attention to detail, it should be a solid bet for any Wii U owner (all five of us!).
Follow Chris on Twitter @_chrislreed
Check out The Cheat Sheet on Facebook!
More from Entertainment Cheat Sheet:
Want more great content like this? Sign up here to receive the best of Cheat Sheet delivered daily. No spam; just tailored content straight to your inbox.