'Star Wars' Rankings: The 10 Funniest Parodies Ever Made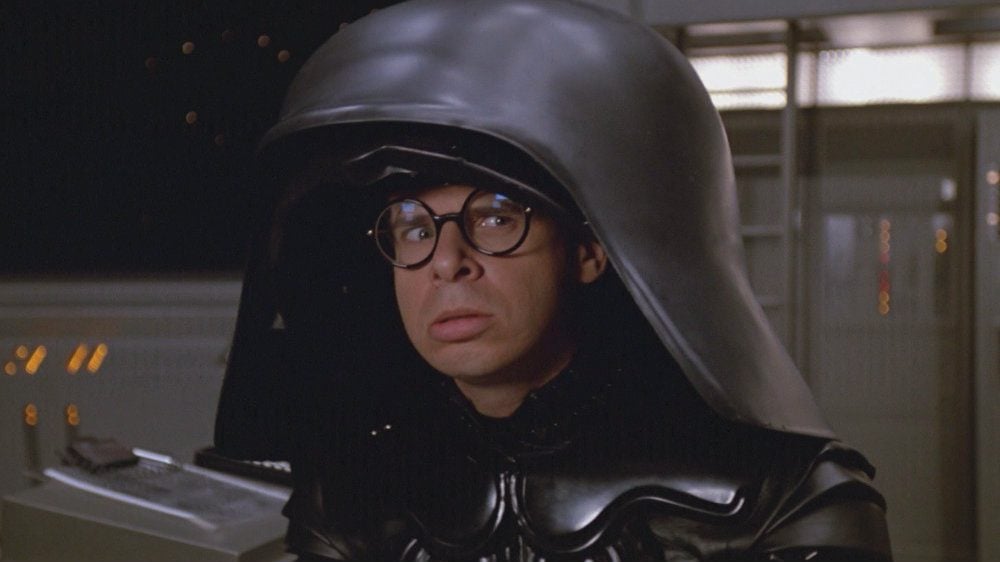 Star Wars has been an integral part of pop culture since it first debuted in 1977. Since then, it's gathered one of the largest and most devoted fandoms in history, which led us to the inevitable: the birth of a billion parodies. Everyone from Weird Al to your friend down the hall with his own YouTube channel has produced something in the realm of a Star Wars imitation. It's bound to happen when something becomes this popular, with virtually every major comedian from the last 40 years trying their hand at a parody of their own.
At this point, we've pretty much seen it all. From rousing successes to full-on failures, there's little that hasn't been tried yet, something that's both a testament to the popularity of the franchise, and to its pervasiveness in pop culture. People who haven't even seen the movies have found themselves exposed to a parody or three along the way. Today, we're here to highlight the best of the best: the ones that truly set themselves apart from the pack.
1. Weird Al Yankovic's 'The Saga Begins'
This one dates all the way back to the release of The Phantom Menace in 1999, during the peak years of Weird Al's popularity as a parody master. Set to the tune of Don McLean's "American Pie," it runs us through a five-minute comedy journey of Episode I, highlighting the more ridiculous aspects of a film that hasn't aged well in hindsight. Weird Al has always had a knack for balancing mockery with sincerity, and "The Saga Begins" is some of his best ever work at walking that line.
2. Spaceballs
Mel Brooks' Spaceballs has the distinction of being one of the very first feature-length Star Wars parodies ever made. To this day, it still holds up as a hilarious meta-commentary on sci-fi tropes, with just enough lewd content to make most parents question whether their 12-year-old really should be watching this. Of course that's all balanced out by low-hanging fruit (the main villain is named "Dark Helmet" for Christ's sake), so take that for what you will.
3. Laugh It Up, Fuzzball: The Family Guy Trilogy
A lot of us would agree, Family Guy's gag has run its course nowadays. Perhaps its greatest achievement, though, came in the form of its three-part Star Wars story, kicked off by "Blue Harvest" in 2007. Across the parallels for all three films in the original trilogy, we see Seth MacFarlane's brand of cutaway humor and tangential gags at its very best. At the same time, we see his own appreciation for Star Wars interwoven among the comedy elements, producing a hilarious cartoon trilogy.
4. CollegeHumor's 'Troopers'
CollegeHumor has proven itself to be the premier source of comedy video on the internet, defined by solid writing, high production values, and just enough self-awareness to keep everyone honest. Of all its various video series, "Troopers" is easily among the best, with its own unique take on the Star Wars universe. It ended up numbering in upwards of 19 installments, even featuring guest stars like Aubrey Plaza along the way. It's always refreshing to see a different angle in the realm of Star Wars parodies, and CollegeHumor provided us with just that with "Troopers."
5. Robot Chicken: Star Wars
The above video is only one small part of Robot Chicken's ambitious Star Wars homage, but it's a good indicator of just how irreverent the Adult Swim show is willing to be for the sake of good comedy. Over the 22-minute special, the stop-motion sketch series featured a whopping 35 separate bits, while displaying the voice talents of Seth Green, Seth MacFarlane, Joey Fatone, Conan O'Brien, and original Star Wars cast members like Mark Hamill and Ahmed Best (known unpopularly as Jar Jar Binks). Even George Lucas shows up to voice his own character, with Robot Chicken pulling out all the stops for its greatest episode ever made.
6. Thumb Wars: The Phantom Cuticle
As part of Steve Oedekerk's expansive thumb-based parody series, Thumb Wars debuted as the oddball comedian's strangest work to date. If you asked us just how human faces super-imposed on thumbs could work as a legitimate comedy special, we'd be short on answers. Strangely enough though, it's just hilarious enough to scratch that Star Wars itch in all the right places. Peep the full movie above, and see for yourself: this one is about as weird a parody as you'll ever find for the franchise.
7. 'How It Should Have Ended' does Star Wars
The How It Should Have Ended YouTube series is a source of consistent hilarity, spoofing every movie from Star Wars to Mad Max: Fury Road. Throughout its history, it's compiled parody videos for almost every installment in the Star Wars saga, spanning the original trilogy, prequels, The Force Awakens, and even a "Special Edition" rework. The sum total is a hilarious collection of videos that point out some of the more glaring flaws in the franchise in an entirely unique medium.
8. Cracked's 'Galactic War Room'
Not one to be outdone by their CollegeHumor competitors, the video channel for Cracked has their own Star Wars parody series, aptly titled "Galactic War Room." In it, we see a focus paid to the people left behind at the base while our heroes are out saving the galaxy, showing us just how hilariously unsustainable the model for a protracted Rebellion really is.
9. Honest Trailers
While How It Should Have Ended deals mainly in animated reenactments of the movies it spoofs, the Honest Trailers series on the Screen Junkies YouTube channel takes a slightly different tact. They instead choose to use the tired trailer format to their advantage, using the format to break down a film into its component pieces. For their Force Awakens parody, we get the best iteration of Honest Trailers yet, as it demonstrates both the highs and lows of the franchise reboot.
10. 'Smuggler's Bromance'
A relative newcomer to the game, "Smuggler's Bromance" is a labor of love among a group of professionals that simply love Star Wars. The crew is made up of employees of Telltale Games, but this particular video is strictly off-hours work. It tells the story of the epic relationship between Han Solo and Lando Calrissian in musical form, and after a successful funding campaign, it's arrived to show us just what you can accomplish with enough passion for the fandom.
Follow Nick on Twitter @NickNorthwest.
Check out Entertainment Cheat Sheet on Facebook!