'Star Wars: Rise of Skywalker': Every Celebrity Cameo You May Have Missed
The wait is finally over. The ninth and final installment in the Star Wars saga hit theaters today. Whether you loved it, hated it, or haven't gotten the chance to see it, yet, you'll be excited to check out all of the surprise celebrity appearances throughout the film. Let's take a look at the cameos you might have missed. 
Killing Eve star, Jodie Comer is involved in Rey's Parentage
Comer makes a surprise cameo about half-way through the movie. She helps to tie up the loose end regarding Rey and her parents.
Film composer John Williams makes a very brief cameo
Williams appears in a bar on the planet of Kijimi. He is a customer of the bar where several main characters enter.
It only fits that the 87-year-old man who composed over 20 hours of music for the entire Star Wars saga would appear in the final installment. 
Dominic Monaghan plays a member of the Resistance
The Lord Of The Rings star revealed his role in The Rise of Skywalker in 2018, but the importance of his character was unknown at the time.
He mostly appears in the first half of the film as a vital part of Leia Organa's Resistance fighters.
Harrison Ford is back for a brief cameo
Ford's character, Han Solo, was killed by his son, Kylo Ren (Adam Driver), in The Force Awakens. However, he makes one more appearance in a vision that Kylo has after a huge, tragic battle. 
Lin-Manuel Miranda composed a secret song for the film
Rumors were flying that Miranda was going to appear in The Rise of Skywalker since he was pictured dress up on set. He does not appear in any scenes but did compose a secret song for the movie.
Mark Hamill claims Harry Styles is a Stormtrooper—or is it Ed Sheeran?
Star Wars own Luke Skywalker (Hamill) claims that Harry Styles appears as a stormtrooper in the new film. Hamil indicates that there were secret stormtroopers in every movie up to this point and that Styles is the lucky one this time. The claim is not confirmed at this time.
Another source suggests the secret stormtrooper could be singer, Ed Sheeran.
Liam Neeson is also brought back in a vision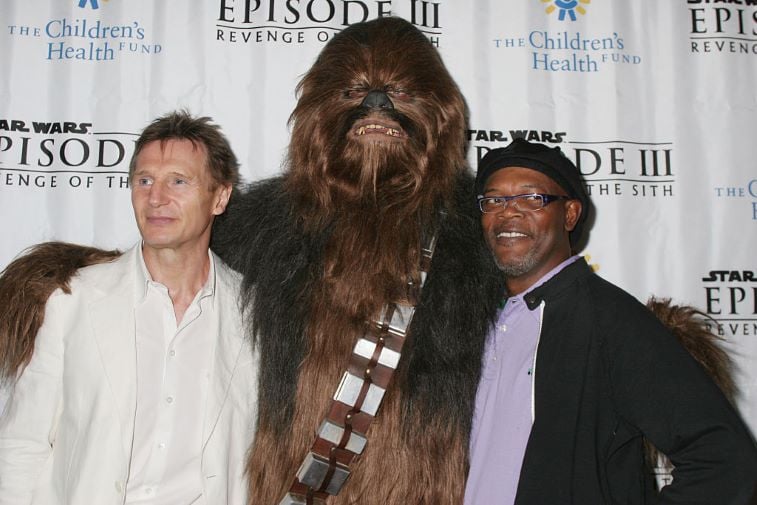 Neeson starred in the prequel trilogy as Jedi master, Qui-Gon Jinn. Fans were hopeful that he would appear in Rise of Skywalker. They did get their wish, as Rey hears his voice during a vision about half-way through the movie. 
Freddie Prinze Jr.'s voice is also heard
The She's All That star voiced Kanan Jarrus in the animated series, Star Wars: Rebels. Prinze also has a voiceover in one of the many visions in the movie. 
That takes care of all eight celebrity cameos in Star Wars: Rise of Skywalker. You may need to watch it again to catch every one of them since some happen very briefly. Rise of Skywalker is in theaters now.