'Rogue One: A Star Wars Story': Everything We Know So Far
It's hard not to be excited for what's next in the Star Wars universe. We recently got our first new movie in a decade from sci-fi maestro J.J. Abrams. But there's one other facet of this new Star Wars that's going to separate it from its predecessors: This time around, we're getting a story that goes far outside the trilogy format. [Update, 4/7/16: Added the first 'Rogue One' trailer released (above).]
[Update, 10/13/16: Added second full-length trailer (see below).]
A whole series of canon novels is replacing the old expanded universe. Along with the books, we have a new cartoon series in Rebels and a whole slate of spinoff movies that will kick off with Rogue One. Disney has made quick work of tearing down the House That Lucas Built in terms of reinventing his stale newer trilogy, and now we have our first details of the Rogue One spinoff; other planned movies include a standalone Boba Fett film. Director Gareth Edwards has dished on some details about Rogue One, and fans have been buzzing ever since.
[Update, 2/10/16: Per Entertainment Weekly, Disney CEO Bob Iger revealed that filming for 'Rogue One' is nearly finished. "Filming of Rogue One is virtually completed and we absolutely love what we've seen so far," said Iger. "This is the first of a set of planned stand-alone stories and we're already in preproduction on our next one, for release in May of 2018."]
[Update, 7/15/2016: We now have the first official poster for the movie (below)]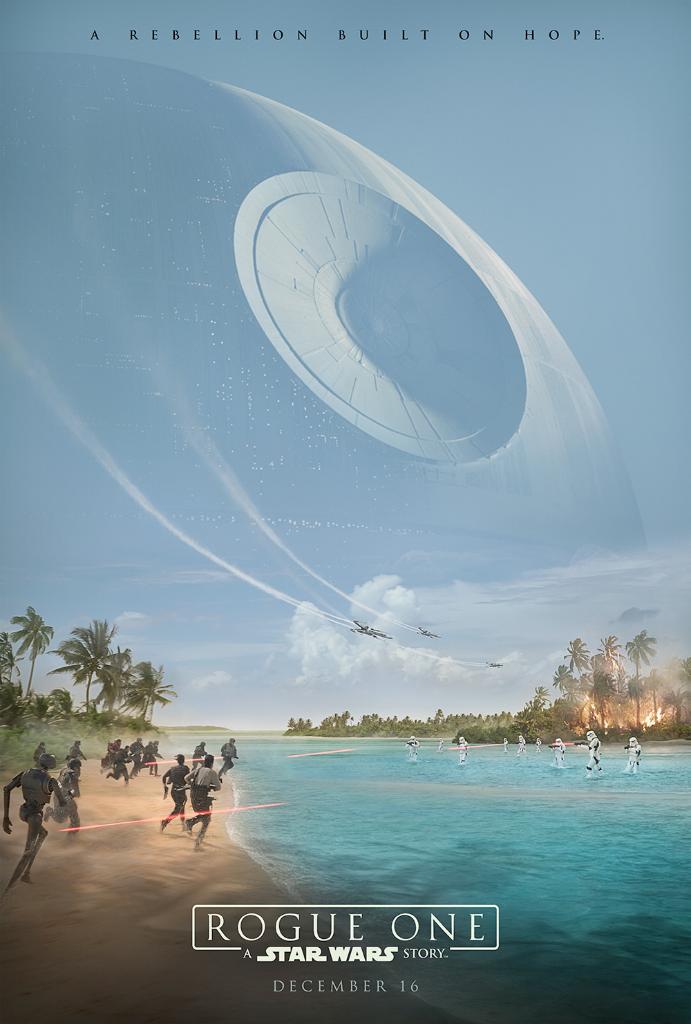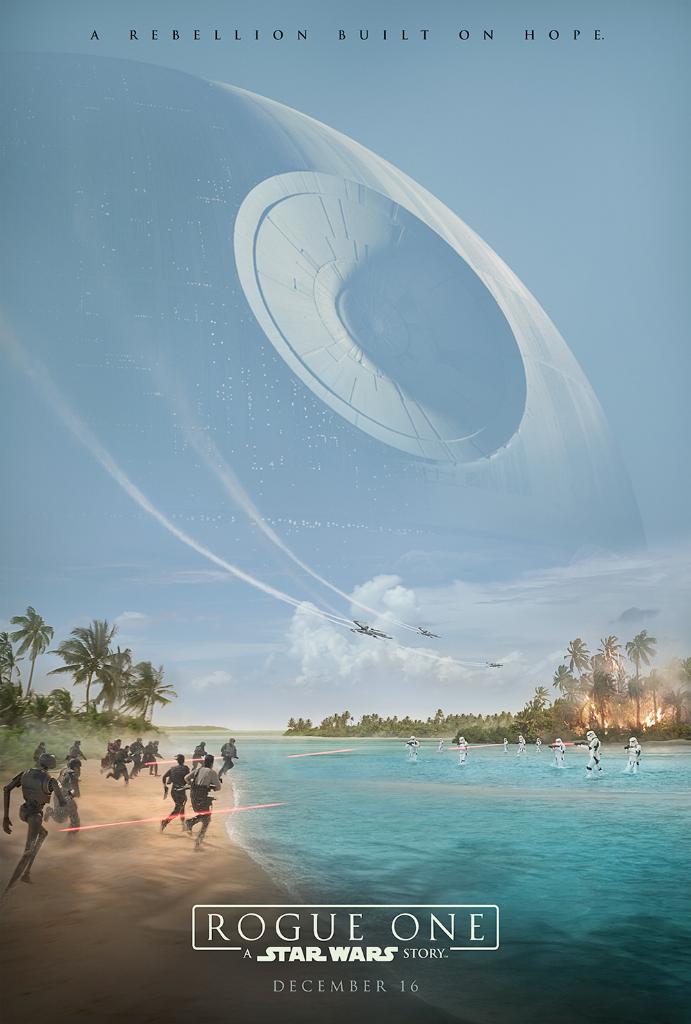 [Update, 8/10/16: Added "Trailer Tease" (see below).]
As recently announced on the official Star Wars Twitter account, a new Rogue One trailer will premiere Thursday, August 11 during Olympics coverage. However, considering the enormous amount of hype that surrounds any new Star Wars movie release, it's no surprise that we also got a teaser trailer for the upcoming trailer.
[Update, 8/12/16: Added first full-length trailer.]
As promised, a new Rogue One trailer debuted during Olympics coverage. Besides showing us some never-before-seen footage, the trailer was most notable for showing Darth Vader in the closing seconds (see below).
[Update, 8/16/16: Added international version of the second 'Rogue One' trailer (see below).]
[Update, 11/7/16: Added new "Together" TV spot, below.]
[Update, 11/11/16: Added second international trailer, below.]
[Update, 11/28/16: Added "Trust" trailer, below.]
1. For the first time, there won't be any Jedi
Much of the old and almost exclusively all of the newer trilogy have focused on the plight of the Jedi in some way. We were first introduced to their story with Alec Guinness as Obi Wan Kenobi, who then passed on the torch to Luke. We then rewound back to the origins of Darth Vader and the fall of the old Jedi Order, laying out the whole tragic saga. Given that the newest trilogy kicks off with The Force Awakens, odds are we'll continue to be heavy on the Jedi movie forward. That makes it that much better an idea to have Rogue One be completely independent of that mythos. Which brings us to…
2. At long last, the plot
A band of resistance fighters unite for a daring mission to steal the Death Star plans in Star Wars anthology film, Rogue One #RogueOne.

— Star Wars (@starwars) April 19, 2015
Thanks to a short teaser as well as comments from the director himself, we now know exactly what Rogue One will be about. It'll follow a military operation with the mission of acquiring the plans to the first Death Star, presumably after it's already been built. The teaser showed the space station in orbit above a wooded planet, a familiar monologue from Alec Guinness circa A New Hope, and scattered army-style radio chatter laid over the title sequence.
[Update, 5/17/16: A leaked visual guide for the film gives us tons of details on character names, new starfighters, and lots more. You can check out all the relevant info here.]
[Update, 7/22/16: Revealed on the Star Wars Facebook page, we've been introduced to a new character named Edrio Two-Tubes, described as a mercenary pilot whose planet is taken over by the Empire.]
[Update, 8/10/16: Added official movie synopsis.] Here's the story summary for Rogue One, courtesy of Lucasfilm:
From Lucasfilm comes the first of the Star Wars standalone films, "Rogue One: A Star Wars Story," an all-new epic adventure. In a time of conflict, a group of unlikely heroes band together on a mission to steal the plans to the Death Star, the Empire's ultimate weapon of destruction. This key event in the Star Wars timeline brings together ordinary people who choose to do extraordinary things, and in doing so, become part of something greater than themselves. In theaters December 2016.
3. A closer look at the costumes
Pictures Of Star Wars: Rogue One Costumes https://t.co/bVS8xKZS32 pic.twitter.com/iGqK0xnmGO

— Lightsabr (@LightsabrNet) January 28, 2016
Disney/Lucasfilm has not released very many details about Rogue One beyond the cast and crew listing and one image (at the top of this article). However, fans  in Germany were able to get a closer look at the costumes that will be used in the movie when they were recently put on display at the Nuremberg Toy Fair. Some fans shared images of the costumes on social media, including the image tweeted by "Lightsabr" seen above. More images can also be seen here.
4. It'll be the first live-action story outside the trilogies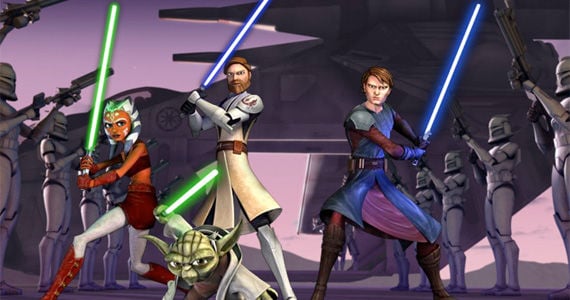 Star Wars has made a point of keeping its non-trilogy stories confined to the cartoon world, first with the Clone Wars series and more recently with Rebels. Rogue One will represent the first deviation from this strategy, taking us far outside the primary characters of the main timeline.
It's clear that Disney's goal is to get audiences used to the idea of a world without Luke and Anakin Skywalker acting as the main characters. The cartoon series was clearly the first step in this process. Movies like Rogue One will introduce a whole world of characters we've never seen, showing that the Star Wars universe is one that exists independent of Han, Leia, and Luke.
5. Rogue One will fill in (some of) the gaps between Revenge of the Sith and A New Hope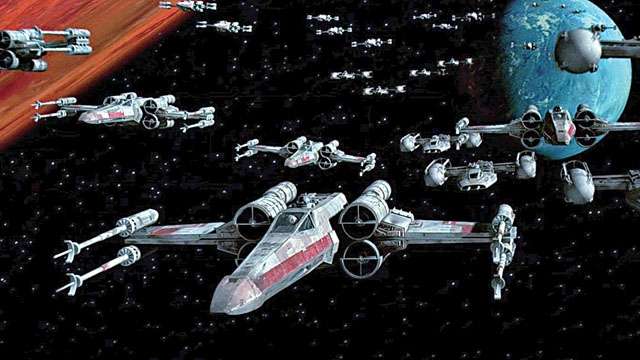 The Star Wars universe has always made a point of trying to fill in the missing story between movies, oftentimes taking place after a whole series of events has transpired off-screen. Clone Wars was a great example of that, with Attack of the Clones transitioning right into Revenge of the Sith without ever showing us the complex war machine the Republic had rolled out.
The cartoon series acted as the placeholder to that story, much in the same way that Rebels began the work that Rogue One will finish. While the main trilogy moves forward, the side stories will finish the work of the old trilogies, giving it a sort of thoroughness that before had been sorely lacking.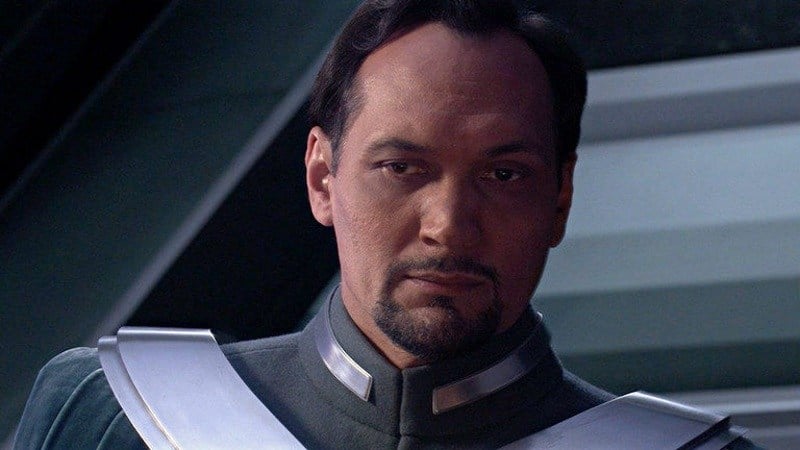 [Update, 8/9/16: Added news that Jimmy Smits will appear in 'Rogue One'.]
In yet another sign that Rogue One will function as a bridge between the prequel trilogy and 1977's A New Hope, Jimmy Smits  has revealed that he will reprise his role as Bail Organa, the adoptive father to Princess Leia that he played in Attack of the Clones and Revenge of the Sith. "Can you say the word 'cameo?' Can you say the words 'small part?" said the actor on The Talk, according to UPI.
6. Darth Vader "is expected to have a larger role than originally thought"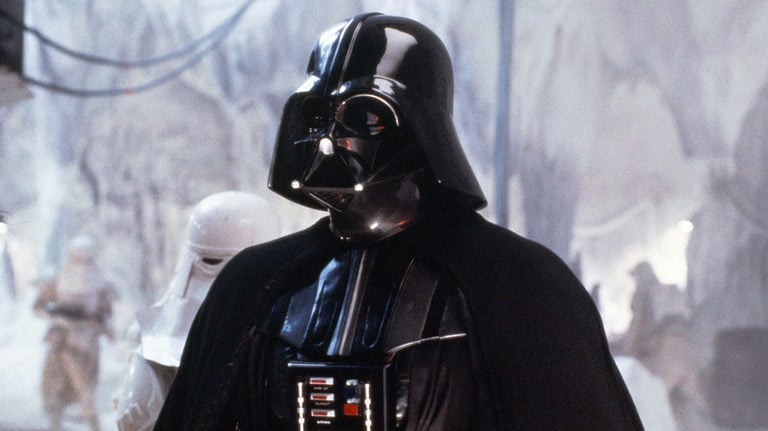 Despite there being a decided lack of Jedi, there's still going to be a significant amount of Darth Vader, confirmed by the folks over at JoBlo. It's a decision that makes a whole lot of sense in the greater context of this era in the Star Wars story. Already we've seen Vader play a large role in the animated Star Wars: Rebels series, and additionally, he's appeared as a primary character in two of the new canon novels that released ahead of The Force Awakens. 
The role of Vader was expanded on recently in rumors culled by Inquisitr, telling us that "fans will apparently get a chance to see the Sith Lord like never before, wreaking havoc on the battlefield with the Force." The story goes on to posit a theory that we may in fact be seeing Jedi appear, despite reports to the contrary (although that's far from confirmed). All told, more time with Darth Vader is only a positive, having made a stellar villain this last season for Rebels. 
JoBlo's rumor machine managed to churn out a few more interesting tidbits: We'll be seeing black-armored Stormtroopers (similar to the ones featured in the Battlefront video game perhaps?), a new droid that will get considerable screen time, and a new TIE Fighter design.
[Update, 6/22/16: Entertainment Weekly now has officially confirmation that "Vader is back," providing "a run-down of the Sith lord's first day on set, and what his return means for the larger Star Wars storytelling universe." You can read the full details on more over here, as part of their larger feature on all-things Rogue One]
7. The first footage of the movie was officially debuted to Disney stockholders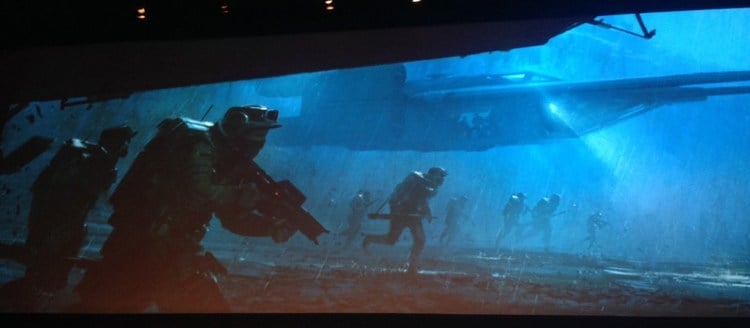 We're months away from the release of Rogue One, and it was only in April that we got the first trailer. Why is this strange you ask? The first teaser for The Force Awakens was unveiled to the public a full year before its release. Lucasfilm is likely all too aware of this, having debuted a sizzle reel of Rogue One footage at a shareholders meeting in Chicago recently. Fans who described the reel to Newsweek dished on the appearance of black-clad Stormtroopers, slightly different looking AT-ATs, and "a classic Star Wars / A New Hope look and feel."
[Update, 9/30/16: The final Rogue One trailer will be aired alongside Marvel's November release of Doctor Strange]
8. The Anthology series will keep the ball rolling indefinitely for Star Wars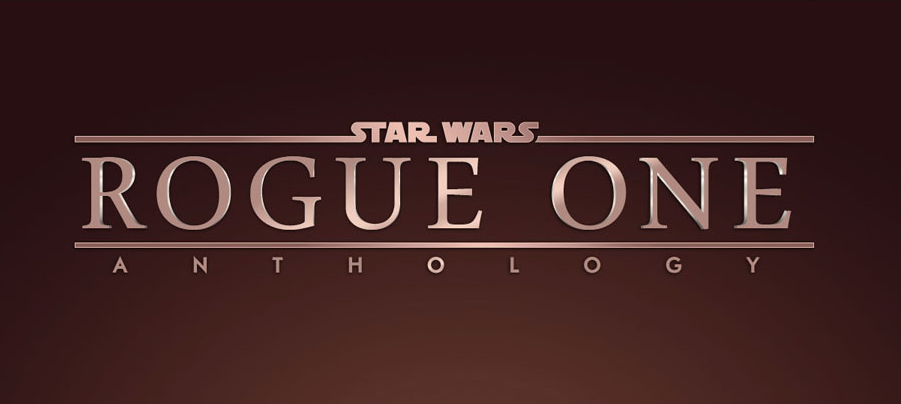 The subscript below the Rogue One title screen in the teaser showed a single word: Anthology. Presumably, this will be the name for all the spinoff movies, acting as a way to keep momentum between the "every two years" release schedule of the main trilogy.
Disney, knowing the insanely profitable cash cow it has on its hands, likely won't allow Star Wars to end after Episode IX kicks off in 2019. Rogue One is our first glimpse into this as the studio continues to build out new plots and characters. Sans Jedi, this one will opt for a more military, Black Hawk Down-esque feel, providing a change in tone as well. It's a pretty smart way to show it's separate from The Force Awakens but still an integral part of the newly minted Anthology.
[Update, 5/31/16: Sources tell Page Six that things are getting a little rocky. "The execs at Disney are not happy with the movie," according to rumors, going on to note that "'Rogue One' will have to go back into four weeks of expensive reshoots in July."]
[Update, 9/23/16: Disney CEO Bob Iger recently admitted in an interview that the studio isn't expecting Rogue One to match The Force Awakens at the box office]
9. Mads Mikkelsen's role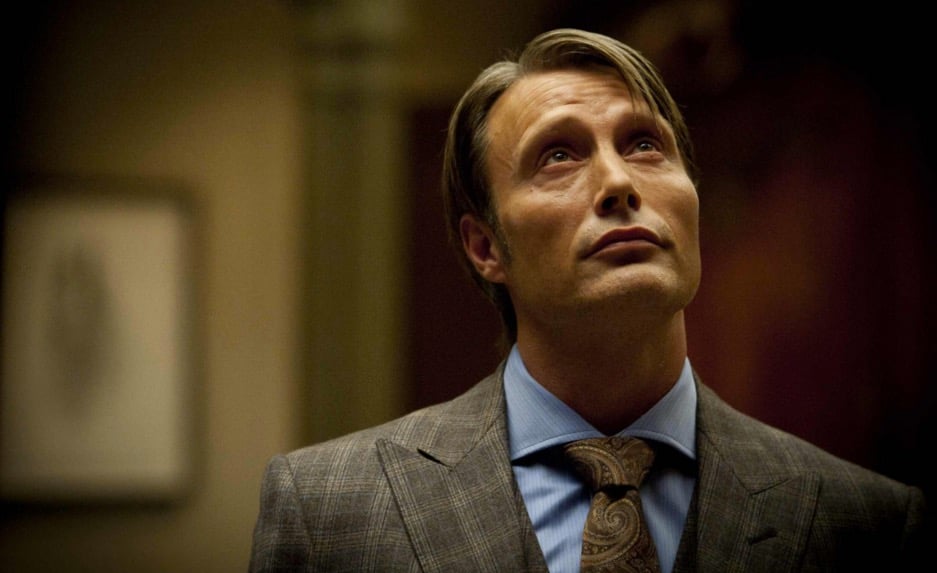 As seen in the first trailer for the film, the primary character in Rogue One will be Jyn Erso, played by Felicity Jones. And while her background story is still a mystery, her now know that her father will somehow figure into the story. In an interview with Sky News, Danish actor Mads Mikkelsen revealed that he will be playing Jyn Erso's father in the movie. As seen in the image above, Mikkelsen may be best known to U.S. fans for his titular role in NBC's Hannibal series.
[Update, 6/15/2016: Mikkelsen recently commented on the rumored reshoots, noting that despite initial trepidation from fans, "it's the same film, it's just adding little bits here and there to do the final polishing."]
[Update, 7/15/2016: Mikkelsen confirmed at a live panel that he indeed will be playing Jyn Erso's father, Galen Erso. Past that, all he could tell us is that Galen is a scientist.]
10. The behind-the-scenes sizzle reel
A live panel from London's Star Wars Celebration saw the debut of a behind-the-scenes featurette. It checks in right around 3 minutes for its runtime, digging into the various practical effects, main characters, and the overall aesthetic of Rogue One. More than that, it gives us a look at what looks to be a down and dirty war film, that just so happens to be set in the Star Wars universe. The panel also featured interviews with director Gareth Edwards, as well as cast, and including our first look at Alan Tudyk as the repurposed Imperial droid, K-2SO.
Rogue One: A Star Wars Story lands in theaters on December 16, 2016.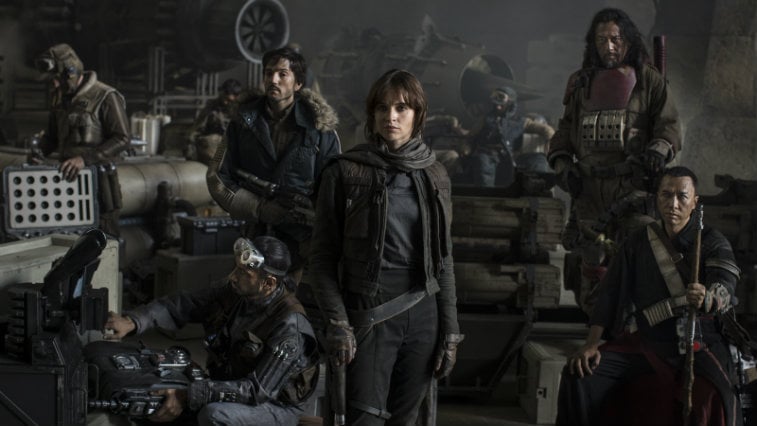 Additional reporting by Nathanael Arnold.
Follow Nick on Twitter @NickNorthwest
Check out Entertainment Cheat Sheet on Facebook!