'Star Wars' Signals: Mark Hamill Teases Huge 'Episode IX' Spoiler
Welcome to our weekly Star Wars roundup! With Disney ramping up the franchise on all cylinders, there's tons of exciting stuff in the way of news, rumors, and clips. We've picked out the best Star Wars stories the internet has to offer, bringing you everything you need to know about the world's favorite sci-fi series.
1. Is Supreme Leader Snoke the father of Darth Vader?
https://www.youtube.com/watch?v=uz6v0koeEGk
Ever since The Force Awakens, theories have flown left and right concerning the true identity of Supreme Leader Snoke. Some believe him to be Gallius Rax, a shady ex-Imperial admiral revealed in the latest Star Wars novel, Life Debt. Others still point to the mysterious Darth Plagueis as the man behind the hologram. But one YouTuber claims to have an answer that trumps both of those ideas.
In the video above, we hear the unnamed source reading from what he claims to be a leaked page of the Episode VIII script. In it, Snoke says he is in fact the father of Anakin Skywalker. And while it doesn't seem all that likely that the most pivotal scene in the entire trilogy somehow leaked out into the world without Lucasfilm knowing, it's still an intriguing idea all the same.
2. Mark Hamill hints at Luke Skywalker's return in Episode IX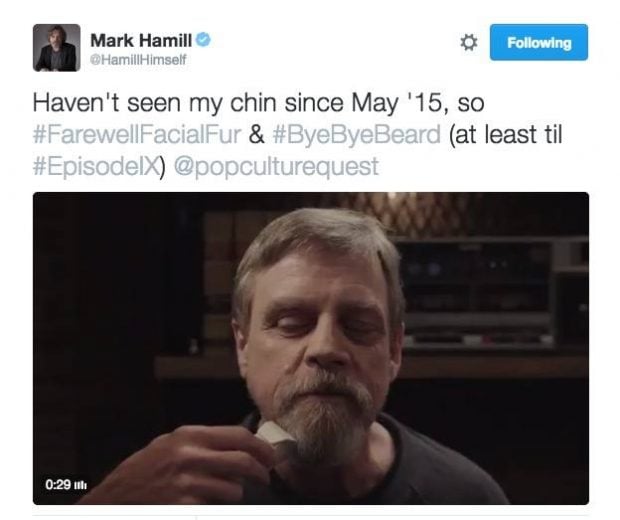 Information on Star Wars: Episode IX has been scarce, especially with Daisy Ridley acting as our only confirmed cast member for the third and final film in the new trilogy. That may have all changed in a single tweet though, courtesy of Mark Hamill.
Shaving off his beard as part of his soon-to-be-aired show Pop Culture Quest, he let loose with one singular detail: Luke Skywalker will be back in Episode IX. What we don't know is what form Luke will be taking, especially given the Jedi propensity for hanging around as disembodied voices following death. Here's hoping Luke gets to survive in full, corporeal form, but at least we know Mark Hamill got a three-movie deal.
3. Lucasfilm launches the first chapter of their toy-centric Rogue One fan-film contest
If there's one thing the Star Wars fandom has proven itself capable of, it's creating high-quality fan-films. Lucasfilm is well aware of that fact too, and their latest contest plays right into that strength. The Go Rogue campaign asks fans to use toys from the recent line of Rogue One products to make their own stop-motion shorts, with the winning entries getting an invite to an exclusive screening of the upcoming Star Wars film in San Francisco. And even though it's obviously intended as a means for selling toys, we're still excited to see the awesome and amazing fan-films the contest produces.
4. Inside Ahsoka Tano's Star Wars Rebels arc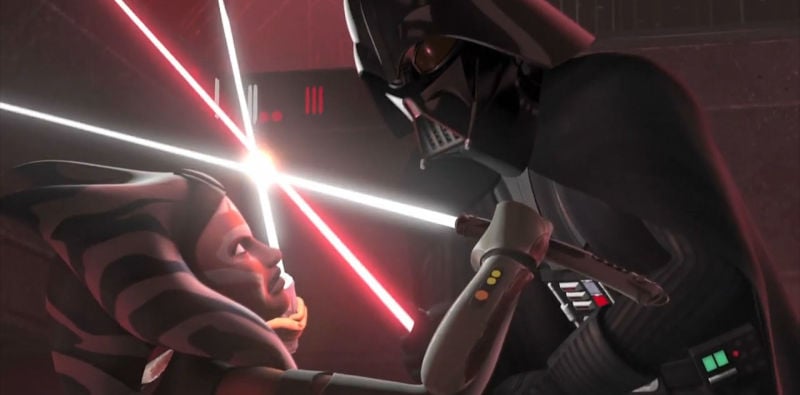 As part of the ramp up for the August 30 release of Star Wars Rebels' second season on Blu-Ray, Empire sat down with Ashley Eckstein, known popularly as the voice behind Ahsoka Tano. In the interview, we got all sorts of details on the character, why she was brought back after The Clone Wars series, and lots more.
It was interesting, because I wanted to jump back into Clone Wars Ahsoka — take charge and fight for the cause, and be the Jedi. Be a bit snippy. But she wasn't that way. Like I said, she's now very reserved. She's very internal. She's been on her own a lot for almost the entire time between Clone Wars and Rebels, and then she was the teacher.
She goes on to admit that not even she was told by showrunner Dave Filoni how the climactic showdown between Ahsoka and Darth Vader will play out, seeing it for the first time at a movie theater screening of the episode.
"I watched it in a theater full of people for the first time, on the edge of my seat, heart beating out of my chest, tears literally welling up in my eyes," Eckstein described, reminding us all that even the people behind our favorite characters are fans.
Follow Nick on Twitter @NickNorthwest
Check out Entertainment Cheat Sheet on Facebook!
More from Entertainment Cheat Sheet: