'Star Wars: The Force Awakens': Breaking Box Office Records?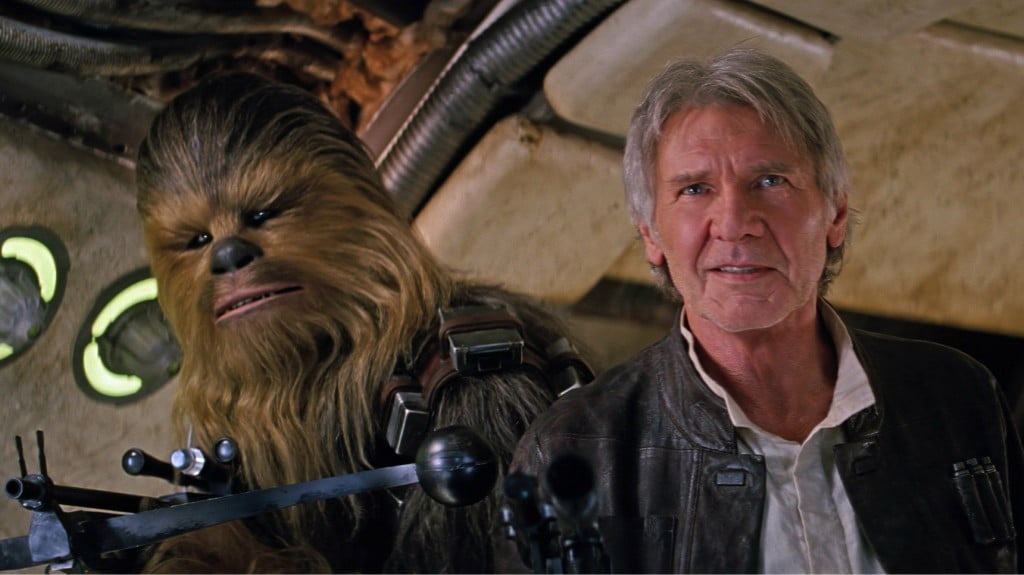 Well, the numbers are in, and to no one's surprise, Star Wars: The Force Awakens is on pace to become the highest grossing movie of all time. While it has yet to surpass Avatar's $2.78 billion total, there are few who doubt that it's only a matter of time. The Force Awakens is already the fastest film to $1 billion worldwide, a number that's made even more impressive when you consider the spotted history of December releases. Traditionally, anything that's not Avatar or Titanic has struggled to gain traction during the holiday season, with audiences finding themselves generally preoccupied with the laundry list of Christmas responsibilities.
How impressive are the early returns for the latest in the Star Wars saga? In Avatar's first two weeks in theaters, James Cameron's movie hauled in $420.7 million, following a $77 million opening weekend. The Force Awakens made $391 million in just its first week, on the strength of an astronomical $248 million first weekend. According to Box Office Mojo, it now holds 35(!) separate records, for everything from "Biggest Opening Weekend" to "Highest Gross on a Non-Opening Wednesday." Avatar holds nine records of its own.
As if this wasn't enough to help you understand just how popular this movie has been, keep in mind, The Force Awakens doesn't release in China until January 9, 2016. Why is this significant? Mostly because China has become Hollywood's biggest market over the last year. Avatar made 72% of its money overseas, and you guessed it, China was the biggest foreign contributor of them all. Meanwhile, The Force Awakens is already a breath away from Avatar's $760.5 million gross here in the United States, climbing the ladder at $544 million domestic. Once it reaches its next massive film market in China, overtaking Avatar as the highest grossing movie of all time will be an inevitability.
Avatar isn't the only comparison we should be making when it comes to understanding the unprecedented nature of The Force Awakens's rapid rise to prominence. Right now, the new Star Wars holds the title for every "Fastest to X million dollar" record in existence, from $100 million all the way to $1 billion. 2015's highest grossing movie, Jurassic World, had the advantage of a summer release to aid its assault on the record books. It was generally viewed as impressive that 47.3% of June's entire box office take belonged to the latest from the dinosaur-centric franchise. For The Force Awakens, 68% of all December box office money for every film this month has gone its way.
Those are the numbers, leaving us to draw the necessary conclusion: Star Wars is the most transcendent franchise in film history. Avatar, while still planning a future of sequels, has largely been a one-off success with little to no cultural impact in the years since. Jurassic World only held on to its opening weekend record for 6 months before The Force Awakens obliterated it. You can't swing a cat without hitting a Star Wars product tie-in, and all of this is without the movie releasing in a country of 1.35 billion people.
Disney and Lucasfilm couldn't have hoped for a better reception, both critically and financially. They made a solid sequel, ran the promotion machine at full power, and then were able to sit back and let Star Wars's 35-year reputation as sci-fi's most popular franchise do the rest. The studio is planning a new movie film in the saga every year for the foreseeable future, and if The Force Awakens is any indicator, they'll make a cool billion dollars if they build the next Millennium Falcon out of tin cans and a ball of yarn. Maybe five, 10, or even 15 years down the line, fans will stop lining up around the block on opening night. But for now, this is the franchise to beat at the box office.
All numbers pulled from Box Office Mojo.
Follow Nick on Twitter @NickNorthwest
More from Entertainment Cheat Sheet:
Want more great content like this? Sign up here to receive the best of Cheat Sheet delivered daily. No spam; just tailored content straight to your inbox.