'Star Wars: The Last Jedi': Every Major Surprise Cameo You May Have Missed
Star Wars: The Last Jedi is here, and it's really dividing fans. But the movie did bring some people together to make cameos in the movie. There were plenty of surprise appearances in the film, from British royalty to pets of the cast. Many were also cleverly hidden, so you might have missed them.
Of course, some, like Justin Theroux playing the master codebreaker, was easy to spot, since he had very little makeup on. But some cameo guests were hidden by disguises, Stormtrooper masks, and more. Then there are the cameos that possibly didn't make it onscreen or have yet to be found.
So which celebrities showed up in the movie? Here are 11 secret cameos you missed in Star Wars: The Last Jedi.
1. Prince William and Prince Harry
The royals visited the set of The Last Jedi, which led to rumors that they might have a cameo in the movie. John Boyega also hinted that they could be Stormtroopers, but when later asked about it he backtracked.
"I think they took that scene out," Boyega told Mashable "I've had enough with those Prince William secrets, man, cause I swear there were images or whatever online. They came on set, man. They were there, man." So it's not exactly set on whether we actually see or hear the brothers in the movie, however, there is a rumor from a source.
"The rebel characters are in a lift with Benicio del Toro's character when a group of stormtroopers enter – two of whom are William and Harry," a source told Daily Mail.
Now, rumors are circulating that in a recently released deleted scene, the brothers do in fact appear — alongside someone else on this list.

2. Gary Fisher
Gary went everywhere with Carrie Fisher, so it only made sense that he finally got a cameo in the franchise. You can spot an alien version of him the Canto Bight scene under someone's arm.
When asked if this was him, Rian Johnson tweeted "YES! Wow, good eyes."

3. Tom Hardy
The British actor also has a cameo in the movie. He plays a Stormtrooper and reportedly confirmed so in an Instagram post where he is in the costume. It was a mystery which scene he was in — but now it appears that he was with the Princes in their scene.

4. Joseph-Gordon Levitt
The actor got the chance to cameo as something other than a Stormtrooper! He played an alien named Slowen-Lo who is in Canto Bight, according to Digital Spy. He also has a Texan accent and rats out Finn and Rose for illegally parking to officers.

5. Ellie Goulding
The singer also has a cameo that has yet to be revealed. She tweeted "Has anybody seen Star Wars yet and seen someone who resembles me in it awkward if I got cut. Haha."
She then followed up with, "Either way it was a really awesome experience. Great to be in the rebel army for a day :)." It's unclear if the cameo made the cut.

6. Gary Barlow
The singer also announced that he has a cameo in the movie. However, he's being coy about what he is exactly playing. "I'm not a stormtrooper, but I am in it," Gary Barlow revealed to Lorraine presenter Ross King.
"I think the Star Wars people are so strict about what information [is divulged]," Barlow continued. "So me saying that, I've probably just done myself out of a role."
7. Lily Cole
The Snow White and the Huntsman actress can also be spotted in the Canto Bight scene with a big regal hairstyle and black dress. She stands next to Justin Theroux's master codebreaker character and spots trouble with Finn and Rose.

8. Noah Segan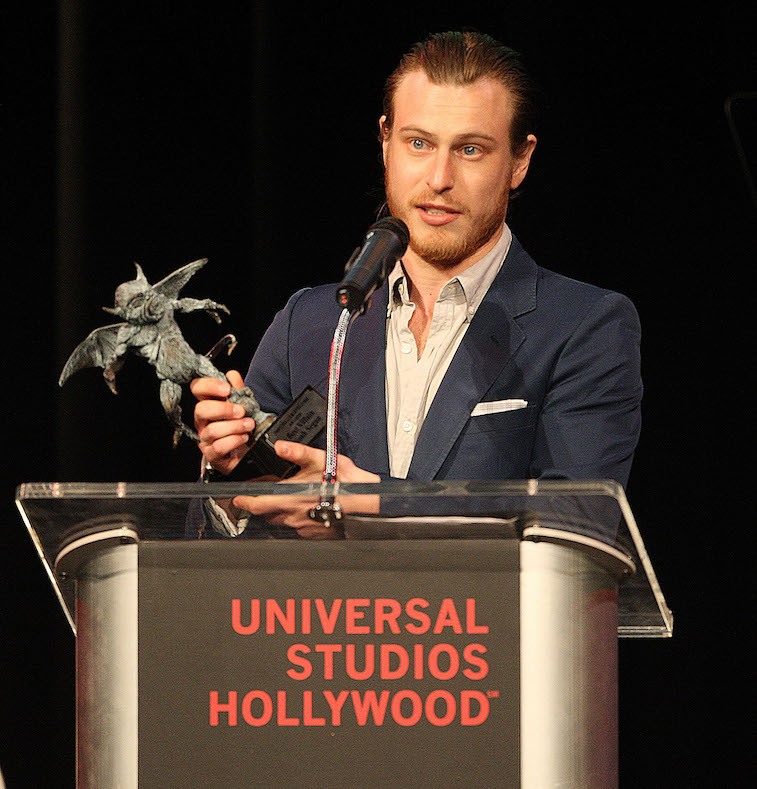 The Looper actor also got to be in the movie. He is an X-wing pilot and sadly gets blown up during Kylo Ren's attack.
This cameo was hinted at by Joseph Gordon-Levitt who tweeted "I believe it's only me and one other actor who has appeared in all four @rianjohnson movies. Proud and honoured."

9. Gareth Edwards
The Rogue One director has made a return to the franchise with a small cameo. He plays the soldier in the trench who notices a red footprint and tastes it. He then says "salt."
He collaborated with Johnson by giving him background on Rogue One, so the two movies will be tied to each other.

10. Michaela Coel
The Chewing Gum star and writer has taken a break from her show to pursue other opportunities. One of them is surprisingly getting a cameo in the movie. You see her on a ship for The Resistance and has one line. This wasn't a secret like the others, since she previously talked about it in an interview.
"It's literally, I [sit] on the spaceship and I say three words," revealed Michaela Coel. "And they probably didn't even make the movie."
11. Adrian Edmondson
The comedian plays an officer helping General Hux. He tweeted about the big moment, saying, "It's true I have crossed over to the Dark Side, but if your uniform was that tight, you'd be pretty bloody cross too!"
Johnson replied with a photo of Adrian Edmondson and said, "You sucked it in admirably. Been holding onto this one for awhile — one day way back in post-production I got bored during an effects review."
Follow Nicole Weaver on Twitter @nikkibernice.
Check out The Cheat Sheet on Facebook!