'Star Wars: The Rise of Skywalker' Teased New Character, Zorri Bliss and Fans Are Coming up with Theories
Keri Russell will play new character Zorri Bliss in 'Star Wars: The Rise of Skywalker.' Here's what we know about Russell's character.
It won't be the final Star Wars film Disney makes, but Star Wars: The Rise of Skywalker promises to bring the nine-part Skywalker saga full circle. After all, we're even getting the return of the original Big Bad of the franchise, Emperor Palpatine.
However, while the J.J. Abrams-directed film is tying up loose ends, it will still bring new characters into the action. Sure, Rey (Daisy Ridley) and Kylo Ren (Adam Driver) will still take center stage. But they will be joined by some new allies and enemies, including a mysterious character named Zorri Bliss.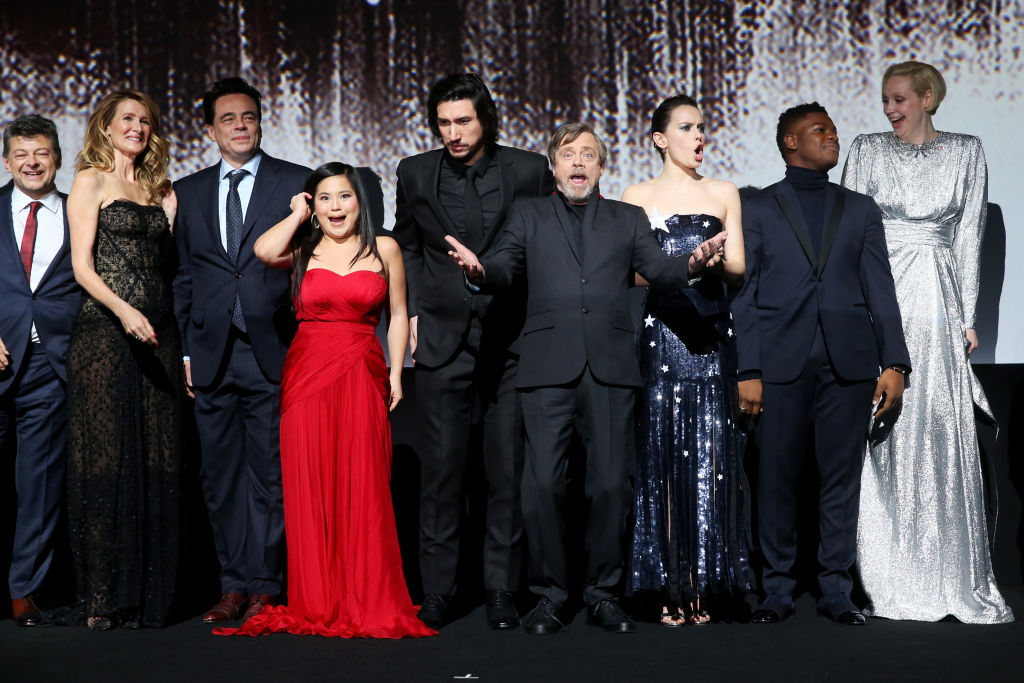 Who is Zorri Bliss?
Abrams regular Keri Russell (Felicity, Mission: Impossible III) joins the cast of Star Wars: The Rise of Skywalker as Zorri Bliss. According to reports, Russell revealed at D23 that Zorri is morally ambiguous, much like Benicio del Toro's DJ from The Last Jedi.
"I can't wait for you to meet Zorri," Russell said. "She's very cool and a little bit shady. She's kind of a criminal and sort of this old friend of Poe's."
Thanks to Entertainment Weekly, we also have a brand-new look at the character, who bears a robotic-looking helmet. She's also holding a round metallic object that could be currency, a data storage disc, or something else.
How does Zorri Bliss fit into the story?
Judging by this image, we don't have a whole lot to go on. Then again, when has an absence of facts prevented Star Wars fans from forming their own theories? The most popular notion is that Zorri is a bounty hunter or mercenary of some kind. If that's true, this look certainly fits.
Her outfit echoes Attack of the Clones' Zam Wesell, Mandalorian armor, and Leia's Boushh getup from Return of the Jedi. Remember the Resistance's dire situation at the end of The Last Jedi. Poe (Oscar Isaac) and his allies might seek out such less-than-savory individuals to gain valuable intel on the First Order.
The more interesting part of this new photo to speculate on is what Zorri is holding. If it is a data disk, then what does it hold? The location of the second Death Star, as seen in The Rise of Skywalker trailer? Palpatine's final message? Or is this photo just Lucasfilm's latest attempt to misdirect fans entirely. Your guess is as good as ours.
Will Zorri Bliss betray the Resistance?
The above poster images indicate that Zorri will, at least initially, aid the Resistance in their battle to defeat the First Order. However, a Vanity Fair story from earlier this year reveals the lengths to which the character goes to hide her true allegiance.
"Her mask helps Bliss disguise both her identity and motives—a useful feature for anyone who might want to blend in at a shady cantina or the Thieves' Quarter of Kijimi," the article from Vanity Fair stated. "Ever since the balance of power in the galaxy was thrown off by the invasion of the First Order and the destruction of the New Republic, it has become very profitable for scoundrels to avoid picking a side during the escalating war between Leia's Resistance and Kylo Ren's forces."
Fans may still argue over The Last Jedi, but DJ's signature advice to Finn — namely, "Don't join" — looks to leave a lasting impact on the Star Wars galaxy. As excited as we are to see the Resistance and First Order clash one more time, having a few wild cards like Zorri Bliss in the mix should make for an unpredictable adventure.
Star Wars: The Rise of Skywalker finally hits theaters on December 20.