'Star Wars: The Rise of Skywalker': What Does the Cast Reveal About the Final Chapter?
Star Wars fans know better by now than to hope that the cast or crew will tell them what The Rise of Skywalker means – or anything else substantive about Episode IX.
The title is designed as a giant tease, and you'd better believe JJ Abrams and company are relishing the pins and needles of the furor.
Daisy Ridley and John Boyega get emotional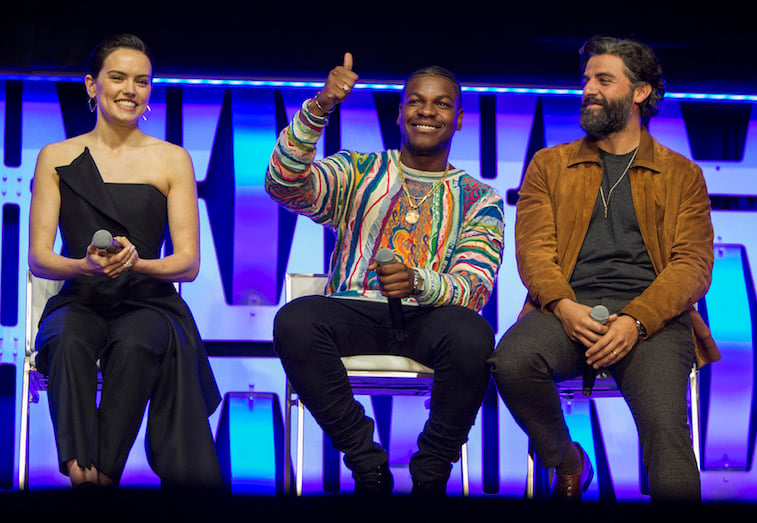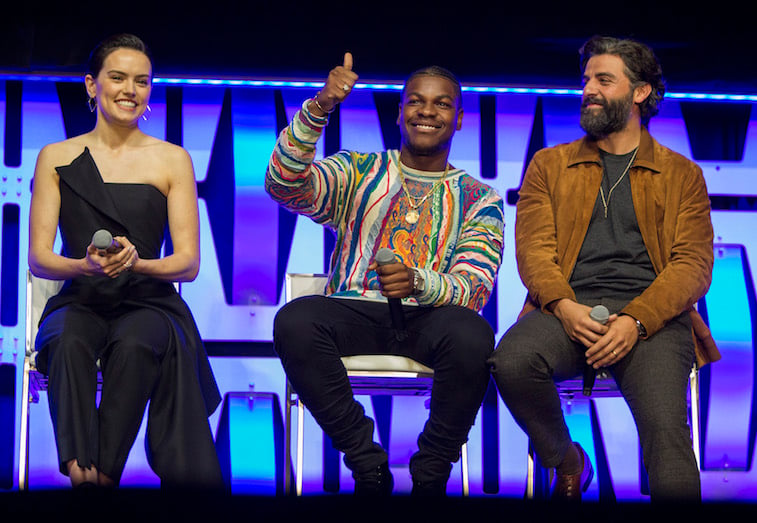 That doesn't mean, however, that the cast isn't talking at all. At the recent Star Wars Celebration, where the much-discussed teaser debuted in front of a huge crowd, the actors were happy to describe how they felt about the movie, and how they felt about other people reacting to it.
Daisy Ridley said, "It was awesome. My mom was in the audience for the first time, and I was like 'Something's coming,'" she said excitedly, referring to the backflip she does over what appears to be Kylo Ren's fighter. "It was a great moment, and it looks visually beautiful."
When Ridley wrapped the film, she became so emotional that "I literally cannot remember what JJ said or what I said. I was wailing. It's been wonderful."
Not bad for someone who wouldn't even spill Star Wars secrets to Josh Gad and friends.
John Boyega backs up Ridley's feelings about being especially close with the cast. A photo circulated of she and Boyega and Oscar Isaac, the three principal new heroes, embracing.
"That picture was taken while we were in the desert, in Jordan. But we always hug like that. We have this bond when the camera's not rolling … we really, really have a love and a care for each other, and I guess that picture just embodied it."
The original trilogy stars have their say
Also appearing at Star Wars celebration were actors who appeared in the earlier films. Anthony Daniels has appeared in all nine of the Star Wars "episode' movies in one form or another as C-3PO, human cyborg relations.
"I am the one constant in the whole saga, and for me, this culmination of the Skywalker story really is quite emotional. I'm good today, but the last day on the set for Threepio, I had a bit of a wobbly lip. Threepio didn't. He's more of a stiff upper lip than I am," Daniels said.
Also returning is someone who hasn't been in a Star Wars movie for 36 years: Billy Dee Williams, who returns as Lando Calrissian. Fans were delighted to see him piloting the Millenium Falcon once again in the teaser.
"The trailer, I thought, was pretty spectacular. I even felt myself crying a little because it had that much impact," he said. "Especially with that huge audience. The love people were exuding from the audience made a tremendous difference."
It all goes back to the fans
As fickle as some fans can be, the cast and crew of the Star Wars movies have found them to be mostly supportive and enthusiastic, and that enthusiasm goes a long way over a very long time.
Daniels said, "It's been over 40 years, It's had its ups and downs and ins and outs. One of the magical things is the fans have been there. Even when there's been little pauses, they're there, ready to come back."
They've come back, all right, theorizing in great detail about how the Emperor could possibly be back. That was him in the trailer, right? Or is Mark Hamill pranking everyone again?
Only time will tell – specifically, the eight months until Episode IX opens. But the emperor himself, Ian McDiarmid, popped up at Star Wars celebration with a diabolical tease.
"I have to be honest with you. I was in the area, so I thought the least I could do was pop in for a laugh," he said.