'Star Wars: Underworld': Here's Why George Lucas' Recently Leaked Footage Never Had a Chance
A few days ago, test footage from a possible Star Wars: Underworld TV series resurfaced. Yes, it was George Lucas' project, and it was a real clip from the abandoned show. Although there was never an actual title, it is referred to by many as Star Wars: Underworld. Let's take a look at why the series never had a fighting chance of becoming a successful live-action show.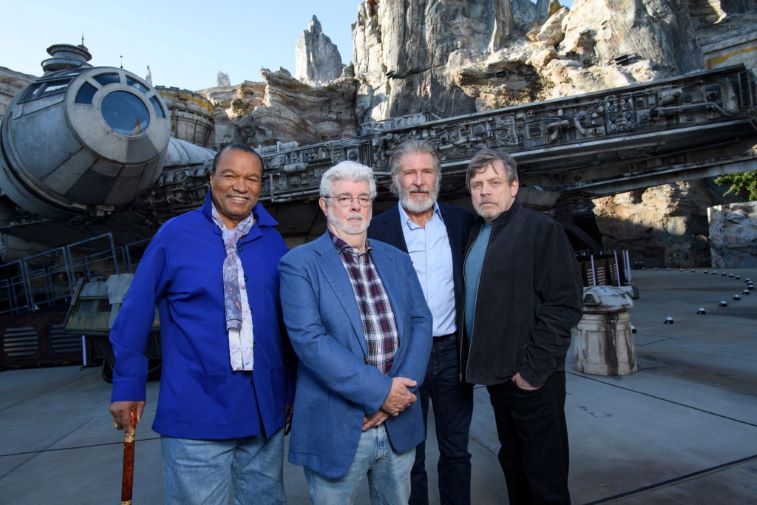 Here's everything we know about the 'Star Wars: Underworld' leaked footage
The clip, which you can watch below, is from 2010. It was a project Lucas worked on with Ronald D. Moore and a few others from 2005 to 2012. There are about 50 scripts written for the proposed live-action television series.
Reports of the show often surface online; however, this is the first time a clip was released. The 10-minute long clip is split into five minutes of action, and then five minutes of behind-the-scenes footage.
The first five minutes follow a spy working to start a plan against the Empire in the streets of Coruscant. Lucas hired Stargate to film the test footage to convey the tone, technology, and the setting of the series, according to io9.
Here's why 'Star Wars: Underworld' never stood a chance
The main reason the television series was not given a chance was likely that it cost too much to produce. In 2010, Game of Thrones and The Walking Dead were only getting started. It was not common for a network to spend millions on each episode of a series.
"Right now, it looks like the Star Wars features. But we have to figure out a way to make it at about a tenth of the cost of the features because it's television," Lucas told the audience at G4's Attack of the Show.
Although money was likely the main issue, the epic fail of the prequel trilogy could also have had something to do with networks not picking the show up. The Star Wars fan base in 2010 was completely different than it is today, ten years later. 
It all comes down to timing. The success of the prequel series opened the door up for live-action television shows. Plus, it's now a common thing to spend millions per episode on one television show.
Fan thoughts and reactions on 'Star Wars: Underworld' as a television series
"It's test footage," one fan wrote on Reddit. "I thought it was lackluster, but again, they were testing if they could get good SFX with 1/10 of the price."
Most fans are not impressed with the footage. They solidify the fact that it probably would not have gone over well in that decade.
"I don't think we would have been as into this as hard as we took to Mandalorian by a long shot," another viewer added.
Sometimes, the right timing is all you need. The release of The Mandalorian opened up a whole new world for Star Wars. There are several other series now in the works, including the new Obi-Wan Kenobi series. F
ans seem to think that Star Wars: Underworld could not compare to the new Disney series. However, who's to say how Lucas' project might have changed with another decade of technology. It looks like we will never know.
Read more: 'Star Wars': 3 Things Fans Are Begging to See in the New Obi-Wan Kenobi Series on Disney+