'Star Wars': Why Oscar Issac Says He Wants Finn and Poe to Be Gay
Star Wars: The Rise of Skywalker comes out soon, and fans are dying to know whether Finn (John Boyega) and Poe (Oscar Issac) will officially take their relationship to the next level. In a recent interview, Issac revealed what he wants for the pairing.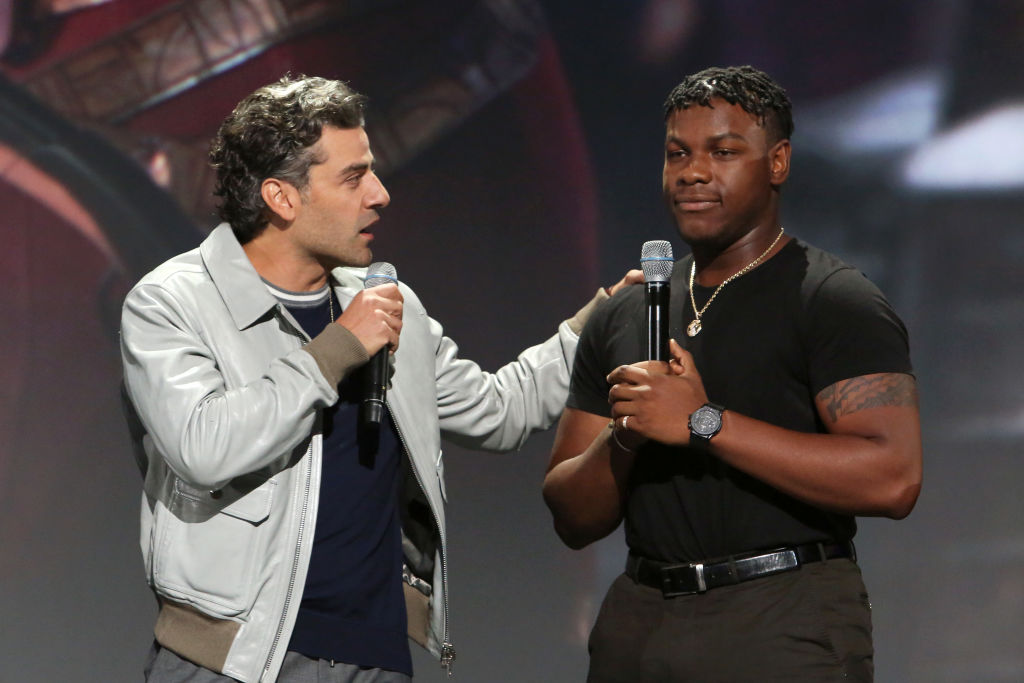 What Oscar Issac and John Boyega said about FinnPoe
At a Rise of Skywalker press junket, Issac shared his views on a romantic connection between "FinnPoe," as the duo has been dubbed.
"Personally, I kind of hoped and wished that maybe that would've been taken further in the other films, but I don't have control," Issac told Variety. "It seemed like a natural progression, but sadly enough it's a time when people are too afraid, I think, of… I don't know what." 
He added: "But if they would've been boyfriends, that would have been fun."
Boyega also spoke with Variety about the relationship. He made it clear the characters are just friends at the moment but said it wouldn't be a stretch if it turned into more.
"They've always had a quite loving and open relationship in which it wouldn't be too weird if it went beyond it," Boyega said. "But at the same time, they are just platonic at the moment."
Director J.J. Abrams' thoughts on FinnPoe
The film's director, J.J. Abrams, also spoke on the FinnPoe relationship when he sat down with Variety.
"That relationship to me is a far deeper one than a romantic one," Abrams said. "It is a deep bond that these two have, not just because of the trial by fire in which they met, but also because of their willingness to be as intimate as they are, as afraid as they, as unsure as they are, and still be bold, and still be daring and brave."
FinnPoe is a beloved ship in the 'Star Wars' fandom
Many Star Wars fans love the idea of pairing Finn and Poe. And the actors' comments in support of that pairing have riled up fans, who wanted to see it on screen.
"He wanted FinnPoe to happen," one person tweeted about Issac's comments. "He wanted us to feel represented."
Another Twitter user also applauded the actors for speaking out.
"Finnpoe may not be real but can i just say i appreciate the f**k out of the actors for literally advocating for it TO the studio and speaking out on studio homophobia/fear of losing box office dollars instead of just straight clowning on lgbt fans for having a gay ship," they wrote.
And yet another person called out the "queerbaiting" of setting up a FinnPoe relationship that paralleled Han and Leia's story but not following through with it.
Star Wars: The Rise of Skywalker hits theaters Dec. 19.