Stevie Wonder and Other Celebrities Who Support Colin Kaepernick
It's been several months full of NFL news — but the scores of the football games weren't what everyone focused on. After Donald Trump said that athletes who kneeled during the national anthem were disrespecting the U.S. and its patriotic symbols, the hashtags #TakeAKnee and #TaketheKnee began trending.
As it turns out, a lot of celebrities had something to say about this, and most were on the side of Colin Kaepernick, the NFL free agent who started the movement. Here are some of the biggest names who stood up for the right to kneel down.
Stevie Wonder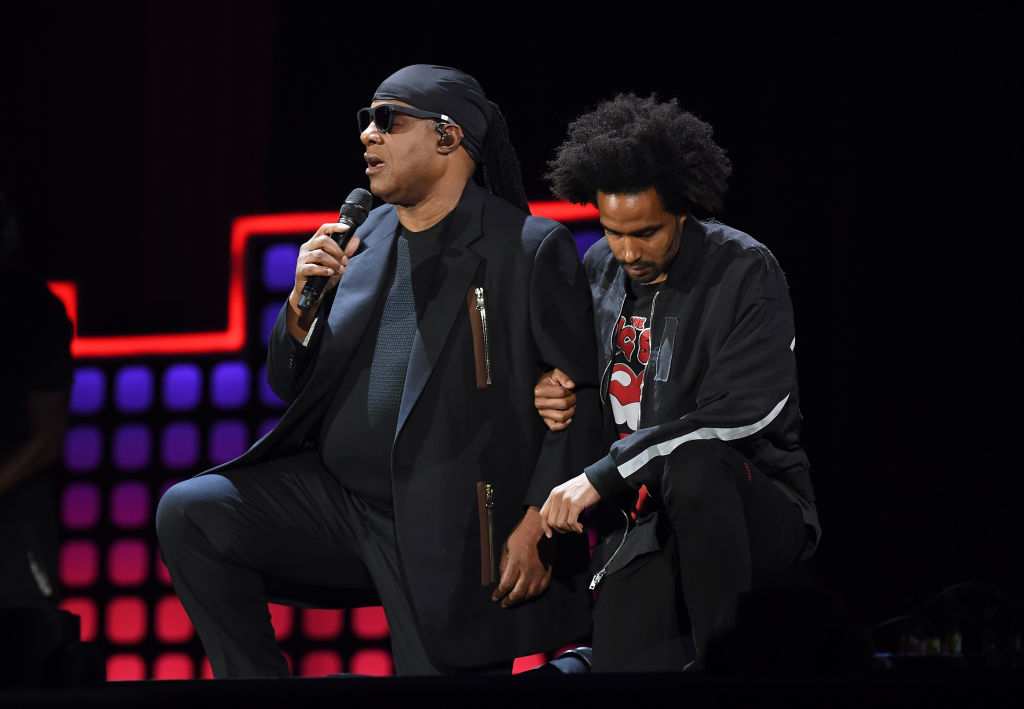 In Sept. 2017, legendary musician Stevie Wonder performed at the Global Citizens Festival in New York. And he had the following to say in support of Kaepernick and the other NFL players.
"Tonight, I'm taking a knee for America," Wonder said to thunderous applause, kneeling down arm in arm with his son, Kwame Morris. "But not just one knee — I'm taking both knees," Wonder continued.
He ended his speech by adding, "I wanted to say that prayer before I serve you my musical meal."
J. Cole
God bless every player that finds courage to kneel today. But the real power comes from you deciding to not watch.

— J. Cole (@JColeNC) September 24, 2017
Rapper J. Cole had a lot to say on the matter, specifically regarding how the NFL has treated Kaepernick since this all began. He began his Twitter thread by speaking directly to sports fans. Though he said he supports the players, he called out the American public to take it one step further by not tuning in or buying tickets to games at all.
Cole went on, explaining that "[y]our eyes translate to advertising money for the League and [sic] it's owners," and adding that we can take it further by boycotting sponsors who don't support the cause. "This may be the biggest opportunity we have ever been presented to come together and show the world and ourselves our true economic power," he continued, ending his thread by wishing "[p]eace and love to all."
Mark Ruffalo
If you can't see these protests are about race and not the flag then either you are dim or dishonest. #Takeaknee https://t.co/Edb4Fvi8tZ

— Mark Ruffalo (@MarkRuffalo) September 25, 2017
Actor Mark Ruffalo may play the physically overpowering Hulk in the Marvel Cinematic Universe, but in real life, his peaceful yet determined activism is his superpower. Amidst tweets about another pressing issue, the lack of disaster relief for Puerto Rico, Ruffalo added his thoughts on #TakeTheKnee.
Ruffalo retweeted a few different accounts, including that of director Josh Fox and NASCAR driver Dale Earnhardt Jr. He tweeted an article from the NYU Brennan Center for Justice, adding, "If you can't see these protests are about race and not the flag then either you are dim or dishonest. #Takeaknee"
John Legend
I wrote about why the NFL players' protests are patriotic. https://t.co/hYEWhfJUvU

— John Legend (@johnlegend) September 24, 2017
While most stuck to social media in order to share their opinions, some celebrities took it one step further. Musician John Legend penned his own op-ed for Slate, titled "The NFL Protests Are Patriotic."
In his piece, Legend called out Trump for suppressing voter rights and talked about important protests in history, such as those in Birmingham and Selma, Alabama in the 1960s and '70s, respectively. He ended by saying that the movement started conversations that are "necessary for progress."
Pharrell Williams

As the discussions began to escalate, singer and producer Pharrell Williams joined Wonder in taking the conversation to the stage. He spoke up while performing at a UVA charity show in Charlottesville (the site of the violent protests surrounding a statue of Robert E. Lee in August 2017.
Williams said, "I'm in Virginia right now, I'm home," acknowledging the state he grew up in. "Can't nobody tell me what to do if I want to get on my knees right now." He segued his uplifting speech into his hit song, "Happy."
Ava DuVernay
Colin Kaepernick's mother has not one ounce of a care about Trump. She's too busy lounging in #THESHADE https://t.co/UMeLiSXRiG

— Ava DuVernay (@ava) September 23, 2017
This Oscar-nominated director is one of the first you would expect to hear from on this subject. Despite admitting that she doesn't watch football, Ava DuVernay's work as a whole is some of the most important in entertainment when it comes to addressing racial disparity and injustice.
Among numerous retweets this weekend (all while appearing at Urban World Film Festival), DuVernay had one especially awesome tweet. After Trump called anyone who knelt a "son of a b****," Kaepernick's mother replied on her own account, which DuVernay gleefully RT'd.
Jesse Williams
https://www.instagram.com/p/BZcaxzQBTuc/
He may be known as one of the dreamy doctors on Grey's Anatomy, but when he's not playing Jackson Avery, Jesse Williams is using his clout to make a difference. The self-described "abolitionist" not only uses social media to share his opinions, but takes things one step further, appearing on national TV.
Live on MSNBC, Williams called the response of Trump and like-minded followers "comical." He cited how their decision to "protest our protest with a protest protesting the fact that we can't protest" makes them "petulant children." He also talked about how singing the national anthem isn't actually a long-standing sports tradition and brought everything back to what started it all — the Black Lives Matter movement and the epidemic of police brutality against people of color.
Alyssa Milano
Actress Alyssa Milano has never held back on her opinions about Trump and the current administration. So it's no surprise that she had a lot to say about his recent comments about the NFL.
In addition to plenty of tweets on the matter, Milano shared a photo on Instagram of her son, Milo, in a New York Giants jersey, holding a football and taking a knee. In her tongue-in-cheek caption, she thanked Trump for the learning opportunity the movement has given her as a mother.
Kristen Bell
REAL TALK ALERT!!!! https://t.co/Rv5DL3lop5

— Kristen Bell (@KristenBell) September 24, 2017
The Good Place star Kristen Bell is another actress who never shies away from chiming in on what matters most to her. Bell took to Twitter to retweet the opinions of several others and added her own support for the cause as well.
Bell RT'd a tweet about what patriotism really is, adding "REAL TALK ALERT!!!!" She also shared a tweet from the Miami Dolphins official account, which featured a video of the team's players and an encouraging message to "promote understanding, respect & equality."
The cast of Star Trek: Discovery
While fall marks the beginning of football season, it also brings with it new fall TV programming. The latest incarnation of the sci-fi franchise, Star Trek: Discovery, premiered during all of this controversy. Its cast used the pilot's trending status to add to another major discussion of the day.
Star Sonequa Martin-Green shared an image of the cast and crew on Instagram ahead of the premiere. In it, 15 people are kneeling in front of a projector. Martin-Green simply captioned the photo, "#StarTrekDiscovery #takeaknee."
Check out The Cheat Sheet on Facebook!