Why People Should Stop Expecting BTS to Release an English Album
On Nov. 20, the Recording Academy announced the nominations for the 2020 Grammy Awards. The Korean group BTS did not receive any nominations despite their record-breaking year. After the snub, publications called out the Recording Academy's refusal to accept BTS's place in the music industry.
A majority of BTS's music is sung and rapped in Korean. On social media, some claimed that if BTS simply released a song or album in English they would be accepted by western award shows. This leads to the problematic notion that BTS are the ones who need to conform to western standards instead of the industry confronting their bias against other cultures and races.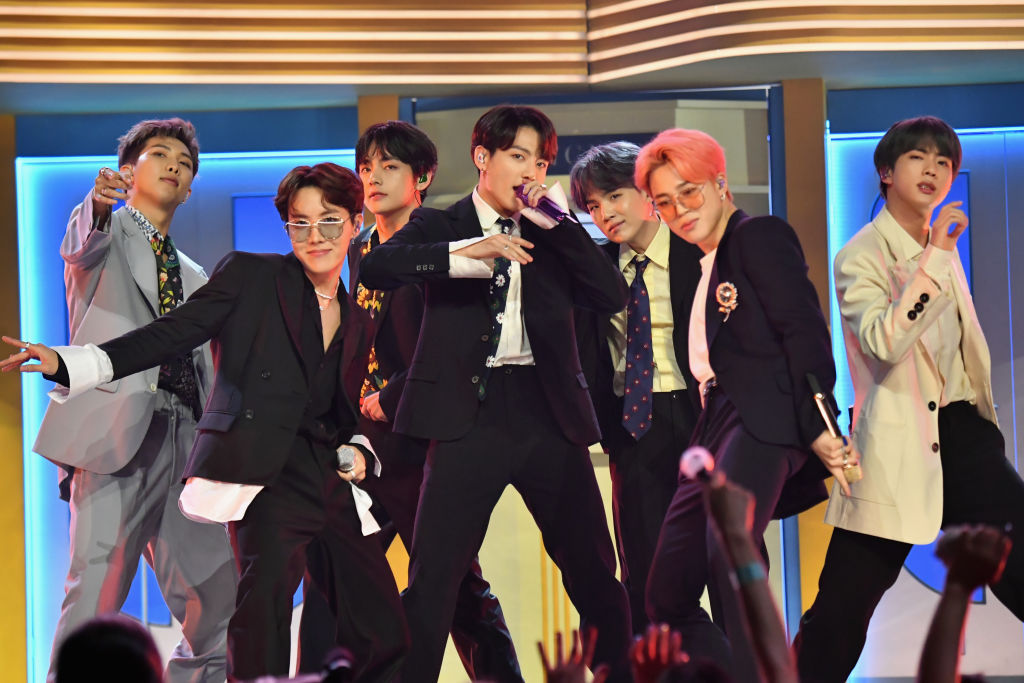 Social media users said BTS should sing in English if they want to be recognized
After the snub, ARMY expressed their disappointment that the band was not nominated for a Grammy and proceeded to chart BTS's discography on iTunes. Rolling Stone, USA Today, and Forbes are three major publications who spoke out against the Grammy decision. However, some social media users posted that BTS should release music in English to achieve recognition.
"The American audience BTS needs to reach for the Grammys needs to hear songs in English. Hold a fan contest and ask Army which songs BTS might sing in 100% English, provide translations and ask the group to make a track or m/v. Promote under the Sony label…," wrote a Twitter user.
BTS does not plan to release an album in English
For starters, people should stop expecting BTS to release an all-English album because the group has said they do not plan to do so. Some of the members have released the occasional solo track in English, and BTS were featured on Steve Aoki's English track, "Waste It On Me." While BTS's songs often incorporate English phrases, a majority of their lyrics are in Korean.
In an interview with EW, RM said that BTS has no plans to record an English album to try and achieve more success. He acknowledged that this could make it harder to achieve their goals, but it means they will stay true to themselves.
"You know, Latin pop has its own Grammys in America, and it's quite different. I don't want to compare, but I think it's even harder as an Asian group. A Hot 100 and a Grammy nomination, these are our goals," RM said.
He continued, "But they're just goals — we don't want to change our identity or our genuineness to get the number one. Like if we sing suddenly in full English, and change all these other things, then that's not BTS. We'll do everything, we'll try. But if we couldn't get number one or number five, that's okay."
BTS does not need to cater to western standards to achieve validation
This year alone, BTS has proved they can release music in Korean and still reach an international audience. The group has over 22 million Twitter followers and their music video for "Boy With Luv" broke the record for the most viewed online music video in 24 hours. It currently has over 616 million views on YouTube and the single is certified platinum by the RIAA.
BTS had the highest-grossing tour of May 2019 and sold out six stadium shows in the U.S. The group also sold out two nights at Wembley Stadium and other stadium concerts in Brazil and Europe.
BTS became the first artists in 2019 to have an album sell 4 million copies worldwide with their EP, Map of the Soul: Persona. BTS were not only the first artists to accomplish this in 2019, they reached this milestone without packaging the EP as a bundle so all of the sales are organic.
The group achieved all of this success by singing in Korean, not by caving to western music standards. Changing who they are for an industry that has not respected their accomplishments is not a solution. BTS and other artists should be able to release music in whatever language they want without feeling the need to cater to a standard.
BTS's success has challenged the xenophobic notion that music in English is superior. Moving forward, it's not BTS who needs to change. Instead, the industry needs to reexamine and eliminate the biases against non-English artists.