'Stranger Things': Millie Bobby Brown Doesn't Really Care About This
Millie Bobby Brown has had a crazy few years. Ever since she was cast on the hit Netflix sci-fi show, Stranger Things, the actress' life has been turned upside down. Often thought of as the breakout star of the show, playing Eleven has completely changed her life. Once a struggling actor just trying to get …
Millie Bobby Brown has had a crazy few years. Ever since she was cast on the hit Netflix sci-fi show, Stranger Things, the actress' life has been turned upside down. Often thought of as the breakout star of the show, playing Eleven has completely changed her life. Once a struggling actor just trying to get by, Brown is now a TV star, a movie star, and she has recently launched her own vegan beauty and skincare brand, florence by mills.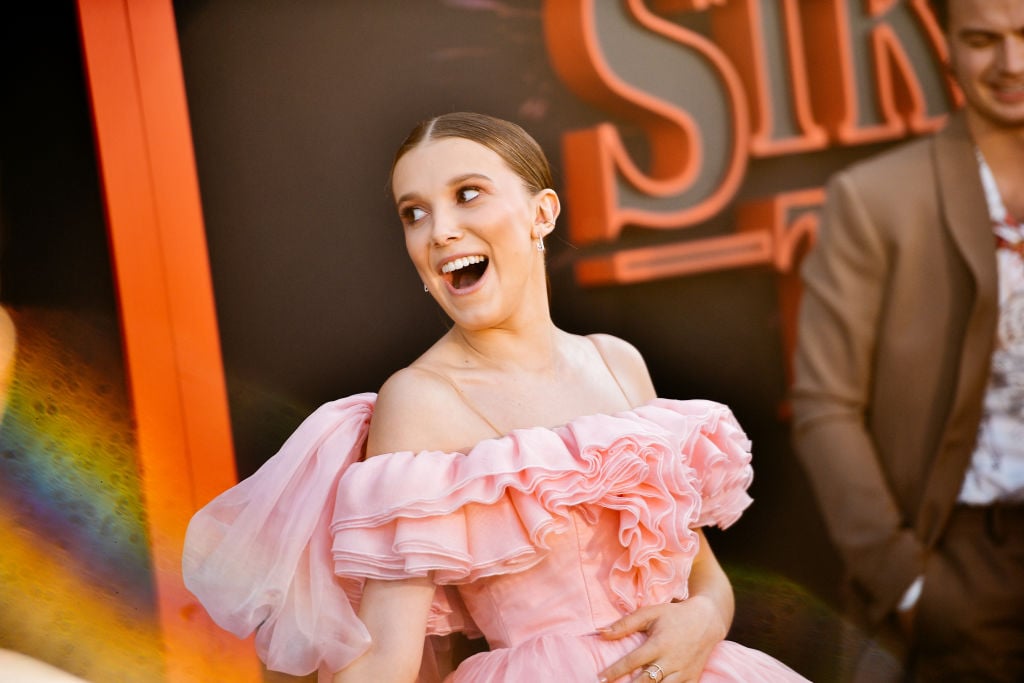 Stranger Things' cult following quickly turned Brown into a household name. Though she had very few lines in the first season, fans and critics alike were impressed by her outstanding acting skills and her ability to help tell complex stories. As the show gained more recognition, Brown negotiated a raise for herself and now gets paid a staggering $350,000 per episode.
Brown's enormous Instagram following
Along with her number of lines and her salary, there's another thing that has increased tremendously for Brown in the past few years. That is the number of followers she boasts on social media. On Instagram, specifically, Brown has a particularly outrageous number of followers. At just 15 years old, the Stranger Things star boasts 28.9 million Instagram followers and counting.
But to Brown, it's the quality of her fans, rather than the quantity that matters. Brown is unimpressed by the number of fans she has but instead admires how kind and supportive they have been to her throughout the years. She has a special love for her OG Stranger Things fans, who have watched her grow up before their very eyes.
Quality of Quantity
"It's crazy, isn't it? I am trying to do my best to promote kindness, spread love and good humor on social networks. I don't care so much about the numbers, I care more about the base of my fans, that is those who follow me from the beginning of Stranger Things, they are lovely people. I read their comments and follow them in turn. One of them was mad about a jacket she had seen on me: I gave it to her. She was incredulous. I replied: "You deserve it"," Brown recounted in a recent interview with Vanity Fair Italy.
A special relationship
Brown truly has a special relationship with her fans. She is very open with them on her social media pages. She often takes time out of her busy schedule to share her thoughts with them. Additionally, shes also will host Q&A's on her Instagram live so that fans can ask her questions about her work on Stranger Things. She's even been known to occasionally share behind the scenes information with her eager fans.
Stranger Things behind the scenes
In fact, one of her first-ever posts on social media was a behind the scenes shot from the show. "Actually, before Stranger Things, I had different profiles and I posted a lot of embarrassing things. But what I consider the first real post is a photo with all the cast guys at a screening. I was wearing pajamas and my head was shaved," the 15-year-old confessed.
We love that Brown is so interactive with her fans without being obsessed with how many she has. In this age of social media, it can be hard not to get caught up in all the numbers. However, it seems like Brown has learned early own that there are far more important things to be concerned about.